Just the other day I was taking a quick look around our stock room which turned out to be a nice surprise!
Over the years, having a passion for sewing machines, it seemed obvious that at some stage our home was going to become overcrowded with antique and vintage sewing machines that had been collected over the years. I used to store my vintage sewing machine and treadle stash in a cupboard under the stairs but now, after a clean-out, all the antique machines have been moved back into our warehouse.
It was only last week that I had the urge to dig around the warehouse and pull out some of the beautiful old machines dating from about 1920. They were undamaged and under cover in the corner of the stock room right next to some brand new machines, the most advanced computerised Embroidery machines at £6000 plus, what a contrast.!
I dusted off some of the machines which consisted of mostly Singer featherweights, but there was a fantastic Jones hand machine with all it's original gold decals still in place, I took a few snaps. I hope you like them, especially the one showing nine Singer featherweights together.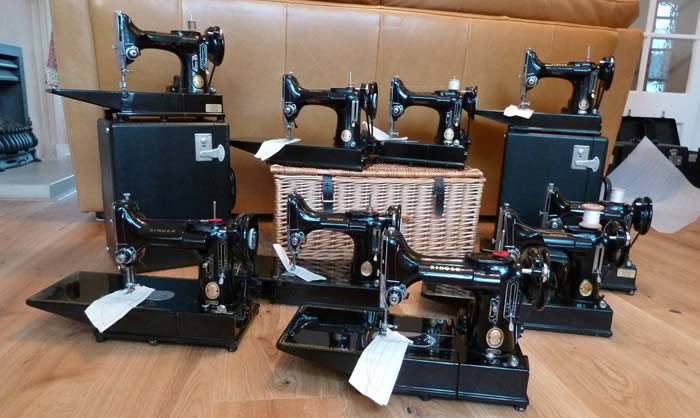 I have never seen so many featherweights in one photo. They are all in near perfect condition and have been tested with a sewn sample under the foot. Many have some of the original attachments. This one below is the Singer 221K model and comes with needle packs showing the price tag of 7 1/2d, it even has an older packet of machine needles, next to it.
Singer started to manufacture the Featherweight in 1941 and ended production in 1964 (as far as I know) The 222K model has a sleeve arm (below) and is the most sort after, however I think both models look great and still have a good stitch and sew very well for their age.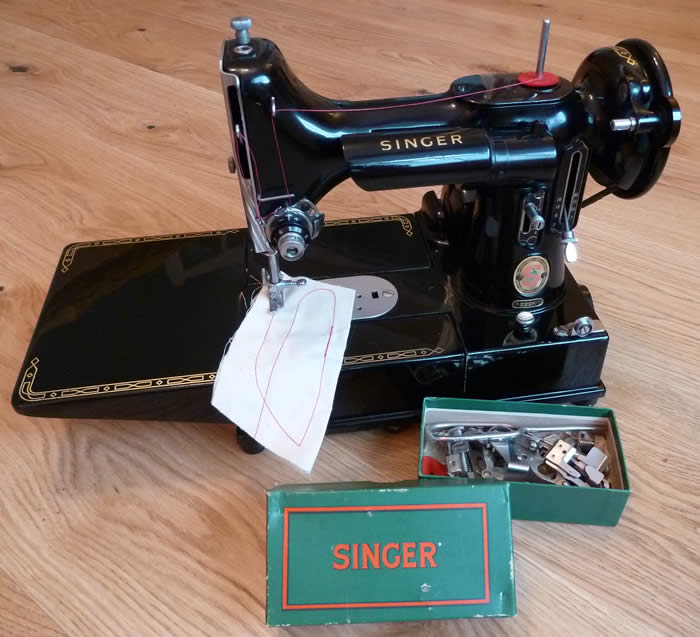 The Singer feather weights were manufactured from 1941 to 1964. Each machine has its own serial number. If you lucky enough to own one or if you're thinking of buying one, use the serial number chart below. (Use the chart for the black and gold Featherweights that were made for the UK market. Other pale blue featherweights were originally destined for the Canadian market) The letters before the digits in the serial number tells us the age. They were first manufactured up to the last manufacturing date for that serial number group.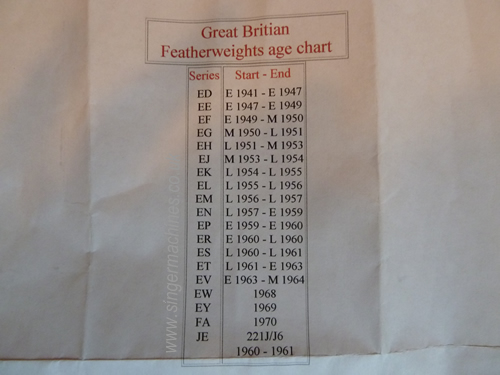 Jones CS model with the torpedo type shuttle. The gold/red patterns look supurb on this example.
Another fine example of a Singer 222K. This one has an original wooden spool of thread and its darning attachment still in it's original box..
A beautiful old Singer 128K hand operated model.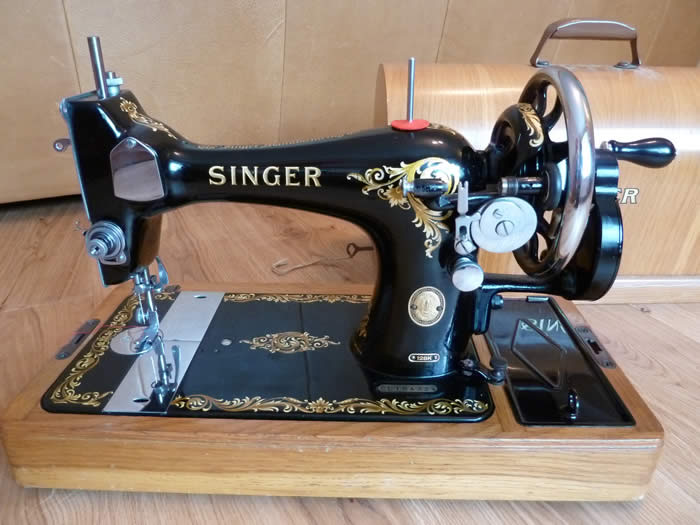 One of the best sellers was the 99k as show below. This one is hand operated, others have an electric motor fitted. This 99K is 56 years old, manufactured in Feburary 1958. It has unblemished jet black and gold paintwork. Even the logo on the real wooden cover is unmarked.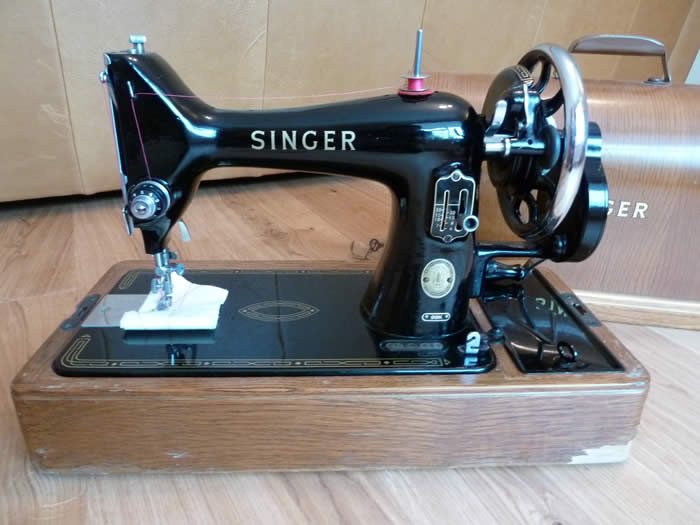 Singer was a very wealthy company in it's day (and still is). The image below is an original document and gives some indication of the the company's wealth and a breaf history about Issac Merrit Singer himself. Plus who did invent invent the sewing machine...!