Best Selling Machine in the UK
The singer heavy duty sewing machine range consists of 3 models, the 4411, 4423 & the 5523. The 4423 was the first in the range to be introduced to the UK in 2011 and has since consistently been the best selling machine in the whole United Kingdom. The more basic model The Singer Heavy Duty 4411 joined the family some years later to offer consumers a cheaper and more basic alternative. In June 2019 the 5523 was launched, basically the exact same machine as the 4423 but in a lighter shade to appeal to customers tastes.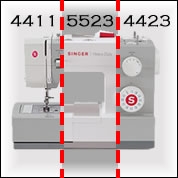 Solid Metal Bodied Machine
Underneath the plastic exterior of the Singer Heavy Duty machine sits a solid single piece of cast aliminium as it's skeleton. Having such a strudy body allows the Heavy Duty range to be unforgiving with heavy fabrics, there is no movment from the body of the machine so all energy is directed into punching through the fabric and creating the heavy duty stitch. You must remember The singer heavy duty machine is a domestic sewing machine capable to sewing up to leather, denim and canvas with ease.


Easy Threading
The Heavy Duty 4423 & Heavy Duty 5523 both have an built in Needle Threader to assist threading the eye of the needle. All ain the range have an easy thread lay threading pattern which is clearly marked out and numbered, the machine can be threaded in second and sewing in no time. The bobbin is a simple top loading bobbin system, simply drop the bobin in, pull the cotton through the tension plate, replace the clear plastic bobbin cover and away you go.


Heavy Material
The Singer Heavy Duty machines have an super powerful motor capable of sewing up to 1,100 SPM (Stitches Per Minute, standard domestic machines usually have 600-850 SPM). The motor within the Singer Heavy Duty Sewing Machines delivery 60% more torque making it easier for them to sew through the likes of Leather, Denim, Canvas and Furnishing Materials. These machine are simply the best in their class when compared to machines of other brands in a similar price bracket, There is no close competitor.


To see the full range, learn more about each machine available in the range or to order yours today just click on the image below: