Brother Innovis F440e Embroidery Machine
Packed full of new and exciting features the Brother Innov-Is F440e has a large colour touch screen, USB port to import designs and the large 5" X 7" embroidery area will make your projects stand out. Edit, zoom, resize, flip, rotate onscreen. Its the only choice when you are ready to step into the world of embroidery, whether you are a beginner or an expert
LATEST 2021 MODEL
FREE delivery by DPD
, order
Delivery: 2-3 Working Day(s)
Expected Delivery Date is Thursday, September 30th

Click to buy or view finance options.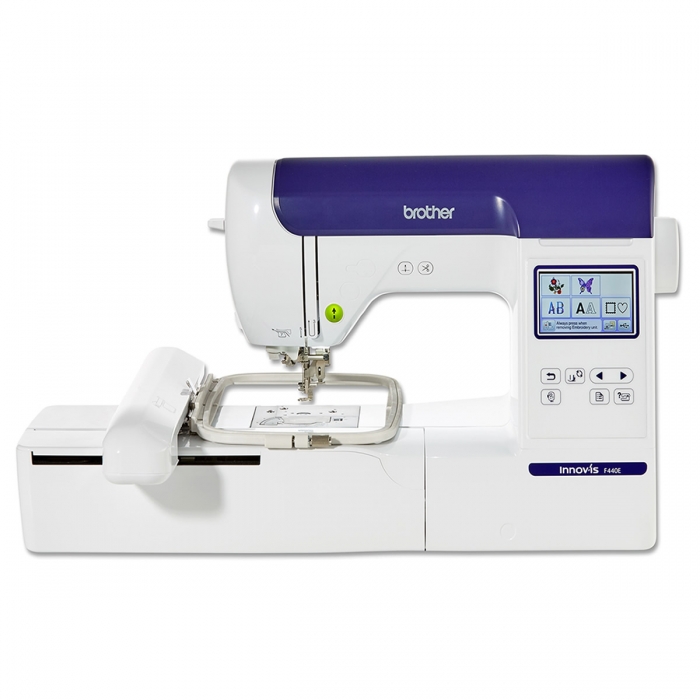 Why choose the Brother Innov-is F440e from us?




*PLEASE NOTE AS STATED THIS MACHINE IS FOR PRE ORDER ONLY. THE MACHINE WILL BE DISPATCHED AS SOON AS STOCK IS AVAILABLE BUT WE DO NOT HAVE ANY DELIVERY ESTIMATES AT THIS TIME*
What a marvelous machine, the NEW Innovis F440e by Brother, replacing the already fantastic 750e. Yet, the F440e is even better. Let me tell you why! Firstly it has a full colour screen so you can view the colourful designs onscreen and see each colour block as it would be sewn out in colour...remember the old machine had a monochrome screen and it was a best seller. The F440e touch screen is also larger at 82 mm x 45 mm. This feature alone jumps the F440e to number one position in the dedicated embroidery class and all at the same price! Plus it has even more new features.
I'm sure you can tell already that we like this machine. It's simple to import patterns found on the internet instantly via direct USB memory stick. This new and improved dedicated embroidery machine can be used in conjunction with Brother's optional PE Design software, where designs can be created from scratch or converted to Brother PES file format from an image, clip art or photo, then saved onto a USB memory stick and sewn off using the machine.
The F440e has plenty of built in designs and appliqué embroidery. It also has larger letters up to 150mm using the resize option, frames and borders and even free-motion fill that quilters will adore. In total it has 11 fonts in 3 sizes including Cyrillic, and Japanese. Once you have a design personalised as you would like it and may be you would like to use again, save it to the machine memory or to a USB stick directly from the machine.
Don't worry if you need help at any stage we are here to advise or answer any questions you may have. In the box you receive 3 manuals, one is for late night reading... the operation manual will send you to sleep in no time at all. The other would be best read at the breakfast table; it's the colourful designs catalogue help inspire selecting your next stitching project. The quick reference guide can be kept near the machine. Personally I would suggest powering up the machine and getting used to the touch screen icons as you go, the interface is very user friendly in deed.
Using it you can create high quality embroidery designs quickly and easily.

• 180mm x 130mm embroidery area
• 138 built-in embroidery designs
• 650 stitches per minute embroidery speed
• LED lights above the needle and above the work area
• Automatic thread cutting
• Needle up/down button
• Quick set bobbin and bobbin sensor

Thread sensor for upper thread
The Brother Innov-is F440e has an upper thread sensor that warns you when the upper thread is broken or has run out.
Bobbin sensor
Whilst embroidering you can easy view how much thread is let on the bobbin, this sensor will warn you before the thread has run out.

Patterned frame shapes
Put the finishing touches to your embroidery with an elegant frame. Choose frame styles. Combine with lettering to create an elegant monogram

On screen editing
Powerful editing features include layout, pattern rotation in 1 degree increments, mirror imaging and scaling. A design can be viewed in zoom mode up to 300%. It can be viewed in hoop or individually. In a lettering string (a word), each letter can be individually changed. You can skip forward or backwards during a design one stitch at a time.

Large embroidery area
The F440e has an embroidery area of 18cm x 13cm (7"x5"), but you can express yourself further by using the optional PE design software and split larger designs to be sewn using the optional 12"x5" hoop. In total 4 hoops sizes are available; The included EF84 standard (7"x 5"). Optional EF85 Multiposition 12"x5", EF83 square (4"x4") and Small oval EF82 (1"x 2 ½")

Wide variety of built-in embroidery patterns
Start embroidering right away with any of the 138 built-in embroidery patterns found on the F440e. Choose from a range of floral, animals, seasonal designs and much more.

Quick-set bobbin
Just drop in a full bobbin and you're ready to go. The F440 e has a lower bobbin sensor which will warn you when the bobbin is running low.
Advanced needle threader
Not just a traditional needle threader! Threading is simple...just follow the threading guides, then a quick push down on a lever on the upper left face and hey-presto the deluxe quick thread system automatically threads the needle.
If you are unsure which embroidery machine to purchase, call us, we know and use the machines we sell and can advise the best model to suit your needs.

Accessories Included:
Embroidery unit
Seam ripper
Bobbin (4)
Scissors
Needle set
1000m white bobbin thread
Cleaning brush
Screwdriver (large)
Screwdriver (small)
Spool cap (large)
Spool cap (medium)
Spool cap (small)
Spool net
Operation manual
Quick reference guide
Embroidery designs guide
Embroidery foot
Embroidery hoop (large) 130mm x 180mm
Dust cover
Accessory bag
Specification

| | |
| --- | --- |
| UPC | 4977766764827 |
| Manufacturer | Brother |
| Model Number | Innov-is F440e |
| Type | Embroidery Only |
| Promotion | LATEST 2021 MODEL |
| Warranty | 3 Years Full Manufacturers Warranty |
| Weight Kg | 8 |
| Size (Height, Width, Depth) | W44 cm x H29 cm |
| Variable Electronic Speed Control | Yes |
| Bobbin Access | Top Loading |
| Transparent bobbin cover Bobbin Cover | Yes |
| Hard Carrying or Storage Cover | No |
| Automatically Tensions Thread | Yes |
| Integrated Needle Threader | Yes |
| Thread End Cutting | Automatic |
| Number of Stitch Selections | Hoop Embroidery |
| Formation of Buttonholes | None |
| Variety of Buttonholes | 0 |
| Twin Needle | No |
| Maximum Speed Limit Adjustment | No |
| Needle Up/Down Function | Yes |
| Integrated Dual Feed System | No |
| Integrated Fabric Feed Lowering | Yes |
| Hook Movement | Smooth Rotary Action |
| Needle Positions | Centre Only |
| Tutorial CD / DVD | No |
| Voltage | 220-240 Volts |

Customer Reviews
Items 11 to 20 of 25 total
Page
You're currently reading page

2
Very quick delivery. I have 3 brother machines and so far they have not failed me once. I had this embroidery machine for a year now and it's really good quality. The stiching is very neat. It works really well with good quality stabiliser ( I use madeira). I hardly use the designs on the machine as I find them a bit dated but with the card reader I can buy my design files which works well for me. I love appliqué designs and the machine makes the job really easy.

I have a futura which I have been using for years. I needed another machine and was going to buy another singer in order to save on purchasing software I decided to give brother a go after being told by several online customers that is was better than the futura and it offered free software, pity it only comes with one hoop.

The quality far exceeds that of the futura I recommend you buy this if you are looking for an embroidery machine.

on arrival, I could not wait to open the box. then it was a case of wanting to use it straight, but I held back and read the manual first. Did one or two things with it and yes I'm impressed with it. Once you start to use it you want to do more things and more things with it, already been asked to do a table cloth for my neighbours mother and I'm prepared to give it ago may take a while to find out how to do it, but again simplicity is the word here, well done brother.

Super machine. So easy to use. I'm very pleased with my purchase.

Fabulous machine. I'm a beginner at machine embroidery but I was using it shortly after unpacking it. It's so easy to use and embroiders beautifully. Well worth the money and you can do so much with it (just ordered the software and other sized hoops). Can't wait to see what I do next.

I did my research and realised this was the machine for me, and I was right, machine is fantastic, and the large hoop size allows me to do the projects I need, although, I might have to get a smaller hoop too.I must say the service was excellent, although I did expect at least a full bobbin of cotton,as no thread at all came with the machine, luckily I had ordered some so could play straight away

I absolutely love this, it's my first embroidery machine, just purchased the software to go with it

Wonderful! Got this machine out of the box, did the usual scan of the instructions.... found the section I wanted and away we go. This is a wonderfully easy machine to use. Can't wait to explore the possibilities. P.S. would not normally write a review... just had to let everyone know how good it is. Thanks to you all you have made my day.

Well packaged, fast delivery, and a great product. Took embroidery machine out of the box, and was embroidering withing 30 minutes. The one thing I would say is that the manual doesn't cover the machine's features in the depth I would like. Ok with the use of the internet and youtube I am learning, but would have loved to have all the extra info within the package. Otherwise, just love it.

This is my first embroidery machine. I chose it because I've had many years of service from my Brother sewing machine and expect this one to be similar quality. So far, everything is going well. It is easy to use and the screen is simple to navigate. I'm going to buy a smaller hoop for small projects - it's a shame there is only one hoop included. A little more experimentation with different types of stabilizer required now I think!!
Items 11 to 20 of 25 total
Page
You're currently reading page

2

Why not share your review with others.