Brother Innovis XE1 Embroidery Machine
1
Review
Average rating 5.0 out of 5 Stars.
Generous embroidery area - 240 x 360mm (9.5 x 14") No more re-hooping when you want to combine smaller designs. This frame is large enough to join up multiple designs so you can stitch them out in one hooping. The Brother XE1 Stellaire offers perfect precise positioning with the NEW My Design Snap App, for mobile phones or tablets, for background, line art and illustration scans
LATEST 2021 MODEL
FREE delivery by DPD
, order
Delivery: 2-3 Working Day(s)
Expected Delivery Date is Wednesday, December 8th

Click to buy or view finance options.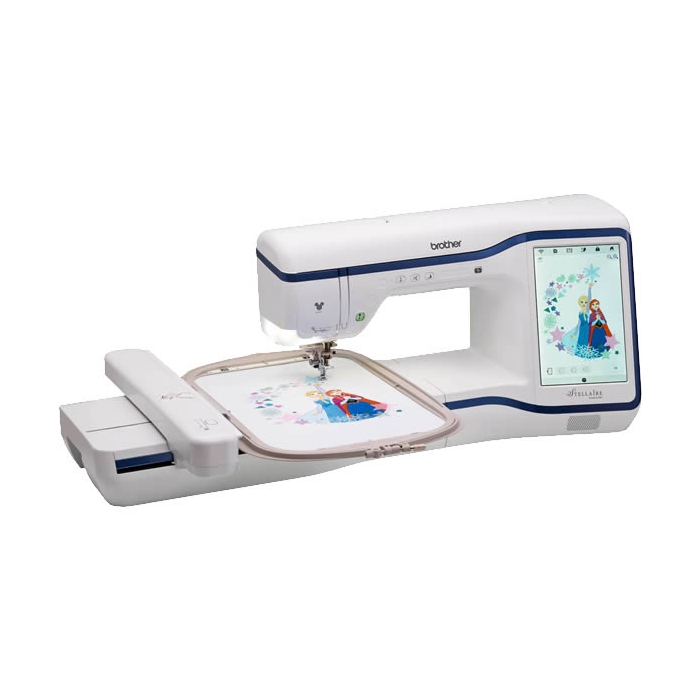 Why choose the Brother Stellaire XE1 from us?




The Brother Innov-is XE1 Stellaire Embroidery Machine is the perfect bridge to high end embroidery, without have to fork out double on a high end sewing machine as well. The XE1 is embroidery only and has all of the advanced embroidery features, as the XJ1 but without the sewing machine aspect.
The Stellaire XE1 has Disney built in and a huge embroidery area...yes a whopping 36 cm x 24 cm, which can be filled with the most beautiful of built in designs from Quilting blocks to monograms, redwork to fonts, borders to Disney with advance embroidery ranges including:

Modern Artworks
Frames for Split Design
Zentangle
Black Line
Marine Life
Redwork
Quilt
Decoration
Blue Flowers
Vintage Designs
Applique
Seasonal Designs
Animals
Floral Redwork
Border Designs
Variety
Floral Alphabet
Calligraphy
Vine Alphabet Pattern
Monograms
Utility Stitches
Buttonholes.
It doesn't stop there...there is a collection of over 100 Disney embroidery designs built in to the machine and 24 fonts. The Stellaire XE1 can also accomodate designs that are transferred by USB stick, have been downloaded from the internet or saved to a computer.

Now this is what sets this Innovis XE1 apart from all the rest. My Design Centre has had an upgrade too. You can simply now take an image from your smart phone device and send it to your machine wirelessly and then retreive it in the XE1 My Design Centre. From there you can resize, rotate, mirror and even edit the image before turning it into an embroidrey design and finally stitching it out on your machine. In the design center you can turn images into line embroideries or embroidered images and you can alter and adapt until your heart is content. Add stippling using the many different fill patterns available, to really give your design some pop.

Once you have selected or created your design you can precisely position it where you would like it to finish on the material, by taking a picture of the fabric in the frame on your smart device and sending it to the machine. The screen on the XE1 will then load up an image of the fabric, exactly as it is in the hoop; you can then use the positioning arrows to move the design around and visualise it exactly as it will be in the fabric, well before a single stitch is made. Even better is, you can use the famous brother snowmen stickers and LED pointer foot as well for positioning. Embroidery placement has never been so quick and easy.
When embroidering fonts, you can have multiple lines and alter the shape of some without affecting the others. Why not curve a line and stagger another? There is a huge array of fonts to choose from, 24 in fact, bold, italic, comic and stencil...whatever you fancy! Fonts come in three different sizes, Large Medium and Small and can be ajdusted even further, using the embroidery edit funtion.

Designs can be combined to further decorate. Why not frame a Disney princess in an ornate border or add a floral background? Many of the designs in the XE1 are cleverly thought out to compliment one another, which is what makes this machine so special and unique. The border designs are breathtakingly beautiful so you can create a master piece and decorate its edge using lace borders, contemporary or modern designs.

Dream big and this machine will allow your dreams to become a reality.
Embroidery Accessories Included:
36x24cm Extra Large Hoop
18x13cm Standard Hoop
Straight Stitch Needle Plate
Embroidery Needle Plate Cover
Embroidery Stabiliser
Embroidery Bobbin Thread
Miscellaneous Accessories:
Small Screw, Needle Set, Ball Point Needle Set, Twin Needle, 10 x Bobbins, Seam Ripper, Scissors, Cleaning Brush, 3 x Screw Drivers, 3 x Spool Caps, Spool Insert, verticle spool pin, Bobbin Clips, Spool Felt, Spool Net, Touch Pen, spare Bobbin Cases, Bobbin Cover, Grid Sheet Set, positioning sticker sheets, Operation Manual.
Specification

| | |
| --- | --- |
| UPC | 4977766801027 |
| Manufacturer | Brother |
| Model Number | Stellaire XE1 |
| Type | Embroidery Only |
| Promotion | LATEST 2021 MODEL |
| Warranty | 5 Years Full Manufacturers Warranty |
| Weight Kg | 15 |
| Size (Height, Width, Depth) | W55 cm x H35 cm |
| Variable Electronic Speed Control | No |
| Bobbin Access | Top Loading |
| Transparent bobbin cover Bobbin Cover | Yes |
| Hard Carrying or Storage Cover | No |
| Automatically Tensions Thread | Yes |
| Integrated Needle Threader | Yes |
| Thread End Cutting | Automatic |
| Number of Stitch Selections | 700+ |
| Popular Stitch Functions | Straight |
| Formation of Buttonholes | None |
| Variety of Buttonholes | 15 |
| Maximum Speed Limit Adjustment | Yes |
| Needle Up/Down Function | Yes |
| Integrated Dual Feed System | No |
| Integrated Fabric Feed Lowering | No |
| Hook Movement | Smooth Rotary Action |
| Needle Positions | Centre Only |
| Tutorial CD / DVD | No |
| Voltage | 220-240 Volts |

Customer Reviews
Pleased so far. Trying to get to grips with it.

Why not share your review with others.