Brother Innov-is XP1 Luminaire Sewing & Embroidery
Something out of this world is coming and we cannot wait to share it with you. Not only is this machine the top-of-the-line in the Brother range, I would say the Innovis XP1Luminaire is one of the very best embroidery machines on the market. Can you imagine being able to sew out every creative thought that has just jumped into your head...for me that's heaven.
FREE Delivery *Top-Of-The-Line For Both Sewing & Embroidery
FREE delivery by DPD
, order
Delivery: 2-3 Working Day(s)
Expected Delivery Date is Wednesday, December 8th

Click to buy or view finance options.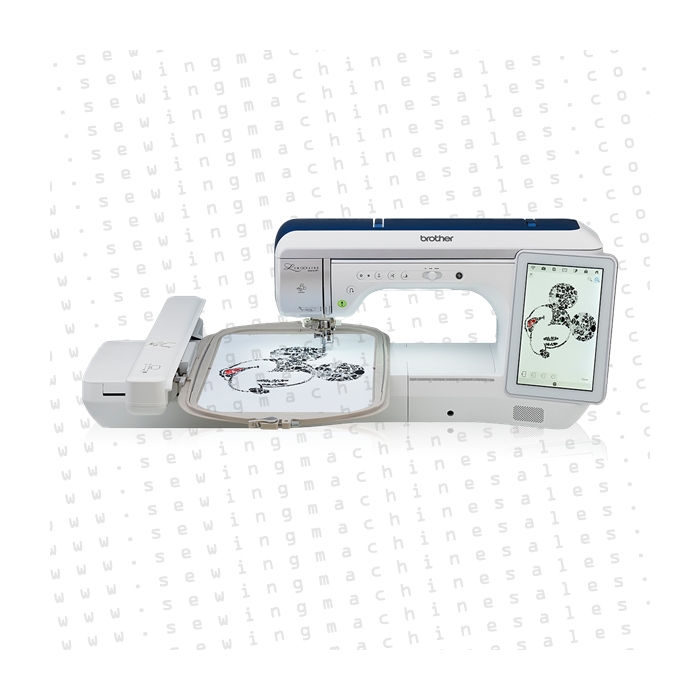 Why choose the Brother Innov-is XP1 from us?




The first thing you will notice about the Luminaire Innov-ís XP1, that is before you start stitching, is the large 10.1" 1280 x 800 HD touch screen, which operates just like a regular tablet touch screen, with drag and drop and pinch-to-zoom functions, along with 30, built in tutorial movies.
So the most notable thing when you begin stitching; whether it be embroidering one of the 1157 designs, of which 192 are Disney, or stitching out one of the 755 sewing stitches, is that this machine is whisper quiet when sewing. It uses brushless embroidery motors for smoother, quieter and faster embroidery; in fact, it's nearly silent embroidery arm movement is quite remarkable!
Why not come to our store for a demo and see for yourself how fantastic this machine is. 
The embroidery area dimension (408 mm x 272 mm) is 10% larger than its nearest rival and 38% larger than other brands top-of-the-line machines.
Another first StitchView technology for Brother XP1 is the projector which allows you to easily and quickly preview and precisely position your design in the hoop. It can project a grid on to the material being sewn and also project the actual stitch in real size directly on to the fabric. It will then adjust width, length and position using the sensor pen…no need to use the touch screen; this is ideal for spacing and seams. For quilters, use the projector for piecing placement lines in three different angles, 45, 60 and 90 degrees; it certainly helps getting that perfect angle for joining. 
A "T" shaped pointer shows you the exact position the needle will drop, ensuring you always begin a seam or quilt block piece in the correct position the first time. Also for quilters...I love the 15 new fill designs and the automatic stippling or echo quilting function, at a touch of the screen.
Yes, of course you can transfer designs to and from the Brother XP1 using a USB memory stick but using the wireless WIFI is much faster. This is compatible with the new PE Design 11 embroidery software.
Other features you will love about the Innovis XP1
Brother's New Projector is called Stitchvision Technology 
A revolutionary new system which projects light on the fabric directly in front of the needle. Preview and edit designs and stitches directly onto your fabric in the 5" x 3" preview area.
Dual Purpose Stylus
Use the innovative Dual Purpose Stylus to make adjustments to your stitches directly on your fabric whilst in StitchView for even more accuracy than ever before. Adjust your stitch width, length and left/right shift using the revolutionary stylus.
Guideline Marker Line And Guideline Marker Grid
With the laser guideline marker, use gridlines for creating multiple rows of parallel stitching, for pin tucks, hems, curtain rod pockets, decorative stitches, cross hatch quilting, or smocking. Guideline angles of 45, 60 and 90 degrees for creating perfect mitred corners, hexagons, diamonds and triangular quilted pieces.
Use Stitchvision Technology For More Precise Placement Of Embroidery Designs
After choosing an embroidery design, select the StitchVision Technology icon on the LCD display to see your embroidery design projected on your hooped fabric, allowing you to get a realistic preview before you begin embroidering. Resize or move the design to your desired position.
Embroidery Laser Pointer
A built-in embroidery pointer is shown as a "T" mark on your fabric. Three colour choices ensure visibility regardless of fabric colour. The pointer will indicate the centre of your embroidery design, as well as the needle drop position on the fabric.
13.1" Sewing Space To The right Of Needle
Experience the freedom and comfort of sewing with this supersized workspace, giving you the freedom to handle virtually any project size with ease. There is easily enough space to accommodate a rolled king-sized quilt. Space height is 5". A generous needle to arm distance of 13.1" is the largest on any Brother.
Embroidery Area 272 mm x 408 mm (10-5/8" X 16")
Supersize your next design using the new 10-5/8" X 16" frame, the largest that Brother currently offers. This extra-large frame has efficient rubber plates on both sides of the inner frame to hold fabric securely in place. Create larger-than-life embroidery designs on cushions, bedding, picture frames, table runners and back logos on hoodies.
Large 10.1" Full Colour HD Touch Screen Display
View and edit your designs on this tablet like screen, with familiar sliding, swiping, scrolling and pinch-to-zoom facilities. Using 16.7M colours, the screen shows them in a crisp and vivid format, with plenty of design editing area.
Built-In Instructions And Tutorial Videos
On screen video tutorials make things so much easier for the user! Stop, pause or rewind any one of the 30 tutorial videos whilst working on the machine. You can even add your own video using MP4 format. Finding help is at the touch of the '?' icon on screen, no need to keep reaching for the printed Instructional Manual.
Design Editing Functions
It goes without saying this machine has a host of design editing functions and they are...resize, add, mirror, copy/paste, rotate in 0.1 degree, add lettering, adjust individual letters, appliqué/logo creator, virtual stitch preview and basting function.
My Design Centre
Enhanced 'My Design Center' is a great way to create custom personal works of art and a really fun way to create embroidery!
You can literally scan an image by placing it in the scanning frame and letting the machine scan it. The Brother XP1 will then show you the scanned image on its screen. You then have the edit tools to rub out/delete areas that are not required and finally the addition of colours and fill types. When ready the machine will automatically transform the image in to an embroidery stitch date file to sew out in the appropriate sized hoop. It is as simple as...scan it, convert it, embroider it!
You are also able to import JPEG images using the USB port and watch in amazement as the image is turned into stitch data on screen.
Enhanced LED Lighting
More 'brilliant' than ever before! The powerful, high-colour 13" LED lighting keeps your workspace bright, with less glare and shadows, making it easy on your eyes. Regulate the brightness between five settings to find your ideal brightness or colour level.
Enhanced Innov Eye Plus
Scan the entire embroidery area, wider than before. This technology has faster scanning speeds than preceding models, so you can spend more time creating and less time waiting.
You select or edit your design onscreen and when you are happy with it, hoop your V neck T-shirt and let the machine scan the hoop and T-shirt. The scanned image will be displayed in full colour on screen with your design overlaid. Now you can move your design to any position and see accurately where it will stitch out on to the V neck T-shirt! Now that's the clever...InnovEye Plus Technology.
Camera-Detecting Buttonhole Sizing
Create the perfect buttonhole on any shirt, jacket or blouse. The InnovEye Plus Technology can detect the button and automatically determine what size buttonhole to make! And with the innovative stabilizer plates, twisting or stretching of the fabric is eliminated.
Outline Recognition For Stipple And Fill Patterns
Accurately stipple anywhere on any project. You can even combine shapes and apply inside or outside stippling. Add stippling or fill to any embroidery design, whether built-in or imported. Choose from 30 built-in decorative fill patterns, including 15 new designs, 60 closed and 30 open shapes with 12 new lines, including flipping capability or select Stipple Stitch and the machine does the rest. View it with the enhanced preview mode; see both the scanned design and selected stippling.
Echo Quitling
The advanced Echo Quilting feature allows you to surround any embroidery design with beautiful echo stitches that can enhance any project. The echo designs follow the contour of the design. The echo lines spacing can be adjusted. Adding a creative and stipple ripple effect to your embroidery design just got simpler.
Draw Custom Stippling
Use the Scanlmation Scanning Frame or draw directly on the LCD display to create your own unique patterns. Get the look of complicated freehand stippling without the use of software or stitch regulation!
Built-In Embroidery Designs And Sewing Stitches
Let your imagination and creativity run wild with the extensive library of over 1,100 built-in embroidery designs, including Disney, Anna Aldmon, Zundt, ZenTangle and Pierre Joseph Redoute.
1,157 BUILT-IN EMBROIDERY DESIGNS
192 DISNEY & PIXAR CHARACTERS
670 BUILT-IN DECORATIVE STITCHES
10 DISNEY SEWING STITCHES
24 EMBROIDERY LETTERING FONTS
4 SEWING LETTERING FONTS
ENHANCED THREAD COLOR PALETTES
Included Accessories
Sewing feet - Zigzag foot, Monogramming foot, Overcasting foot, Zipper foot, Buttonhole foot, Blind stitch foot, Button fitting foot, Dual feed foot, Straight stitch foot, Free motion quilting foot, Free motion echo quilting foot, Free motion open toe quilting foot, Embroidery foot with LED pointer, Vertical stitch alignment foot, 1/4 quilting foot with guide, Couching dual feed foot.
Also included
Embroidery unit and carry case
USB memory stick
Embroidery hoops
Medium 10 x 10 cm (4" x 4")
Large 18 x 13 cm (7" x 5")
Extra large 24 x 24 cm (9.5" x 9.5")
Super large 27 x 40 cm (10-5/8" x 16")
Metal Scan frame and magnets 
 
Other accessories
Top-left yarn guide
Yarn threader
Needle set with twin needle and ball point needles
Spare bobbins
Seam ripper
Scissors
Cleaning brush
Eyelet punch
Screwdriver (x 3)
Spool cap (x3)
Thread spool insert (mini king thread spool)
Spool stand
Spool felt and nets
Embroidery needle plate cover
Touch pen (stylus)
Knee lifter
USB cable
Spare bobbin case 
Bobbin case (for bobbin work)
Straight stitch needle plate
Cord guide bobbin cover (with single hole)
Bobbin cover (with marks and without)
Embroidery bobbin thread
Embroidery positioning sticker sheets × 4
Edge sewing sheets
Stabilizer material
Grid sheet set
Chalk pencil
Sensor pen with holder
Machine cover
High-quality accessory box for storage
Instructions and designs book
Peace of mind...!  You'll be safe in the knowledge that you are purchasing one of the most advanced sewing machines on the market today, with super high quality, made to perform perfect stitching results no matter which material or stitch function you are using. We are never knowingly undersold on quality, service or price.
As much as we would like to get this fabulous XP1 to you using our fast overnight shipping, this is simply not possible due to the box dimensions and weight. Delivery can take between 2 to 4 days.
Specification

| | |
| --- | --- |
| UPC | 05060604427875 |
| Manufacturer | Brother |
| Model Number | Innov-is XP1 |
| Type | Sewing & Embroidery |
| Promotion | FREE Delivery *Top-Of-The-Line For Both Sewing & Embroidery |
| Warranty | 5 Years Full Manufacturers Warranty |
| Weight Kg | 8.5Kg edit this |
| Size (Height, Width, Depth) | H39 x W31 x D15 cm --- edit this |
| Variable Electronic Speed Control | Yes |
| Bobbin Access | Top Loading |
| Transparent bobbin cover Bobbin Cover | Yes |
| Hard Carrying or Storage Cover | Yes |
| Automatically Tensions Thread | Yes |
| Integrated Needle Threader | Yes |
| Thread End Cutting | Automatic |
| Popular Stitch Functions | Straight, Zig-Zag, Multi Zigzag, Blind Hem, Stretch Blind Hem, Rolled Hem, Straight Stretch, Overlock Stretch, Scallop, Ric Rac, Honeycomb, Herringbone, Gathering, Applique, Sew-On Buttons, Quilting Stitches, Plus decorative patterns |
| Twin Needle | Included |
| Maximum Speed Limit Adjustment | Yes |
| Needle Up/Down Function | Yes |
| Integrated Dual Feed System | Yes |
| Integrated Fabric Feed Lowering | Yes |
| Hook Movement | Smooth Rotary Action |
| Needle Positions | Left / Right / Centre |
| Tutorial CD / DVD | No |
| Voltage | 220-240 Volts |

Why not share your review with others.