Husqvarna Designer EPIC 2 Sewing and Embroidery Machine EX-Demo
1
Review
Average rating 5.0 out of 5 Stars.
Most advanced features, such as WiFi technology, Sewing Customizer and a Tablet Style touch Screen. The Designer Epic 2 is top-of-the-line for Husqvarna, we have only one ex-display model available


Price

£8,999.00


Today

£7,999.00
REDUCED £1000 + Free Embroidery Pack TO GET YOU STARTED
FREE delivery by DPD
, order
Delivery: 1 Working Day(s) (Sat, Sun options)
Expected Delivery Date is Monday, October 25th

Click to buy or view finance options.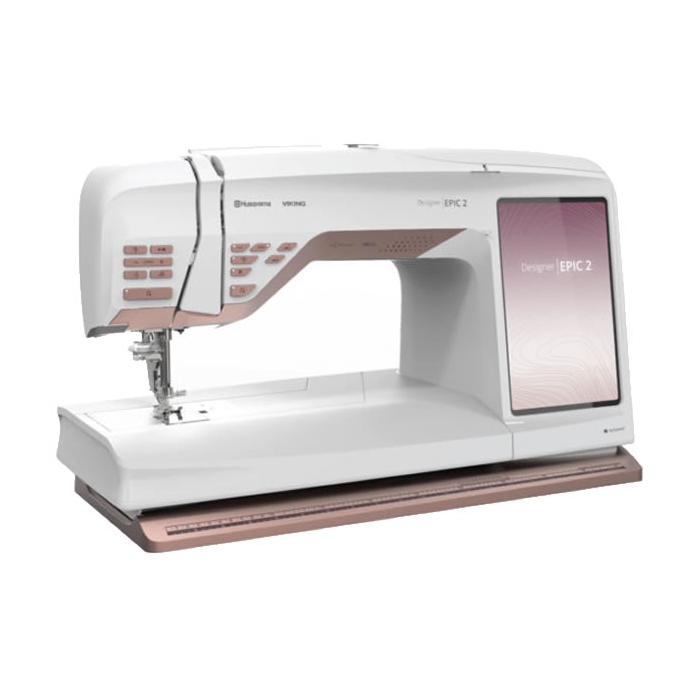 Why choose the Husqvarna EPIC 2 from us?




The Fantastic Husqvarna Viking Designer EPIC 2 machine has more function and advanced features than any other machine, With loads of features best in class or only, found on this machine compared to rival brands.

10.1" Full colour Interactive tablet-style touch Screen technology allows to create and customize your own designs with ease, position, pinch, spread, copy, rotate. These are just a glimpse of what the screen alone is capable of.
Smart Features

MySewnet Library. This is a brand new feature used on sewing machines. It is a Cloud-based library system built into the machine. MySewnet library will allow the user to synchronize multiple devices across a wifi network using apps such as MySew Monitor which essentially updates you on the progress of an embroidery design that is being stitched out in another room for example. You can store and save designs or stitch sequences anywhere using your very own MySewnet cloud and access them later on your machine. Not only that but the MySewnet will automatically download and update new software upgrades released for your machine. On MySewnet Library you can browse through thousands of designs and projects which are updated and added to regularly.

JoyOS Advisor is for use in sewing and embroidery modes. This is your very own personal sewing teacher or instructor. There are over 120 illustrations and instructional animated videos to help guide you with almost every aspect of your sewing. Follow the tutorial step-by-step instruction given to you by your machine, it is like having a personal tutor with you all the time leading the way.

Advanced sensor settings system. Another industry first. This machine can fully and automatically set everything up for you based on the fabrics you are using, the stitch you have selected and even the sewing technique that you are aiming to achieve within sewing and embroidery.

The machine is truly EPIC2. not only is it just suitable for the most advanced sewers among us but with all of the tuition even a beginner can use this machine with confidence and enthusiasm and created professional project regardless of skill level.

"EPIC" meaning: very great and impressive! There is no mistaking this fact, the sewing bed area is 12.2" from the needle to arm and 5.5" high, that's big enough for any project that I can think of. However, the intuitive design means out of all of the machines in a similar class it is also the lightest. Size doesn't end there, The Husqvarna Viking Designer EPIC 2 has the largest embroidery design area compared to other embroidery machines available today as of December 2019, and this is the biggest in a single hoop and also in a turnable hoop.
Visibility over these vast areas is assisted by the cleverly designed and engineered LED lighting which has been "scientifically" positioned to ensure that mathematically the light is distributed evenly. Owners of this machine will now have the best possible lit sewing area increased even more so by the design allowing for greater sewing visibility angles, there are now less distraction and obstruction between you and what you are sewing.

As well as having some of the largest advanced features of any machine on today's market there are also many smaller improvements. Husqvarna Viking has now introduced their first advanced fully automatic needle threader. This feature has been around for a long time now and is regarded as invaluable with some brands and now Husqvarna owners can have it too.
The EPIC 2 now comes with an Integrated Dual Feed Technology, if you're tired of material slipping out of alignment or enjoy sewing unusual materials together with the IDF. Also used to sew bulky seams and heavy materials, where the IDF really sets its self apart from the others in when it comes to sewing multiple layers, quilting and batting is done in a breeze as the material is fed from the top and the bottom simultaneously
Complimentary software also comes with this machine which will allow the user to have unlimited access to embroidery design fonts such as true type fonts.

The machine has 6 advanced machine features
* My Sewnet Library - The first machine to have access to a full, continuously growing library of high quality embroidery designs directly on the screen of your DESIGNER EPIC 2 machine. Connect to all the mySewnet™ apps you love, update your machine wirelessly, transfer designs between devices, and more. Unleash a universe of sewing and embroidery possibilities using the mySewnet™ ecosystem which includes free cloud-based storage and design transfer, apps, Project Creator service, and fresh ideas available in a live feed directly on screen from the mySewnet Blog.

* Integrated Dual Feed Technology

* Adjustable Laser Sewing Guide - Project a laser guidance line directly on your fabric to easily line up your stitches. Move the laser-projected line guide left or right to easily align rows of decorative stitches, consistently space lines of quilting, and more.

* Ribbon Embroidery Attachment Capability - A true innovation in the home embroidery machine. With the optional ribbon embroidery attachment, your DESIGNER EPIC2 machine will guide and stitch down ribbon in embroidery mode. Adding ribbon to your embroidery designs has never been easier!

* Multi-Function Foot Control Capability

* Laser Pictogram Exclusive Stitch Technique - Most patented stitch techniques! Six exclusive stitch techniques including patented stitch techniques. Customize any project with exclusive patented stitch techniques that give your project dimensional elements that are effortless and irresistible: applique stitches, pop-up stitches, sequin stitches, theme stitches, yarn stitches, and laser pictogram stitches
All information written in this description is formed from our own experience and written in our own words solely for the knowledge and viewing of of our customers and not distribution or to be copied, shared or used for any other purpose. The above text and imagery remain the intellectual property of singer machines ltd trading as www.sewingmachinesales.co.uk for more info on our copyright policy please visit our terms and conditions.
Specification

| | |
| --- | --- |
| UPC | 7393033091521 |
| Manufacturer | Husqvarna |
| Model Number | EPIC 2 |
| Type | Sewing & Embroidery |
| Promotion | REDUCED £1000 + Free Embroidery Pack TO GET YOU STARTED |
| Warranty | 5 Years Full Manufacturers Warranty |
| Weight Kg | 9.5 |
| Size (Height, Width, Depth) | W 50cm x H 30cm |
| Variable Electronic Speed Control | Yes |
| Bobbin Access | Top Loading |
| Transparent bobbin cover Bobbin Cover | Yes |
| Hard Carrying or Storage Cover | Yes |
| Automatically Tensions Thread | Yes |
| Integrated Needle Threader | Yes |
| Thread End Cutting | Automatic |
| Number of Stitch Selections | 4000+ |
| Popular Stitch Functions | Straight, Zig-Zag, Multi Zigzag, Blind Hem, Stretch Blind Hem, Rolled Hem, Straight Stretch, Overlock Stretch, Scallop, Ric Rac, Honeycomb, Herringbone, Gathering, Applique, Sew-On Buttons, Quilting Stitches, Basting Stitch, Closed Overedge, Plus decorative patterns |
| Formation of Buttonholes | 1-Step Fully Automatic |
| Variety of Buttonholes | 16 with 3 eyelets |
| Twin Needle | Included |
| Maximum Speed Limit Adjustment | Yes |
| Needle Up/Down Function | Yes |
| Integrated Dual Feed System | Yes |
| Integrated Fabric Feed Lowering | Yes |
| Hook Movement | Smooth Rotary Action |
| Needle Positions | Left to Right |
| Tutorial CD / DVD | No |
| Voltage | Dual Voltage 110-240 Volts |

Customer Reviews
This is my wife's 3rd Husqvarna sewing machine (not counting 2 overlockers), and this clearly is her favorite.
She is most impressed with how solid it is - as a big embroiderer, she needs the embroidery extension to be substantial, move smoothly, and ensure that the designs 'register' correctly, which this one does.
She always used the 8 spool rack on her Diamond and Designer SE because she said the horizontal feed spilled thread, and didn't feed correctly when vertical and turning. The Epic's vertical pins solve this.
Other features she loves?
The larger capacity bobbin, especially with stitch intensive designs like free-standing lace.
My SewNet, which makes organizing all her designs between the software on her laptop and the machine so much easier.
While she is enjoying exploring the new touch screen, the real fan of that feature and the JoyOS Advisor is our granddaughter! She was previously somewhat intimidated by "Nana's machine" but now that she can get detailed instructions (and actually show Nana what to do), she leaps right in there.

So yes, it's been a joy for everyone, including me as I get 'extra credit' for buying it for her!!

Why not share your review with others.