Janome Horizon MC15000 Quilt Maker
What a fantastic sewing machine, introducing the Janome MC15000 Quilt Maker not only does it sew and do embroidery, it has built-in WiFi so it is possible to use an iPad to edit and embroidery design and send it to the machine to be sewn out. You can monitor the machine progress via the iPad while watching the TV..! The speed at which the designs load on to the super-sized full colour touch screen really impressed us
*PRE ORDER NOW*
FREE delivery by DPD
, order
Delivery: 1 Working Day(s) (Sat, Sun options)
Expected Delivery Date is Monday, December 6th

Click to buy or view finance options.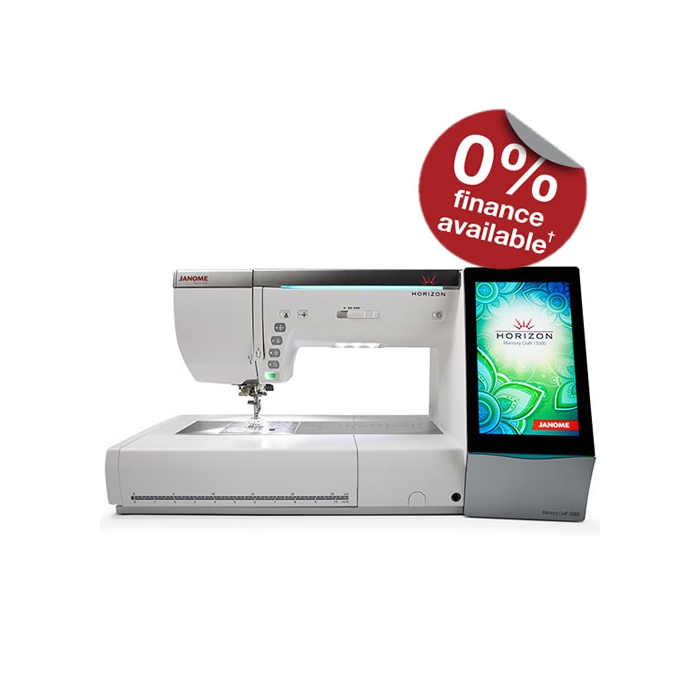 Why choose the Janome MC15000 Quilt Maker from us?




Its the most advanced Janome sewing and embroidery machine ever, introducing the Janome Memory Craft 15000 Quilt Maker it is Janome's top-of-the-range model. We have this machine in stock, on the demonstration table ready to start stitching, why not phone us and arrange a date to call in for a demo, I'm sure you wont be disappointed with the deals we can offer. Or ever our finance options.
It incorporates all the best features for sewing, embroidery, quilting and craft work and has the largest work area of any equivalent model available. And it is the first machine of its kind to have WiFi, the first to work with an iPad and the first to have its own Apps! Just one more thing… it has the largest and fastest touch screen on the market.
Unique built-in embroidery system
Embroiders up to 230mm x 300mm
480 Designs plus 10 fonts included
9mm wide stitches
91 needle positions
On screen design editing
Embroidery time & stitch indicator
WiFi
USB real-time PC connection
Auto thread cutter
Stitch Composer
Fully computerised with over 500 stitches including 13 auto buttonholes
Built-in AcuFil Quilting System
Information colour touch screen
Lots of features such as needle up/down and speed control
AcuFlex dual feeding system
Variable zigzag using kneelifter
The Janome MC15000 Quilt Maker has a huge sewing bed area of 17.3" and  11" right of the needle, this machine has more space than any other Janome sewing machine. The stainless steel arm plate is marked for sewing seams. The new built-in embroidery system is the most stable Janome have ever developed ensuring perfect embroidery designs.
It is packed full of powerful yet easy to use features such as, AcuFeed Flex, Horizon-Link, Stitch Composer and Janome's exclusive AcuFil Quilting System.
We have tried, tested and approved this new Quilt Maker MC15000. We like the new faster embroidery speed which is up to 1,000 s.p.m. Also i'm sure you would like the quite sewing mode, with automatically slows the machine down, and lowers the sound level, a nice touch Janome! Not only does it have Incredible stitch speed with precision to match, the new internal software and faster process means no waiting for the deigns to appear on-screen.
Specification

| | |
| --- | --- |
| UPC | 5027843500707 |
| Manufacturer | Janome |
| Model Number | MC15000 Quilt Maker |
| Type | Sewing & Embroidery |
| Promotion | *PRE ORDER NOW* |
| Warranty | 2 Years Full Manufacturers Warranty |
| Weight Kg | 14 |
| Size (Height, Width, Depth) | W63 cm x H34 cm |
| Variable Electronic Speed Control | Yes |
| Bobbin Access | Top Loading |
| Transparent bobbin cover Bobbin Cover | Yes |
| Hard Carrying or Storage Cover | Yes |
| Automatically Tensions Thread | Yes |
| Integrated Needle Threader | Yes |
| Thread End Cutting | Automatic |
| Number of Stitch Selections | 500 |
| Popular Stitch Functions | Straight, Zig-Zag, Multi Zigzag, Blind Hem, Stretch Blind Hem, Rolled Hem, Straight Stretch, Overlock Stretch, Scallop, Ric Rac, Honeycomb, Herringbone, Gathering, Applique, Sew-On Buttons, Quilting Stitches, Felting, Basting Stitch, Closed Overedge, Plus decorative patterns |
| Formation of Buttonholes | 1-Step Fully Automatic |
| Variety of Buttonholes | 13 |
| Twin Needle | Included |
| Maximum Speed Limit Adjustment | Yes |
| Needle Up/Down Function | Yes |
| Integrated Dual Feed System | Yes |
| Integrated Fabric Feed Lowering | Yes |
| Hook Movement | Smooth Rotary Action |
| Needle Positions | Left / Right / Centre |
| Tutorial CD / DVD | Yes |
| Voltage | 220-240 Volts |

Customer Reviews
This is the 3rd machine I have purchased from this company and each time I have found them to be extremely helpful, knowledgeable and efficient. The Janome 15000 is a truly fabulous machine. As a quilter I find the machine feeds the 3 layers of fabric through easily and smoothly. The wealth of built in stitches and embroidery patterns help to elevate quilting to a whole new level and sewing on this machine is an absolute joy.

Fantastic service and super quick delivery. It is a beautiful machine and an amazing buy with the sale price. Would recommend this company very much. Thank you

Why not share your review with others.