Janome Horizon MC14000 Embroidery Sewing Machine Ex Demonstration
Fantastic sewing and embroidery machine the MC14000 has a huge colour screen with a supersized working area. Take a look at what this machine can do and the huge collection of included standard accessories

Click to buy or view finance options.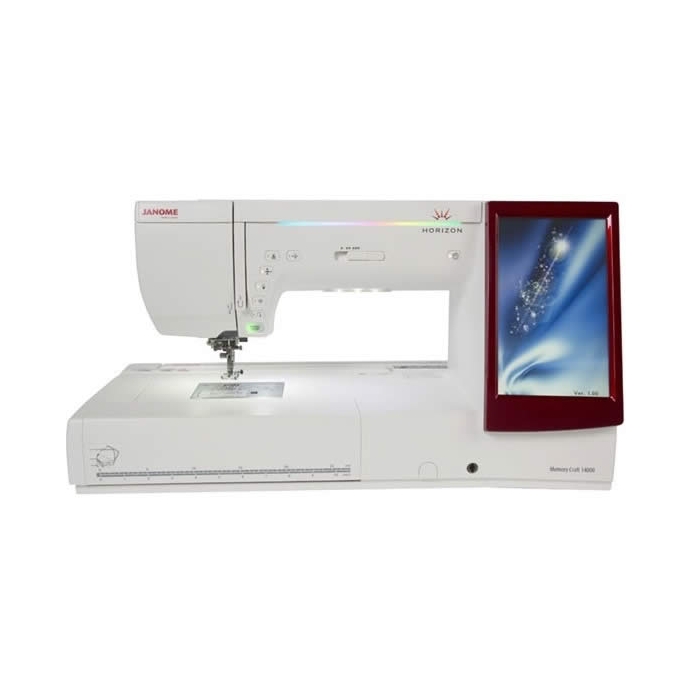 Why choose the Janome Horizon MC14000 from us?




COVID-19 UPDATE:
While courier companies are making every effort to deliver within a standard operating time frame, this is not always possible. Deliveries may be delayed. more info.
Its the newest addition to the high end Janome sewing and embroidery machine, introducing the Janome HORIZON Memory Craft 14000 sewing and embroidery machine. The 14000 is a lovely machine. Available now, when we received our demo model we couldn't wait to try it our to see what extras Janome have come up with. We are head over heel with this little beauty and I'm sure you will be to, if you're curious come and visit us or even check out our various finance options that we offer on this machine.
This machine like the other Horizon machines is huge, A whopping 280mm working space and a free arm almost as long at 260mm. The height of the sewing area is 150mm so ideal for bigger projects like quilts and curtains. As the sewing area is sew vast Janome have cleverly positioned 10 bright white LED lights in 5 locations on the machine to ensure the whole work space is effective lit up for the user. While we are on about visibility the MC14000 is also supplied with a Acu-View Magnifier so you can see exactly where your stitches are landing without stooping over your machine like a concerned mother does over a sleeping newborn. Also the full colour LCD display touch screen is very sleek and crisp so you know at a glance what stitch you've selected, what foot to use, the stitch length (max 5mm), Stitch width (max 9mm) and a host of other information including sewing speed (sewing max 1060spm, embroidery 1000spm), tension setting, auto thread cutter and more and more.....
The sewing machine has 400 built in stitches including 13 different style button holes and 4 monogramming fonts with a 9mm width. There are loads of features to bring you comfort when sewing with the Janome 14000:

Automatic Presser foot pressure
Automatic Thread cutter
Dual Acu-Feed system
Knee Lifter
Fully Auto thread tension
Bobbin thread sensor
Automatic Needle Threader
Jam proof top loading Bobbin system
If it's free-motion quilting that you are into this machine in perfect, it offers expansive space to fit your quilt, easy straight stitch conversion by simply attaching the provided straight stitch needle plate and all the zig zag stitch become none-select-able so you can go wrong. When regular sewing the feed dogs help to keep your fabric straight as the feed dogs are very wide and have 7 points of contact there is also an automatic drop feed at the touch of a button the feed teeth will lower and rise again just as easy.
The embroidery side of the 14000 is very comprehensive, there are 350 built in designs and 11 fonts to choose from. The machine can be set to a certain speed to embroider quickly or slow and quietly from as low 400 to 1000spm. Once you have chosen your design there are a number of functions available to have the design suit your requirements, you can:


Resize
Combine
Duplicate
Rotate
Arc
Flip
Group
Change Palette

Once your design or designs are embroidering you will benefit from more features like the Automatic return after thread breaks, Flexible stitch travel in increments of 1, 10 or 100 and jump thread trimming so no more snipping loose threads for you. The maximum size of embroidery the 14000 will do is 230 x 300mm (approx 9" x 12"). There are 4 hoops included in the standard accessories:
100mm x 40mm
140mm x 140mm
230mm x 230mm
300mm x 230mm

Standard Accessories:
¼" Seam Foot
Automatic Buttonhole Foot
Blind Stitch Foot
Knee Lifter
Bobbin Holder for Embroidery
Lint Brush
Bobbin Holder Cleaner
Magnetic Clamps x 4 Small
Button Sewing Foot
Net
Button Shank Plate
Optic Magnifier (20) Complete unit
Cloth Guide
Over Edge Foot
Concealed Zipper Foot
Power Supply Cord
Couching Foot
Quilting Guide
Couching Foot size-2
Rolled Hem Foot
Open Toe Craft Foot
Satin Stitch Foot
Darning Foot
Seam Ripper
AcuFeed Foot – Single
Screw Driver ( Large )
AcuFeed Foot – Twin
Small Embroidery Scissors
AcuFeed Holder
Spool Holder ( Large ) x 2
AcuFeed Holder (Twin )
Spool Holder ( Small ) x 2
AcuFeed Quilt Piecing Foot - Twin
Spool Holder Special
AcuFeed Zipper Foot – Single
Spool Stand
Embroidery Foot
Stabilizer Plate
Embroidery Hoop ( FA10 ) 100 X 40 mm
Standard Foot
Embroidery Hoop ( SQ14 ) 140 X 140 mm
Standard Foot Holder
Embroidery Hoop (SQ23 ) 230 X 230mm
Straight Stitch Needle Plate
Embroidery Hoop ( GR ) 230 x 300 mm;
Stylus
Embroidery Unit Case
Template for FA10 Hoop
Extra Spool Pin Vertical
Template for GR Hoop
Extra Wide Table ( Perspex)
Template for SQ14 Hoop
Free Motion Quilting Closed-Toe Foot
Template for SQ23 Hoop
Free Motion Quilting Open- Toe Foot
Free Motion Quilting Zigzag Foot
Yarn Guide Bar
Hook over Plate (Slide Plate Cover)
Yarn Guide
Zipper Foot
Bobbins x 4 plus one installed
Semi-Hard Cover
Foot Controller
Icon Reference Chart
Instruction Manual
USB Cable
Acutools CD-ROM
Instructional DVD
Specification

| | |
| --- | --- |
| UPC | 5027843501308 |
| Manufacturer | Janome |
| Model Number | Horizon MC14000 |
| Type | Sewing & Embroidery |
| Warranty | 2 Years Full Manufacturers Warranty |
| Weight Kg | 14 |
| Size (Height, Width, Depth) | W63 cm x H34 cm |
| Variable Electronic Speed Control | Yes |
| Bobbin Access | Top Loading |
| Transparent bobbin cover Bobbin Cover | Yes |
| Hard Carrying or Storage Cover | No |
| Automatically Tensions Thread | Yes |
| Integrated Needle Threader | Yes |
| Thread End Cutting | Automatic |
| Number of Stitch Selections | 400 |
| Popular Stitch Functions | Straight, Zig-Zag, Multi Zigzag, Blind Hem, Stretch Blind Hem, Rolled Hem, Straight Stretch, Overlock Stretch, Scallop, Ric Rac, Honeycomb, Herringbone, Gathering, Applique, Sew-On Buttons, Quilting Stitches, Felting, Basting Stitch, Closed Overedge, Plus decorative patterns |
| Formation of Buttonholes | 1-Step Fully Automatic |
| Variety of Buttonholes | 13 |
| Twin Needle | Optional |
| Maximum Speed Limit Adjustment | Yes |
| Needle Up/Down Function | Yes |
| Integrated Dual Feed System | Yes |
| Integrated Fabric Feed Lowering | Yes |
| Hook Movement | Smooth Rotary Action |
| Needle Positions | Left / Right / Centre |
| Tutorial CD / DVD | Yes |
| Voltage | Dual Voltage 110-240 Volts |

Why not share your review with others.