Mega Press 202 Steam Ironing Press
This Megapress steam press is the modern, easy to use and its the fast answer to ironing its medium size can cope with all you home ironing including shirts, pants and sheets no problem. If your unsure, please do not hesitate to call us for expert advice on our range of Iron presses


Price

£249.00


Today

£199.00
Save ££ + FREE Cover and Foam Padding worth £39
Pre Order Now. Delivery date to be confirmed, order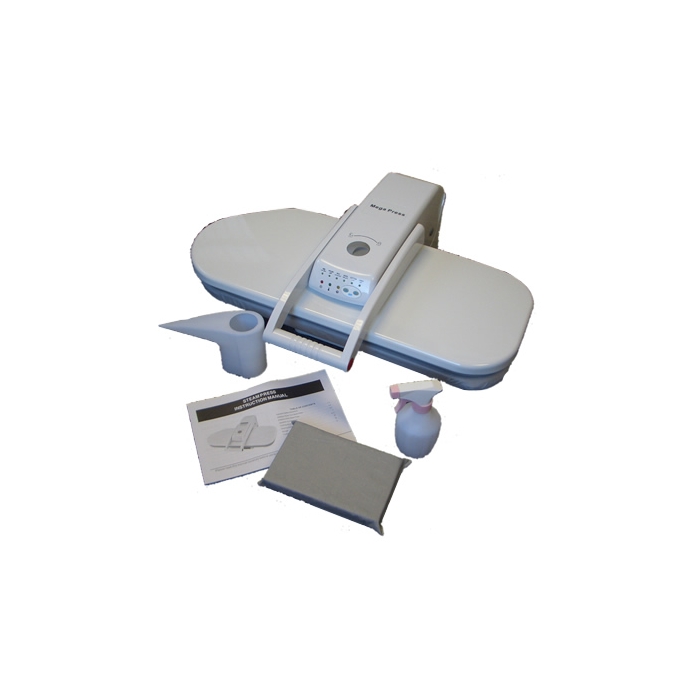 Why choose the MegaPress PSP202 from us?




Never been at a lower price with this quality, this new Mega Press steam press can be used in the conventional manner clothing, curtains, sheets etc. It is the classic Ironing press for every day use, also can be tucked away into a small area when locked occupies only a small floor space.

Simply use the extra burst of steam buttons on left and right sides of handle, use when needed for stubborn wrinkles. The Mega Press 202 has this feature, and more, also an power on / off switch for safety.

The amount of steam can be variable simply by press the steam control button when needed.
The Megapress steams from the upper plate directly on to the fabric and is as good as any trouser press for providing a razor sharp crease just where it's needed.
Pressing is kinder to fabrics because it avoids putting a shine on the material and helps garments keep their shape and as there is no to and fro ironing movement, everything lasts longer too!
Much larger pressing area than that of a conventional Iron and with many fabrics you can press several layers simultaneously.
Take the drudgery out of the ironing, sit down make your self comfortable, press away and see the pile of ironing disappear fast.
The Megapress steam press is a simple one handed operation, for light weight fabrics the handle is lowered to the first position... for automatic high pressure - normal ironing the handle is lowered to the second position giving a pressure of 45 Kilos ( approx 100 lbs) evenly across the whole garment.
The choice of different pressures is backed up with a whole range of variable functions to be used depending on the type of fabric being pressed, so you can rest assured the most delicate blouses, to the toughest denims will get the right treatment.

The Megapress iron make's ironing effortless, closing the handle, squeezes the plates together with upto 100lbs of pressure.
Cuts ironing time by as much as 50% and is kind to clothes helps avoid shining.
Choice of automatic high pressure or light pressing.
Temperature control to suit all fabrics.
Steam ON or OFF setting
Real steam not just a squirt of water like some...
Power ON/OFF and temperature ready indicator
Extra burst of steam feature helps remove all wrinkles.
Automatic safety shut off operates in both closed and open situations.
Auto safety shut off Auto pressure, approx 100lbs
Pressing area 64cm long 27cm wide
Specification

| | |
| --- | --- |
| Manufacturer | MegaPress |
| Model Number | PSP202 |
| Type | Steam Press |
| Press Type | Dry Ironing Press, Steam Ironing Press |
| Promotion | Save ££ + FREE Cover and Foam Padding worth £39 |
| Warranty | Full Manufacturers Warranty |
| Pressing Area | 64 cm x 27 cm |
| Weight Kg | 12 Kg |
| Temperature Control | Yes |
| Auto Safety Cut Off | Yes |
| Built-in Sleeve Board | No |
| Teflon Coated Plate | Yes |
| Variable Steam Pressure | No |
| Burst of Steam Button | Yes |
| Tutorial CD / DVD | No |
| Voltage | 220-240 Volts |

Customer Reviews
Items 11 to 20 of 30 total
Page
You're currently reading page

2
Having used this for a week now I can certainly say a good buy. Service excellant

I have always wanted an ironing press and now ironing hurts my back it was a good reason to get one, I read the reviews on this model and decided it was the one for me I ordered on Sunday evening it arrived today (Tuesday) morning excellent service great delivery driver too. Had to try it straight away !! Brilliant I am going to enjoy using it and no more backache. Thank you sewing machine sales for an easy pleasant transaction.

i am thrilled with my mega press 202 ironing press

After my old press packing up after 10 years, I felt it was time to buy a new one. The Mega Press 202 arrived one and a half days after ordering. I found it was large enough to press t-shirts sideways, meaning it took only two presses per t-shirt. When it came to the sheets and duvet cover, I was amazed, just four folds and they were done. Wish I had purchased this Mega Press a long time ago, would have saved myself a lot of time and effort. Thank you so very much. Candi

Cant fault anything about this order. What I really appreciated was the ease of start up - take out of box, remove bit of packaging, plug in, ready to go. Lovely!

Excellent machine, well worth the money, Delivery was prompt and staff most helpful, but make sure you do not throw out the extras with the packaging!

Very well designed and easy to use. Woiuld have been 5 stars if had built in sleeve board.

Really good Press, easy to use and does a great job, If I could afford it I would have bought the large Mega Press as that would even save more time with the larger bedding

Takes a little getting used to after a conventional iron, downside the water container is extremely difficult to remove! *STAFF COMMENT* The water container is not designed to be removed it slides in and out of the base of the machine for efficient filling and hides away whilst not being used.*

Love this steam press.
I am a full time wheelchair user and this is a brilliant item for me.
I can now press everything myself and not have to rely on carers to do it therefore giving me more independence.
When I first used it I searched for extra things to press and ended up doing all my teenage sons boxer shorts much to his amusement.
Love it.
Items 11 to 20 of 30 total
Page
You're currently reading page

2

Why not share your review with others.