Mega Press Compact Steam Press
This compact steam press by Megapress, its lightweight and easy to setup and its 7 times larger than a regular handheld iron, so you can relax and get your ironing done in half the time..! If your unsure, please do not hesitate to call us for expert advice on our range of Iron presses.


Price

£219.00


Today

£169.00
FREE Cover and Foam Padding worth £39
FREE delivery by DPD
, order
Delivery: 1 Working Day(s) (Sat, Sun options)
Expected Delivery Date is Monday, January 24th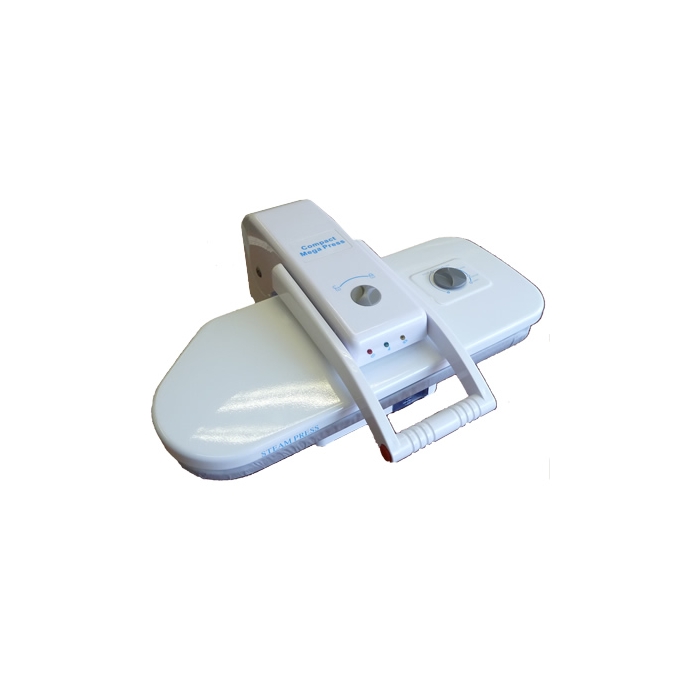 Why choose the MegaPress Compact PSP990 from us?




Take the hassle out of ironing with the mega Press Compact Steam Press. It features a steam surface that is up to seven times larger than a normal iron, meaning better results in half the time. The steam press can be used dry or using steam settings and a burst setting that will remove stubborn wrinkles with ease leaving you satisfied with the laundry time after time.

Lightweight, the Megapress compact weighs only 10Kg has a temperature control (range of 60 to 220c) and powerful at 1350 watts.

The Mega press compact is a lightweight device as far as steam presses go. The machine provides over 100 lbs of even pressure which is more than enough to straighten most wrinkles. When ironing using a hand held iron you will have to either sit or stand but using Mega press compact you can iron either way. You can iron the way you feel comfortable. It is a very compact device which can be stored easily. If you were looking for a steam press which is lightweight, does not consume much energy and provides superior results, then this compact model is custom built for you.

Auto-shut feature protects the user and saves power
A useful feature of Megapress compact steam press iron is auto shut-off feature when the device is at rest. The automatic shut-off feature protects from overheating. It also saves a lot of energy as it shuts off automatically and does not consume energy at that time.

The steam press itself is fitted with a water tank which holds up to 300ml of water for steam use whilst ironing clothes. With an easy to fill water tank, locking knob for transit and simple operation this Megapress is one of the best buys in its class.

Some tough fabrics are very hard to press properly especially if very dry.  The "burst of steam" button solves this problem by providing extra steam when it is needed.  You can also dry press with the steam turned off, or steam via an alternative method by using the supplied spray bottle or a damp cloth over the area to be pressed, its very versatile.

Easy to use functions allow quick set-up to the correct temperature for Nylon, Silk, Wool Cotton and Linens at the turn of a dial. The electronic controls make for hassle free use, it even includes a low water indicator.

Imagine professional ironing results and saving time, as much as 50% time gain over a hand iron. Storage is not a problem. Lock the handle and it will stand upright taking up only a small amount of space.

Features:
Pressure equivalent to 50 Kg removes creases without effort
Large opening for bulky items
Large water tank with access for easy filling
Water level warning indicator
Suitable for delicate fabrics and avoids shining
Digital temperature control for different materials
Hard wearing heating plate.
Non stick ironing cover for a crisp professional finish
Easy one handed operation standing or sitting
Automatic shutoff safety feature
Easy to carry handle.
Provides a powerful burst of steam when you need it.
Left or Right hand use - steam buttons on each side of handle
1350 watts power
The overall pressing area is 55cm (approx. 24") x 22 cm (approx. 9")

The Megapress Compact also includes: instruction book, pressing cushion, power lead, water filling jug and water spray bottle.
Specification

| | |
| --- | --- |
| Manufacturer | MegaPress |
| Model Number | Compact PSP990 |
| Type | Steam Press |
| Press Type | Dry Ironing Press, Steam Ironing Press |
| Promotion | FREE Cover and Foam Padding worth £39 |
| Warranty | Full Manufacturers Warranty |
| Pressing Area | 56 cm x 22 cm |
| Weight Kg | 10 Kg |
| Temperature Control | Yes |
| Auto Safety Cut Off | Yes |
| Built-in Sleeve Board | No |
| Teflon Coated Plate | Yes |
| Variable Steam Pressure | No |
| Burst of Steam Button | Yes |
| Tutorial CD / DVD | No |
| Voltage | 220-240 Volts |

Customer Reviews
Items 11 to 20 of 26 total
Page
You're currently reading page

2
Awesome

This is a amazing product. Gives a very good professional look to my ironing. It has made ironing a pleasure not a chore.

This is a very neat, easy to use machine, easy to carry about -I am very pleased. Delivery was very prompt and hassle free.

Am very satisfied with this press...it is easy to use, lightweight and comes with extremely clear instructions. It copes admirably with thick, heavy century-old linen...

Great steam press, bye bye old iron :-) Prompt delivery and communication. Can't wait for my stand to arrive as was out of stock when ordered.
Would defiantly recommend this product A++++

What an incredible machine. I wish I had known about it a few years ago, as I would have bought it a lot sooner !!! It is very compact (NOT SMALL), and works an absolute treat. Gone now are the "dreaded ironing days". With this super machine, it is a pleasure to just whip through the ironing in literally 2 minutes. It took approx 9 seconds to iron hubby's T-shirt !!. Thanks so much to the company too !! an extremely fast delivery service. Even down to the 1 hour time phase. All in all, a terrific buy. Would certainly point other people in this direction. Thanks once again.

it is fantastic I am going to buy a another one soon

Received my order prompltly and well-packaged. Product excellent and already proving better to use service than my previous iron press - a Singer model. Price of this is very competitive. Thanks for good service.

I knew how very good an ironing press is (in general, any make). You can iron practically anything with it. Really reduces the time I have to spend ironing. Very happy with the purchase, good press, speedy delivery! No more mountains of ironing in my house!

This was brought on behalf of a friend, and she absolutely loves it. I have had one for over 10 years when they first ever was introduced to the domestic market, and she always wanted one.
She is pleased that she finally got one as it saves her so much time and back ache.
Items 11 to 20 of 26 total
Page
You're currently reading page

2

Why not share your review with others.