This Singer ESP2 is super quality that will last years and what's more, like magic it can actually half your ironing time as the pressing area is nearly 11 times that of a conventional iron. Built in extra blast of steam when needed


Price

£299.00


Today

£215.00
FREE Silver Press Cover worth £10
Sorry, temporarily Out-Of-Stock
Please use the link above to sign up for new stock update. We will email you the moment it comes back in to stock.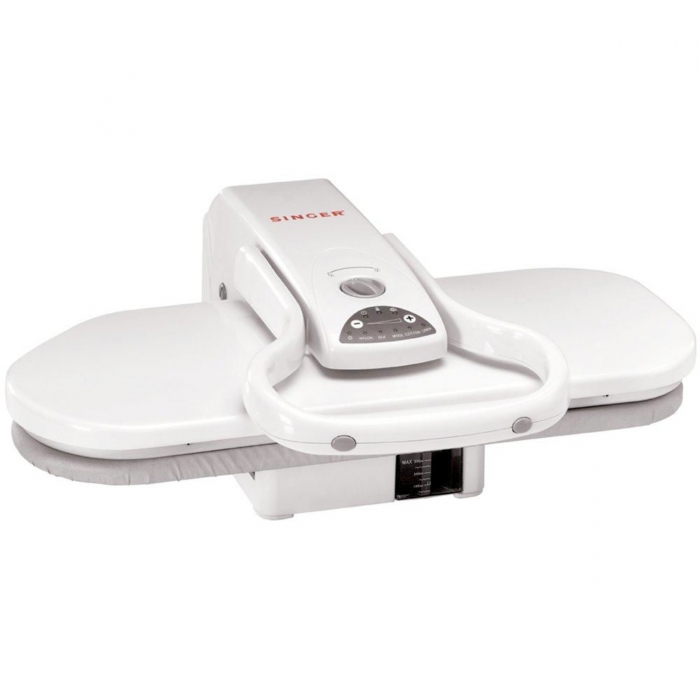 Why choose the Singer ESP2 from us?




BRAND NEW ESP2 STEAM PRESS FROM SINGER.
This is the best Singer ironing press ever, super quality that will last years! and what's more it can actually half your ironing time as the pressing area is nearly 11 times that of a conventional iron. Several layers can be pressed simultaneously by gently pulling down the handle, the whole area is pressed at once quickly and easily.
Why not take the drudgery out of the ironing? Sit down, make yourself comfortable, press away and see the pile of ironing disappear.
Dont forget to have a read of our product reviews, real world customers cant be wrong!

Ideal for clothes, linens, sewing projects, and household items like draperies and bedding the press features a streamlined handle design that can be operated with one hand.

The steaming function, controlled electronically from the buttons at each side of the handle, variable steam! quickly set the amount of steam at the touch of a button. The steam is pumped electronically from the 300ml water tank, up to the top heated plate. The press can also operate dry.

With its smart, sandwich construction and easy operation, the Singer ESP-2 (Electronic Steam Press) make's ironing effortless, closing the handle, squeezes the plates together with up to 100lbs of pressure.

Sit down and watch the pile of ironing disappear, while ironing the electronic alarm sounds after 10 seconds. You'll be amazed how quickly the Singer steam press deals with sheets, tablecloths, napkins, etc, the largest items can be folded into the ample space at the back of the board and press multiple layers. Just imagine perfect creases in pants and shirt sleeves in one go.

Lock closed it can be tucked away into a tiny space standing in a vertical position it occupies very little floor space. 

Main Features
Cuts ironing time by as much as 50% and is kind to clothes helps avoid shining.
Choice of automatic high pressure or light pressing.
Temperature control to suit all fabrics.
Vary the steam at the touch of a button.
Use with steam or not
Real steam not just a squirt of water like some... 
Power ON/OFF and temperature ready indicator.
Steam feature helps remove all wrinkles.
Automatic safety shut off operates in both closed and open situations.
Easy to see LED lamps show the temperature settings.  
Auto pressure, approx 100lbs 
Pressing area 63cm long 26cm wide.

The Bottom Line
The Singer ESP 2 steam press includes a measuring cup, pressing cushion, spray bottle, an instruction book and a washable pad cover. It is the perfect gift solution for someone you care and is a good value for money. The ESP-2 steam press is cost efficient, durable and long lasting. You don't have to worry anymore about your skin getting in contact with clothes that have been pressed using chemicals.

We are the largest retailer of presses in the UK, so don't hesitate to call us for independent advice on the iron press that's best suited for your needs.
Accessories Included:
Instruction Book
Water tank filler
Pressing cushion
Water spray bottle
Power lead
Specification

| | |
| --- | --- |
| UPC | 6938167862954 |
| Manufacturer | Singer |
| Model Number | ESP2 |
| Type | Steam Press |
| Press Type | Dry Ironing Press, Steam Ironing Press |
| Promotion | FREE Silver Press Cover worth £10 |
| Warranty | Full Manufacturers Warranty |
| Pressing Area | 63 cm x 26 cm |
| Weight Kg | 12 Kg |
| Temperature Control | Yes |
| Auto Safety Cut Off | Yes |
| Built-in Sleeve Board | No |
| Teflon Coated Plate | No |
| Variable Steam Pressure | Yes |
| Burst of Steam Button | Yes |
| Tutorial CD / DVD | No |
| Voltage | 220-240 Volts |

Customer Reviews
I am delighted with my Singer Steam Press.
So easy to use and as I am in my seventies I can sit and iron instead of standing for an hour or so ironing.
Delighted with your service.

Just bought an ESP 2 to replace my original Singer Magic Press that I bought 25 years ago at the Ideal Home Exhibition at Earls Court. It has served me so well and is in fact still working but I decided to splash out on a new press to update and also enjoy the steam enhancement. The new machine is wonderful and much lighter which will be helpful as I am 25 years older now! The ironing press is a wonderful invention and makes light of ironing - I would never be without one. I didnt even bother to look at other machines as Singer are obviously the best!

This is my fourth steam press and my second Singer in a row. With four adults at home I iron for England and the steam presses seem to wear out as ordinary irons do after a time. I am delighted with the new one and I expect it to last a long time.

I have not been able to do my own ironing for 13 years due to being disabled and have had to pay a company to do it for me. This steam press has changed everything, I have done my own ironing at last, I sat did a big pile whilst being able to listen to the radio and watch out the window into the garden. Thank you so much for giving me back a little independence and also not to be forgotten saving money in the long term by not having to pay someone else to do it. Thank you, thank you

Just a quick note to say thank you for your excellent service. I ordered my Singer Steam Press and it arrived the next day!

Thanks again for your super service, super support and super efficiency.

In one word to describe the steam press FANTASTIC. I am absolutely amazed how easy it is to use effortlessly. I am a blonde and even I can use it ha ha ha. I am very happy with my purchase and glad I chose to buy a Singer. I hope to buy from you again and I will definitely recommend you to my friends and clients.

Ive had mine for over 3 years now and would NEVER go back to an iron an board again.. i find it simple to use nowadays (have to admit it did take me a while to work out how to do dresses and shirts) but I now do everything and my grown up children are always trying to borrow it to get the same finish i do... the best bit about a Singer.. the speed of it.. ironing is no longer a slow process

I am delighted with this press which is easy to use and light to handle. I run 3 holiday cottages so always have quantities of ironing, this press makes the task much quicker and easier-and I can work sitting down!

I was also impressed by the excellent service and speedy delivery from Sewing Machine Sales.

I have had my Singer ESP2 for a year now and wouldn be without it. I have recommended it to my friends and family. It took a bit of time to master ironing shirts, now that I have learned that skill ironing is really quick.
The only disappointment for me is that I have had to replace the cover in the first year which is quite surprising, but I would still buy another press when this good friend wears out! Thanks Singer!!

Thank you for your efficient service and prompt delivery to my home in Spain.

My ESP2 arrived within the 3-5 working day delivery time you quoted despite living in a rural location. I have just actually enjoyed ironing bedding for the very first time. No more shoulder ache or back ache.

I would recommend this product without hesitation.

Why not share your review with others.