Silver Reed SK280 Knitting Machine
A punch card knitting machine with a 4.5mm gauge between needles for knitting a range of yarns from 3-ply to light weight DK


Price

£860.00


Today

£699.00
FREE INSTRUCTIONAL DVD INCLUDED!
FREE delivery by DPD
, order
Delivery: 1 Working Day(s) (Sat, Sun options)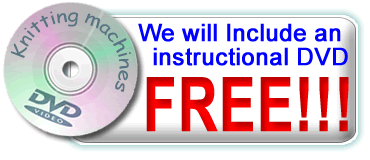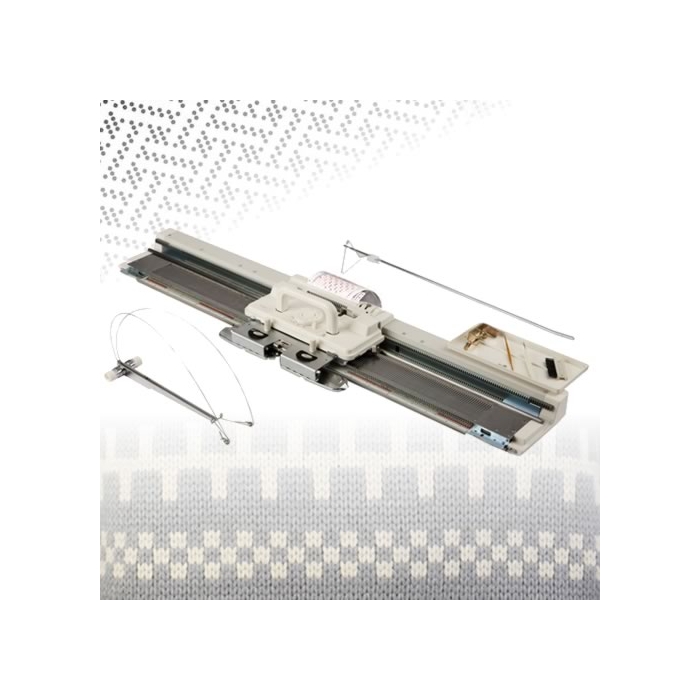 Why choose the Silver Reed SK280 from us?




The SK280 is a knitting machine with the addition of a punch card unit allowing many complex stitch types for example, Fair Isle, Single Motif, Punch Lace, Tuck, Slip, Weaving and Plating to be knitted faster. It also gives the user, whether a beginner advanced, more scope when creating knitwear.
The Silver Reed SK280 has a full stainless steel metal bed with 200 needles and a needle pitch of 4.5 mm which is ideal for quickly knitting 2ply, 3ply, 4ply and light double knitting yarn. When I say you can knit quickly, we are talking about 50 times faster than hand knitting! And great fun to boot.
Gorgeous pre-punched design cards can each be used in 4 directions. Blank cards are available and can be self punched to give even more versatility when making individual knitwear for gifts or family and friends. Patterns don't need to be the full width of the garment being knitted; the SK280 can knit a single motif, for example a teddy on a child's jumper. As skills improve, add-ons such as the ribber attachment and lace carriage, both available separately, enable you to upgrade the machine, as your skills improve.
The SK280 is very well manufactured. Silver Reed's diligent attention to detail has produced a reliable, smooth running machine that will last many years thanks to newly designed carriage rollers. It's the little things that count, like the rubber table protector feet; the lid of the accessory box when attached to the machine bed doubles as handy tray to hold your transfer and latch tools.The row counter can be moved from the left or right side to give more user space.
As you can see from one of our images the range of included accessories is very extensive: Accessory Box , 2 x Clamp, Transfer Tool 1-2, 1-3 and 2-3, Tappet Tool, Needle Pusher, 3 x Spare Needles, Latch Tool, Tapestry Needle, 3 x Cast-on Threads, Cleaning Brush, Oil, 2 x Claw Weight, 4 x Yarn Separator (Spoons), Carriage Fastener, Gauge Scale, 2 x Magic Cams, 2 x Point Cams, Row Counter, Crochet hook as well as the tension post, arm and dual yarn guides.
A comprehensive owner's manual with colour booklets showing the knitting designs on the 20 punch cards included.
Every thing you need to get knitting as soon as the box is opened is included, all you need is yarn!
Specification

| | |
| --- | --- |
| UPC | 610696778376 |
| Manufacturer | Silver Reed |
| Model Number | SK280 |
| Type | Knitting Machine |
| Promotion | FREE INSTRUCTIONAL DVD INCLUDED! |
| Warranty | Full Manufacturers Warranty |
| Weight Kg | 10kg |
| Size (Height, Width, Depth) | 1.4m long |
| Hard Carrying or Storage Cover | Yes |
| Number of Stitch Selections | Punch Card Tuck, Slip, Fair Isle, Jacquard, Garter, Moss, Weaving, Lace, Cable, Single Motif |
| Tutorial CD / DVD | No |

Customer Reviews
Items 21 to 30 of 37 total
Page
You're currently reading page

3
The SK280 knitting machine works very well. Good quality at a good price. Good customer service and fast shipping.

There is a lot to learn about machine knitting but the SK280 makes it easier. The machine is well built and robust. The instruction book and CD's are simple to follow. The price was excellent and the delivery from Sewing Machine Services was prompt - next working day after receiving the order.

I was very impressed with the SK280 when reviewing machines. When I decided on this one I really felt I was getting value for money. It does much more than I thought it would and I can't get enough time to try all the different patterns and designs. There really is a lovely collection of things to try, in two days I have made swatches in loads of patterns and found it really easy to pick up. If only my daughter would leave me alone when I start !

Amazing service, less than 24 hrs order to delivery! I have been very impressed with the ease of use for the SK280 so far, the manual is very comprehensible and I am looking forward to many years of successful machine knitting!

Satified with everything!

This is a great product. Quick delivery to my country EC.

This is my second Silver Reed machine and the quality is just as good now as it was more than 20 years ago. Fabulous machine at the cheapest possible price and superb service from Sewing Machine Sales - order accepted at 9.20am on the wednesday morning, machine complete with ribber and lace carriage arrived 9.00am the next morning ! what more could you ask for? very highly recommended.

Nice

Satisfactory in all aspects

I am very happy with the Silver Reed SK280 Knitting Machine. It was my first knitting machine and I intend to make baby/todler garments. If you want a rather easy machine to work with and on a rather thin yarn, then this the machine for you. I'm also very impressed with the Sewing Machine Sales, as they have the best prices I could find and the delivery was extremely fast.
Items 21 to 30 of 37 total
Page
You're currently reading page

3

Why not share your review with others.