1
Review
Average rating 5.0 out of 5 Stars.
The Elna 664 PRO has 2 needles and 2, 3 or 4 thread stitching capabilities also It's equipped with a differential feed, adjustable cutting width and tilting needles for quicker threading. This provides increased control for handling most types of fabrics and is essential for creative serger/overlock techniques. Personally speaking, we love the idea of the built-in instruction book which acts as a handy reference for stitch functions.
FREE delivery by DPD
, order
Delivery: 1 Working Day(s) (Sat, Sun options)
Expected Delivery Date is Monday, January 24th

Click to buy or view finance options.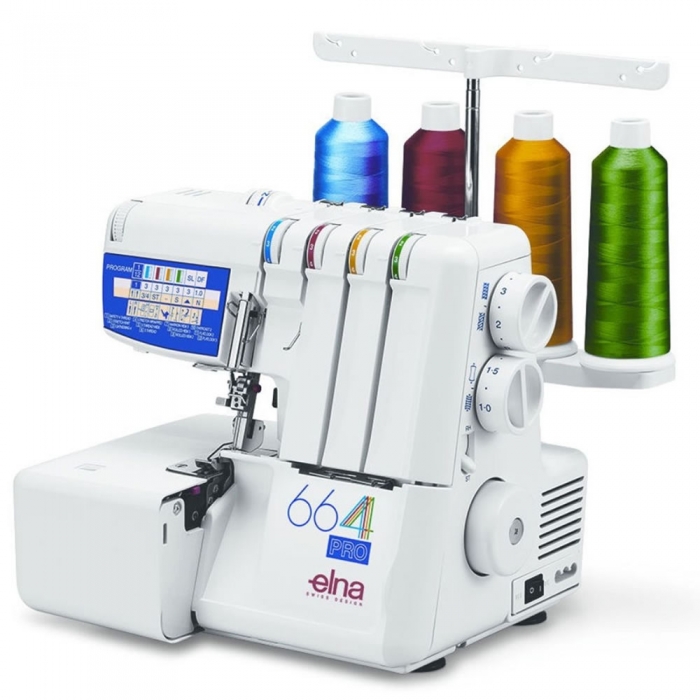 Why choose the Elna 644PRO from us?




With the Elna 664PRO overlocker you can use 2, 3 or 4 threads and the built-in step-by-step guide will show you quick and easy stitch setup. Available now from this website its a breeze to thread, which has some handy features, built-in 2 thread converter, instant rolled hem device, differential feed, colour-coded threading routes and a self-threading lower looper will help make your sewing experience pleasant and satisfying.

Stretch fabrics and sheers difficult? Not with the Elna 664 PRO..! Threading is straight forward by following the colour coded guides. Adjustable stitch length, cutting width and differential feed makes this machine incredibly versatile. You can produce professional rolled hems, follow the stitch program cards! a quick push of the rolled hem lever, no need to change needle plate.

And don't be put off by the image we have showing the bent needles... we'll not bent, but angled towards the user to allow a better view while threading. A quick flick and both needles will move forward which makes a huge difference while threading.

Overlocking Programs:
Safety 4 Thread
Stretch Knit
Gathering 4
Stretch Wrapped
3 Thread Wide
3 Thread
Narrow Hem 3
Rolled Hem 3
Rolled Hem 2
Overcast 2
Flatlock 2
Flatlock 3

Features:
Built-in program reference panel
Automatic tension release
Built-in 2-thread converter
Tilting Needles for easy threading
Cutting blade - up, down or locked for heavy fabrics
Front cover safety system
Differential feed
Instant rolled hem device
Adjustable cutting width
Self-threading lower looper
Colour-coded threading routes
Adjustable foot pressure
Electronic foot control
Maximum speed of 1300 rpm
Snap-on presser feet
Telescopic thread antenna system
Built-in storage compartment
Waste tray included

Accessories Storage - All you need to get started straight out of the box. Overlock Foot (standard), Needle Plate (standard), Spool Nets (4), Spool Caps (4), Spool Holders (4), Upper knife, Screwdriver, Tweezers, Lint brush, Oil, Set of needles, Waste collector, Instruction Book, Foot Speed Controller.
Specification

| | |
| --- | --- |
| UPC | 5027843500189 |
| Manufacturer | Elna |
| Model Number | 644PRO |
| Type | Overlocker |
| Warranty | 2 Years Full Manufacturers Warranty |
| Weight Kg | 9 |
| Size (Height, Width, Depth) | H30 cm x W29 cm |
| Variable Electronic Speed Control | Yes |
| Tutorial CD / DVD | No |
| Jet Air Threading | No |
| Lay In Threading | Yes |
| Auto Tension Release | Yes |
| Auto Looper Threader | Yes |
| Colour-Coded Threading | Yes |
| LCD Screen | No |
| Sleeve Arm | No |
| Rolled Hem | Yes, by Lever |
| Differential Feed | Yes |
| Stitch Functions | 2 Thread, 3 Thread, 4 Thread |

Customer Reviews
Thrilled with the unexpected next day, free, delivery. My first overlocker and I was a tad nervous after reading about how tricky threading lower loopers can be. I need not have been, it was easy (-ish) to thread and I had made a cover for it within 30 mins of taking it out of the box. I really like the instant stitch reference guide on the front of the machine and the cutting blade position window. 3 cushion covers later, the lower looper thread constantly snapped. After much re-threading (I am expert at this now), I noticed that the tension of the lower looper thread was in-consistent. It varied from loose to very tight as I pulled it through. Consulted the manual, tried everything then noriced that the thread was catching on itself as it came off the back of the reel. What had happened? The thread stand pole had been pushed down by only an inch and as soon as I pulled it up, all my troubles were over. I mention this because the manual says nothing about it causing tension problems and it may be something that is not apparent at first glance. Wish I'd thought of it before all those re-threading lessons! So far, I really like this machine but have only used the 4 thread safety stitch that it came set up to do.

BTW, I contacted Duke at Sewing Machine Sales and he was extremely helpful. Would buy from them again.

Why not share your review with others.