Elna EasyCover Cover Stitch Machine
1
Review
Average rating 5.0 out of 5 Stars.
Using the 14 stitch functions this cover stitch only machine you can master the professional stitches behind the latest looks, stretch your talents to the maximum using the Elna EasyCover, it turns your every creation into a catwalk sensation !
FREE delivery by DPD
, order
Delivery: 1 Working Day(s) (Sat, Sun options)
Expected Delivery Date is Tuesday, August 3rd

Click to buy or view finance options.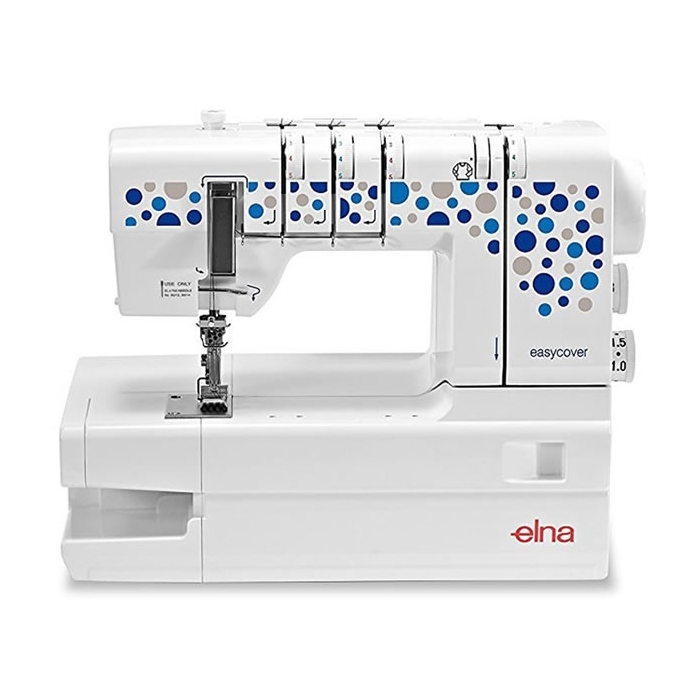 Why choose the Elna Easycover from us?




The Elna EasyCover Stitch with electronic control is a uniquely designed, dedicated cover stitch only machine with 3 needles and a wide triple cover hem stitch.

Its innovative design is based on the marriage of an industrial style cover hem machine and a convenient home sewing machine. The resulting union has produced a high speed, long arm, heavy duty cover hem machine, that looks and operates like a sewing machine.

The Elna EasyCover stitch has been designed around a sewing machine rather than an overlocker. This means it sews like a sewing machine with all the dials conveniently located. It has a much larger arm space than competitor cover stitch models and it has a freearm facility that is unique to this type of machine.

When you want to give your sewing that totally professional finish then the Elna easy cover is the perfect addition to your sewing room. It's the perfect companion machine for home furnishings, quilting and garment making.

Lycra, jersey, knits, stretch, wool or any of today's figure-hugging fabrics are a breeze for this machine. Elna Easy Cover knows what flexibility means. With a flick of a switch, you can automatically adjust the tightness of the looper thread to the type of a fabric you are sewing. Swap from the finest Lycra to the thickest tweed without fastidious settings' changes. Stretch your creativity through flexibility.

Features:
14 stitch programs
Cover hem (3 mm or 6 mm)
Chain stitch (3 needle positions)
Free arm
4-spool holders
Maximum speed of 1000 stitches / minute
Variable stitch length (1- 4 mm)
Differential feed (0.5 - 2.25)
Maximum stitch width - 6 mm
Adjustable tension dials (0 - 9)
Automatic tension release
Looper disengages for easy threading
Colour-coded threading routes
Adjustable pressure foot
Snap-on presser feet
Built-in retractable handle
Electronic foot control
Telescopic thread antenna system
Built-in thread cutter

Standard Accessories:
1 needle set EL, 2 screwdrivers (medium and small), tweezers, needle threader, 4 spool holders, 4 spool nets, 4 large spool caps, lint brush, 2 screws for optional attachments, Dust cover, Instruction Book, Electronic Foot Control.
Specification

| | |
| --- | --- |
| UPC | 5027843500226 |
| Manufacturer | Elna |
| Model Number | Easycover |
| Type | Cover Hem |
| Warranty | 2 Years Full Manufacturers Warranty |
| Weight Kg | 10 kg |
| Size (Height, Width, Depth) | H35 x W40 x D31 cm |
| Variable Electronic Speed Control | Yes |
| Tutorial CD / DVD | No |
| Jet Air Threading | No |
| Lay In Threading | Yes |
| Auto Tension Release | Yes |
| Auto Looper Threader | Yes |
| Colour-Coded Threading | Yes |
| LCD Screen | No |
| Sleeve Arm | Yes |
| Differential Feed | Yes |
| Stitch Functions | 2 Thread, 3 Thread, 4 Thread |

Customer Reviews
An excellent machine, very easy to use. I would recommend getting the clear foot which is an optional accessory but apart from that, I love the machine. Creates beautiful various cover stitches. I am looking forward to creating many garments and making alterations easy too when shortening t-shirts and similar items.

Why not share your review with others.