1
Review
Average rating 5.0 out of 5 Stars.
Using 2, 3 or 4 threads the Jaguar 099 neatly trims and finishes an edge, instantly rolls a hem and catches all the thread ends while its overedging, it can overlock/serge with speeds up to 1300 stitches per minute. Manufactured to the highest standard incorporating the special open front to allow easy access for threading as never seen before on an overlocker.


Price

£329.00


Today

£295.00
FREE £25 Threads Scissors Pack *Easy-to-Thread, Built-in Rolled Hem, Differential Feed*
Sorry, temporarily Out-Of-Stock
Please use the link above to sign up for new stock update. We will email you the moment it comes back in to stock.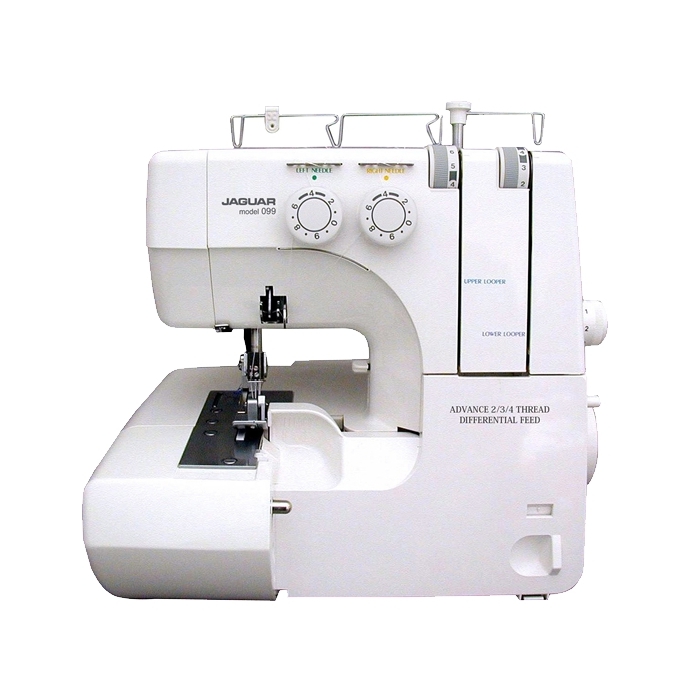 Why choose the Jaguar 099 from us?




This is one of the best buys in overlockers 2, 3 & 4 thread with full differential feed to cope with all fabrics. The swing out front make threading the lower looper a breeze. Without plate changing the Jaguar 099 performs superb rolled hemming on headscarves, underwear etc. Its smoother and quieter than any machine in its class.

This easy-to-use Jaguar 099 DF overlock machine has the ability to serge/overlock using a 2-threads, 3-threads or 4-threads. The two thread ability of this machine is important where a very good looking finish is required on the edge of fabrics but added strength is not needed such as wraps, table napkins and lingerie. It can handle all types of fabrics, everything from fine silks and satin to denim, fleece and stretchy fabrics with the greatest of ease. A differential feed keeps seams smooth and flat. The rolled hem feature is yours by simply removing the stitch finger. And using the right or left needle gives narrow and wide options of most of the overlockers many stitch formations.

The Jaguar 099 is probably one the best choices for Bridal Wear as it produces a top quality overlock finish on such a wide range of fabrics, and to get you started, help from the included instruction manual and pre-threaded it comes ready to overlock.

Never before has threading loopers been so easy... how ? The front of the machine opens up entirely for cleaning and threading area access..! Plus the handy built in thread chain cutter is quick and easy to use.

Expand your sewing capabilities. Create the latest fashions or decorative home items and crafts with the Jaguar 099 four-thread overlock and performs all the popular overlock and flatlock variations ideal for use with today's latest fabrics as well as decorative threads.

Features of the FRONT OPENING access area.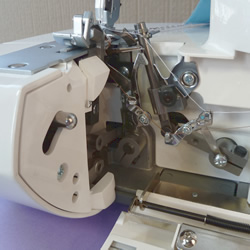 Image shows a normal overlocker while threading...!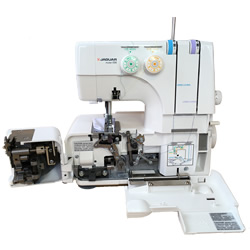 NOT SO with this Jaguar 099... open the machine up and easy see the loopers for threading...!

... it also features;
Built-in Thread Chain Cutter allows you to quickly cut away the threads after a overlock stitching run.

Lay in Threading of the top threads lets you thread quickly and directly at all times.

Color Coded Threading Guides throughout the machine make threading easy and efficient; special guides lock your thread into the tensions for consistent stitching.

Adjustable Stitch Length within the range of 1-4mm, by turning the knob conveniently located on the right-hand exterior of the machine

Rotation Thread Tension Dials with normal tensions highlighted for simple, consistent tension adjustment

Adjustable Differential Feed is controlled and adjusted by turning the knob conveniently located on the right-hand exterior of the machine

Lower Knife Adjustment Knob adjusts the lower knife quickly to change the width of fabric in the seam allowance, for perfect seams and rolled edges.

Heavy Duty Knife System operates with dedicated drive to assure consistent and easy cutting of light to heavy weight fabrics.

Upper and Lower Loopers are industrial strength for durability and handle a full range of decorative threads.

Automatic Rolled Hemming can be created with built-in finger tip control there is no need to change the foot or plate.

LED Sewing Light is placed to give optimum lighting to the fabric and needle areas

Slant Needle Shaft helps when stitching thicker fabrics by allowing the fabric to slide under the presser foot with easy

Sewing Width Gauge takes the guesswork out of seam allowances and is conveniently located on the guard cover

Slide Open Front Section allows for easy threading in seconds: simply slide the front looper cover to one side for the best access ever for threading loopers.

Optional 2/3 Thread Converter is easy to install and allows 1 needle thread and one lower looper thread for secure overedging while using less thread.
Specification

| | |
| --- | --- |
| UPC | 00617407015652 |
| Manufacturer | Jaguar |
| Model Number | 099 |
| Type | Overlocker |
| Promotion | FREE £25 Threads Scissors Pack *Easy-to-Thread, Built-in Rolled Hem, Differential Feed* |
| Warranty | Extended Warranty 10 Years Parts and Labour |
| Weight Kg | 8.5Kg |
| Size (Height, Width, Depth) | H33cm x W30cm |
| Variable Electronic Speed Control | Yes |
| Tutorial CD / DVD | No |
| Jet Air Threading | No |
| Lay In Threading | Yes |
| Auto Tension Release | Yes |
| Auto Looper Threader | No |
| Colour-Coded Threading | Yes |
| LCD Screen | No |
| Sleeve Arm | No |
| Rolled Hem | Yes, by Lever |
| Differential Feed | Yes |
| Stitch Functions | 2 Thread, 3 Thread, 4 Thread |

Customer Reviews
Small and light but very sturdy and does the job. Its a step up for me as I never used one before but compled few projects already and really enjoying it!

Why not share your review with others.