This has got to be one of the most desirable machines on the market. Balanced and quiet, even at full speed. It also neatly trims, finishes an edge and instantly rolls a hem. Superior thread system uses a jet of air to push the thread through the loopers... very clever design feature!
High Quality + Air Threading

Click to buy or view finance options.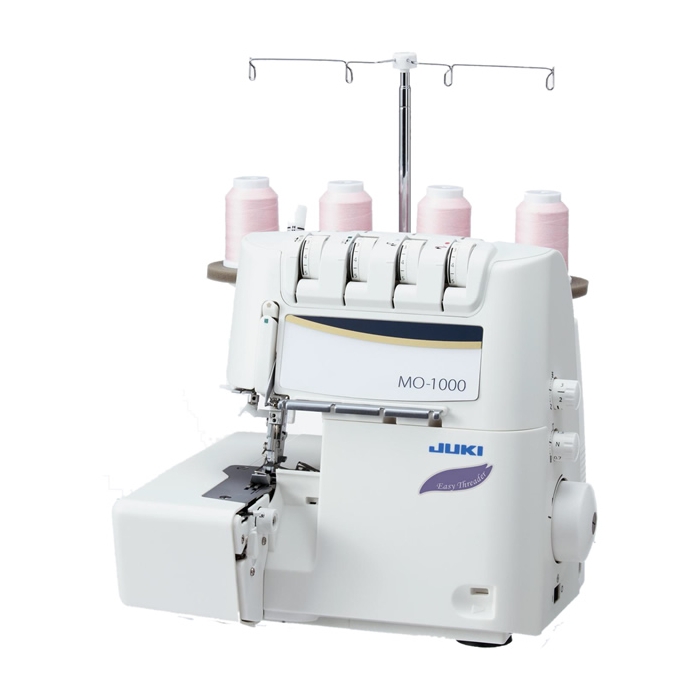 Why choose the Juki MO-1000 from us?




COVID-19 UPDATE:
While courier companies are making every effort to deliver within a standard operating time frame, this is not always possible. Deliveries may be delayed. more info.
Not just an overlocker, but one that has been designed to run at a reduced operating noise level, reduced sound and less vibration. This means it can sew faster and up to 1500 spm when needed.
If you have been waiting for an overlocker that's easy to thread, look no further. The Juki MO-1000 has a built-in automatic needle threader just like a regular sewing machine. It can be set to thread either the left or right needle. I know that sounds great and a very welcome addition to any overlocker, but what about threading the loopers, I here you ask?
Once again Juki have gone that extra step and added an "air threading system" which is electrically operated. It's amazing! At the press of a button, both loopers can be threaded... even through the looper eye! Now that I have got your attention, the buy now button is just above...only joking!
This new air threading can save you hours depending on how often the overlocker is being used. Another good feature is when the presser foot is lifted, the tensions release, so thread can slide freely through, without the need to pull the fabric or even bend the needles, whilst trying to pull the fabric with too much force.
Included is a fabric off-cut catcher and when full of lint can be quickly unclipped and emptied. As usual the overlocking width can be adjusted to a maximum of 9mm, with a maximum length adjustment from 1mm to 4mm and 2mm when sewing a rolled hem, which is as simple as sliding the lever into position. The differential can be adjusted for stretchy fabrics or set to gather from 0.7 -2.0 ratio. It can also zip along at a incredible 1500 spm.
MO-1000 overlocker has a differential feed so it can gather soft materials and create a modern lettuce leaf edge effect to stretch fabrics.

A DVD tutorial and instruction book are included with the machine, as are the handy lint or off cuts catcher tray, power cable and foot speed control, soft dust cover, extra 15x1 (705H) universal machine needles, tweezers, needle removing key, lint brush, thread nets and spool caps. Some of the items can be stored inside the front drop down cover.
If you are like us and have yearned for a overlocker with fast threading, this is now the time to take the plunge. In fact, we are so sure you will fall in love with it, that we are offering a 30 day returns policy. So get overlocking and achieve that professionally sewn look.
Range of overlock stitches are, 4-Thread Overlock, 3-Thread Overlock, 2-Thread Overlock, 3-Thread Rolled Hem, 3-Thread Narrow Overlock Frill, 3-Thread Rolled Hem With Differential Feed and 3-Thread Flatlock Stitch.
Key features:
Adjustable Differential Feed.
Upper looper conversion form 2 to 3 thread.
Wide throat area of 72.4mm
Built In Needle Threader for both needles and air threading for loopers.
Automatic rolled hemming no need to change the needle plate.
Option to deactivate upper knife.
Safety feature preventing operation when presser foot is in upper position or the cover is open. Thread trimming blade for easy thread cutting.
Adjustable presser foot pressure.


Specification

| | |
| --- | --- |
| UPC | 4946973008093 |
| Manufacturer | Juki |
| Model Number | MO-1000 |
| Type | Overlocker |
| Promotion | High Quality + Air Threading |
| Warranty | 2 Years Full Manufacturers Warranty |
| Weight Kg | 8.5 |
| Size (Height, Width, Depth) | H33 cm x W33 cm |
| Variable Electronic Speed Control | Yes |
| Tutorial CD / DVD | Yes |
| Jet Air Threading | Yes |
| Lay In Threading | Yes |
| Auto Tension Release | Yes |
| Auto Looper Threader | Yes |
| Colour-Coded Threading | Yes |
| LCD Screen | No |
| Sleeve Arm | No |
| Rolled Hem | Yes, by Lever |
| Differential Feed | Yes |
| Stitch Functions | 2 Thread, 3 Thread, 4 Thread |

Customer Reviews
The Juki MO-1000 overlocker is a joy to use. I dreaded having to re-thread my previous Janome machine but the automatic air-threading system makes this a breeze (excuse the pun!). Love it!

Loving this machine! It's very quiet, as over lockers go and very stable, no rocking around! Don't know about the threading as I've not had to re thread it yet apart from at first when putting my bobbins on. Wish I'd got this first instead of another machine that I have, which kept coming un-threaded underneath. My stiff and arthritic finger were no good for this! Thanks to James for part exchanging my machine for the Juki!

So far so good. Brilliant machine!

Why not share your review with others.