Juki MO-104D Overlocker Including Accessories
Packed full of fabulous functions and tremendous build quality, this Juki MO-104D is a dream to use for any overlocking project. And it's super fast too, It is possible to controllably stitch up to 1500spm
*MORE STOCK DUE SOON*

Click to buy or view finance options.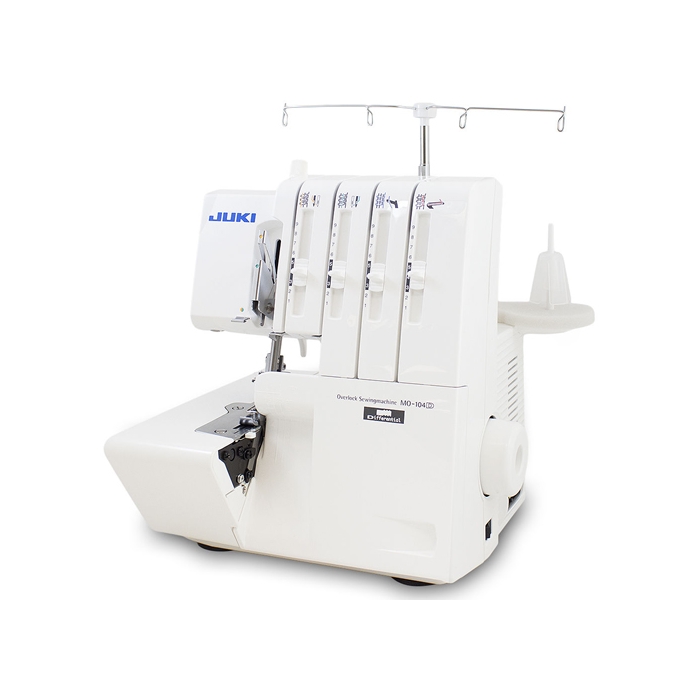 Why choose the Juki MO-104D from us?




COVID-19 UPDATE:
While courier companies are making every effort to deliver within a standard operating time frame, this is not always possible. Deliveries may be delayed. more info.
This Juki model MO-104D overlocker is an 3 or 4 thread overlock machine, with the option or 2 thread overlocking. It has differential feed and has built-in rolled hem, at the touch of a button, flat-locking and decorative applications no problem even right down to a detachable clean pocket/tray to catch off cuts, and comes ready threaded with large cones, to start stitching immediately straight out from the box.
An incredible number of features built into a compact package eg, Movable knife, cut/trim off while stitching or not. Easy lay in threading, adjustable stitch length control and adjustable differential feed mechanism to allow for gathering of fabric or sewing with stretch fabric. It's large, long bed to allow easy feeding of larger Items works well with its slant needle bar - allows excellent view of working area and means the presser foot lifts over bulky hems with easy.

Features:
Electronic speed control for maximum needle penetration even at slow speeds
Front cover safety system
Differential feed
Instant rolled hem device
Adjustable cutting width
Self-threading lower looper
Color-coded threading routes
Maximum speed of 1500 spm
Stitch length setting 1.0 to 4.0 mm
Snap-on presser feet
Telescopic thread antenna system  
Built-in storage compartment

As well as a range of accessories to get you started:
Electronic Foot Control, Spool Caps, Tweezers, Cleaning Brush / Needle Inserter, Nets, Needle Set 130/705, Small Screwdriver, Oiler, Accessory bag, Dust Cover, Instruction Manual.
Overlock Stitch Types:
Safety 4 Thread
Stretch Knit
Gathering 4
3 Thread Wide
2 Thread overlock (using the converter extra option)
Overlock 3
Narrow Hem 3
Rolled Hem 3
Flatlock 3

Specifications:
•    Needle Schmetz 130/ 705H Number 70, 80 & 90
•    Standard Overlock Width Left Needle 5-7mm, Right Needle 3-5mm, Rolled Hem 1.82.5mm
•    Stitch Length 1-4mm (Standard 2.5mm)
•    Differential Feed 0.7-2.0 Ratio
•    Presser foot Lift 5mm-7.5mm
•    Sewing Speed Maximum 1500 Stitches Per Minute
•    Weight 7 kg (Approx. 15.5 lbs.)
•    Dimensions 315 W x 290 D x 290mm H (Approx. 12.4" x 11.4" x 11.4")


Specification

| | |
| --- | --- |
| UPC | 4250888739219 |
| Manufacturer | Juki |
| Model Number | MO-104D |
| Type | Overlocker |
| Promotion | *MORE STOCK DUE SOON* |
| Warranty | 2 Years Full Manufacturers Warranty |
| Weight Kg | 8.5 |
| Size (Height, Width, Depth) | H30 cm x W26 cm |
| Variable Electronic Speed Control | Yes |
| Tutorial CD / DVD | No |
| Jet Air Threading | No |
| Lay In Threading | Yes |
| Auto Tension Release | Yes |
| Auto Looper Threader | Yes |
| Colour-Coded Threading | Yes |
| LCD Screen | No |
| Sleeve Arm | No |
| Rolled Hem | Yes, by Lever |
| Differential Feed | Yes |
| Stitch Functions | 3 Thread, 4 Thread |

Customer Reviews
Happy with the machine, seems good quality
Less impressed with the machine description that states it comes with a thread collector tray and pre threaded with cones as it doesn't have either. I questioned this after purchase to be told that the description online needed updated, and was only an indication. Looking at a previous review written 10 months ago, I see that someone else has already raised this and they still haven't updated the description.

What a joy to use! I am a professional soft furnishings and costume maker so I couldn't manage with anything unreliable. This machine is just perfect. easy to thread and sews like a dream.
Better than an industrial machine with it's variety of stitches and it travels which is wonderful for on-site jobs.

Thank you for delivering the overlocker intact and on time as promised, however I was disappointed when it arrived to find it was not ready to use out of the box as quoted on the web page , it came minus the cones , which I had to source and acquire later taking additional time and expense. On enquiring I was told that there web page needed updating and the cones were no longer included. It was fortunate to discover the cones were missing before the gift was given otherwise there would have been considerable delay before using the machine.

Why not share your review with others.