Necchi Pro 4070 Overlocker & Coverstitch
1
Review
Average rating 5.0 out of 5 Stars.
Both a overlocker and coverstitch combined with 24 stitch programs available. Use up to 5 threads and three needles with this wonderful Necchi 4070 Pro Series model.


Price

£699.00


Today

£549.00
Sorry, temporarily Out-Of-Stock
Please use the link above to sign up for new stock update. We will email you the moment it comes back in to stock.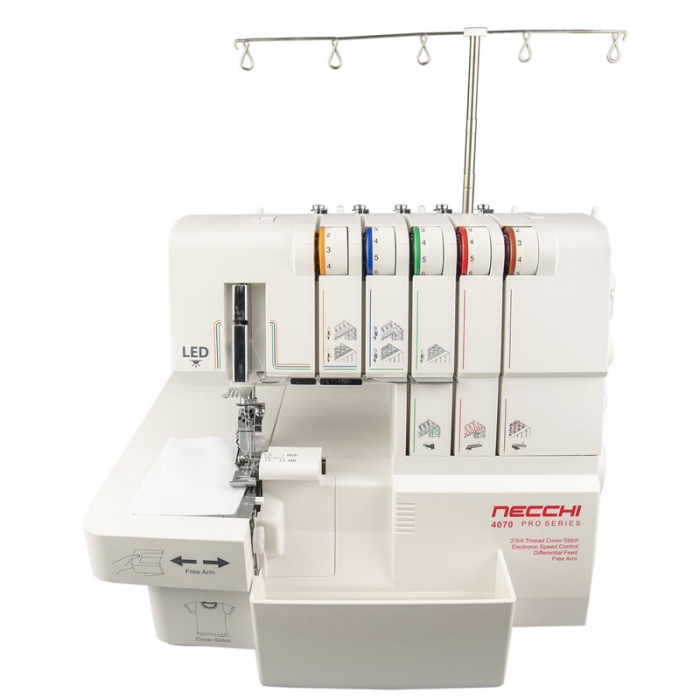 Why choose the Necchi Pro 4070 from us?




Looking for a top of the line overlocker that also can sew a coverstitch? Look no further than the Necchi 4070 5-thread overlocker. Use 2, 3, 4 or 5 threads to produce wonderful neat overlock edges or 2 or 3 thread coverstich at tremendous speeds up to 1300 stitches-per-minute.
With a rather large space to the right of the needle in fact 10cm, which gives further space for double or triple coverstitch programs, so when the cover stitch rest is in place the sewing bed is nearly 28cm x 20cm wide.
This Necchi 4070 has a sleeve arm so when in overlocking mode, the cutting width can be adjusted up to 5.7mm or swing the cutter out the way if not needed. Rolled hemming is a simple lever, no need to remove the needle plate. Stitch length (up to 5mm) and differential feed (ratio 0.6-2.0) can also be adjusted as required.
As well as the hard plastic fabric trim catcher which clips in to place for either coverhems or overlocking, the loopers covering flap swings down and there is storage for essential accessories like tweezers, quick needle threader, spreader and screw driver.
In total 24 stitch programs are available, many in both, wide or narrow options:
5-Thread safety stitch
4-Thread overlock
4-Thread safety stitch
3-Thread overlock
2-Thread overlock, thanks to the included spreader
Chain stitch
Flatlock
Safety stitch
Rolled hems
2- Needle coverstitch
3- Needle triple coverstitch
Necchi 4070 Pro Series Overlocker main features:
Tension release device
Differential feed
Snap-on presser feet
Foot pressure adjustment dial
Rolled hem change over device
Retractable upper knife
LED Lights
Upper looper separation device
Thread cutter on the presser foot lifter
Presser foot position sensor
Carrying handle
Fabric Waste catcher
Accessory Box Includes:
Overlock Foot
Cover Hem Foot
5 x Foam Pads
5 x Spool Caps
5 x Spool Holders
Spare Upper Knife
2-Thread Spreader
Allen Screwdriver
Tweezers
Lint Brush
Spanner
Quick Needle Threading Tool
Spare Needles Pack  (type ELx705)
Fabric Waste Collector
Instruction Manual
Foot Control
Specification

| | |
| --- | --- |
| Manufacturer | Necchi |
| Model Number | Pro 4070 |
| Type | Overlocker |
| Warranty | Manufacturers 3 Year, Our 10 Year Extended Warranty Applies |
| Weight Kg | 7.9Kg |
| Size (Height, Width, Depth) | H38 x W38 x D26 cm |
| Variable Electronic Speed Control | Yes |
| Tutorial CD / DVD | No |
| Jet Air Threading | No |
| Lay In Threading | Yes |
| Auto Tension Release | Yes |
| Auto Looper Threader | Yes |
| Colour-Coded Threading | Yes |
| LCD Screen | No |
| Sleeve Arm | Yes |
| Rolled Hem | Yes, by Lever |
| Differential Feed | Yes |
| Stitch Functions | 2 Thread, 3 Thread, 4 Thread, 5 Thread |

Customer Reviews
I am so pleased I decided to take the plunge and buy this overlocker.  I did quite a lot of research but eventually chose the necchi pro 4070 because it seemed to be one of the few machines that did cover-stitching as well as overlocking and it also has a free arm which I thought would be useful.   I have not tried cover-stitching with it yet but have been highly satisfied with all of the overlocking I have done so far.  The machine is smooth yet powerful and it is easy to see the needle and blade so you can understand what you are sewing and how the machine is working.  The stitching quality has been very good and I have also managed to re-thread it without too much trouble.  The only real negative I have found is the positioning of the handle as it is not ideally placed if you wish to move the machine around whilst it is still fully threaded up.  A brighter light would also be welcome but that is probably my eye sight! If you are thinking about buying an overlocker I would say go for it - I wish I had bought mine years ago. I am a beginner/intermediate home sewist.

Why not share your review with others.