Elna Experience 570 Sewing Machine
1
Review
Average rating 5.0 out of 5 Stars.
Jam packed Elna sewing machine bursting with 200 stitches and extension table included with great value for money

Click to buy or view finance options.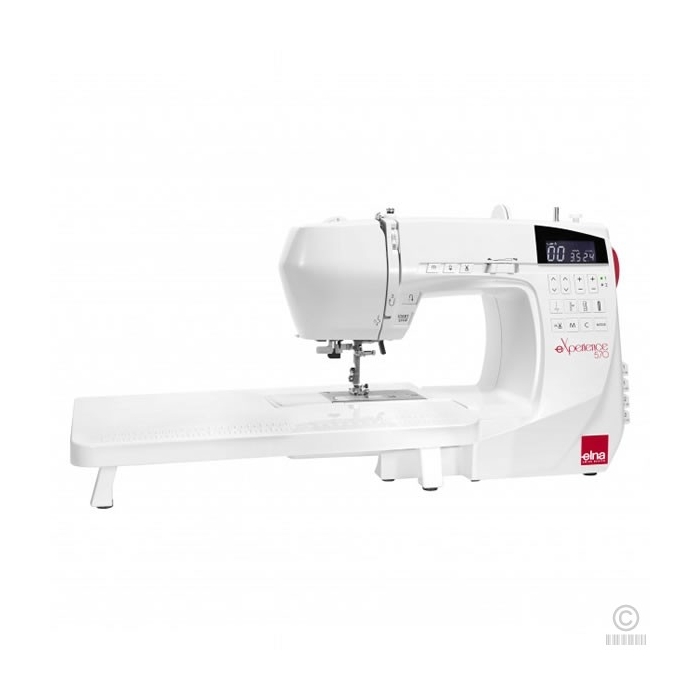 Why choose the Elna 570EX from us?




Full-featured and made with a quilter's needs in mind, the Elna Experience 570 will deliver all the benefits of a top-level computerised sewing machine at an affordable price. You'll find 200 stitches including 12 one-step buttonholes, keyhole, round top and stretch plus no need to grapple with scissors at then end of each run of stitching, use the automatic thread cutter to trim off your threads at the end of your sewing. The 570EX also incorporates Elna's superior feed system, ensuring even, stable feeding with any fabric. With many time saving features including memorised needle up/down, one hand needle threader, and lock stitch button make sewing easy plus just for quilters, 17 cm of space for fabric to the right of the needle.
We use this machine a lot and find it sews with precision and confidence no matter what type of material you present it with, thick denim and leather or thin silk. When being used for dressmaking, buttonholes are sewn in one step at the touch of a button; you simply attach the button in the back of the foot and hey-presto a perfect buttonholes to match the size of the button you've chosen. Now consider using this on the next antique basque project needing 20 buttonholes..! each button hole will be accurate and the exact same as the last.
One of our images shows how clear and easy it is to view the LCD screen, you don't have to adjust your seating position to view it. You will also notice the cleaner, less bulbus front section which gives a first-rate view of the sewing foot for improved and more accurate quilting.
To select a pattern, simply use the buttons to bring the stitch corresponding number on to the LCD screen... it will be pre-set and ready to sew out. You do, however, have the option to adjust the width up to 7mm wide and length up to 4mm.
Its a top loading, jam-proof bobbin with clear plastic bobbin cover allowing you to easily check the amount of thread left on your bobbin. Pull off the free arm extension table incorporating a storage compartment, this allows for tubular sewing tasks.
It has a powerful 45Watt DC type motor with extra needle penetration even at slow speeds, the Elna Experience 570 lets you sew across heavier fabrics or multiple quilting layers without any drama. Quilters will also like the adjustable foot pressure to fine tune the fabric feeding.
This machine also has the hand quilt stitch, a seven piece feed mechanism, a drop feed facility, automatic needle threader, a slide max speed control and comes complete with a hard cover to keep machine safe when to in use.
Key Features:
Fully Computerised
Free Arm
Memorised Automatic Built in Thread Cutter
Needle up/down button
200 Stitch Options
12 Auto 1 Step Buttonholes
Information Screen
Jam Proof Drop In Bobbin
Variable Stitch Length & Width
Superior Feed System (SFS)
Drop Feed For Freehand Work
Auto Needle Threader
Maximum Speed Controller
Programmable Needle Up/Down
Lock Stitch Feature
Stop / Start Button
Adjustable Foot Pressure
Twin Needle Capability
Quick Snap On Feet
Extension Table

Standard accessories included:
Bobbins x 4 (Plastic)
Instruction Manual
1/4" Foot 200318000
Stabilizer Plate
Stabilizer Plate Holder
Seam Ripper
Screwdriver (3 Pronged)
Automatic Buttonhole Foot
Lint Brush (small)
Extension Table
Zipper Foot (E)
Spool Pin (Spare - Horizontal)
Spool Cap (small)
Spool Caps (Large)
Overedge Foot (with brush)
Satin Stitch Foot (F)
Blind Hem Stitch Foot (G)
Power Cable
Standard Foot (A)
Foot Control
Needles.
Specification

| | |
| --- | --- |
| UPC | 7611850702636 |
| Manufacturer | Elna |
| Model Number | 570EX |
| Type | Sewing Machine |
| Warranty | 2 Years Full Manufacturers Warranty |
| Weight Kg | 8.5 |
| Size (Height, Width, Depth) | H30 x W40 |
| Variable Electronic Speed Control | Yes |
| Bobbin Access | Top Loading |
| Transparent bobbin cover Bobbin Cover | Yes |
| Hard Carrying or Storage Cover | No |
| Automatically Tensions Thread | Yes |
| Integrated Needle Threader | Yes |
| Thread End Cutting | Automatic |
| Number of Stitch Selections | 200 |
| Popular Stitch Functions | Straight, Zig-Zag, Multi Zigzag, Blind Hem, Stretch Blind Hem, Rolled Hem, Straight Stretch, Overlock Stretch, Scallop, Ric Rac, Honeycomb, Herringbone, Gathering, Applique, Sew-On Buttons, Quilting Stitches |
| Formation of Buttonholes | 1-Step Fully Automatic |
| Variety of Buttonholes | 12 |
| Twin Needle | Optional |
| Maximum Speed Limit Adjustment | Yes |
| Needle Up/Down Function | Yes |
| Integrated Dual Feed System | No |
| Integrated Fabric Feed Lowering | Yes |
| Hook Movement | Smooth Rotary Action |
| Needle Positions | Left / Centre |
| Tutorial CD / DVD | No |
| Voltage | 220-240 Volts |

Customer Reviews
Friendly efficient and fast service. A compact machine that can easily take a double quilt. Great for dressmaking, can cope with heavy duty fabrics. Easy to use and quiet. Very happy with my purchase

Why not share your review with others.