Viking Husqvarna 118 Emerald Sewing Machine
The 118 Emerald is a mechanical sewing machine and it is strong and well made just like the 116 model with a smooth running top loading bobbin. It not only does a few more stitched than the 116 but the Husqvarna 118 has other electronic features that will make sewing enjoyable.
FREE scissors + sewing kit + threads worth £85
Sorry, temporarily Out-Of-Stock
Please use the link above to sign up for new stock update. We will email you the moment it comes back in to stock.

Click to buy or view finance options.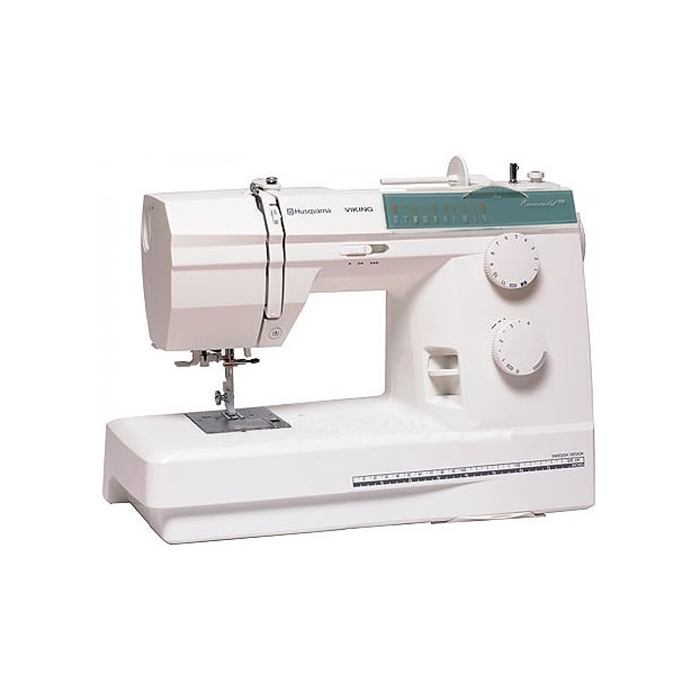 Why choose the Husqvarna Emerald 118 from us?




Styled in a very similar fashion to the 116 the Swedish designed Viking Husqvarna 118 Emerald sewing machine is another of the company's excellent products that brings professional quality sewing to our fingertips. This machine is designed with the home sewer in mind, with the least amount of effort needed to produce some of the finest clothes, curtains and other home decor.
It comes with a wide range of tools that makes sewing an effortless and enjoyable experience. Like the adjustable speed override settings and the needle position adjustment. The machine is packed with other useful features such as a one-step buttonhole, and a built-in needle threader that will have you ready to sew in seconds. Also included is a useful pull-out sewing guide reference chart that indicates the right selection of stitch length and width, thread tension, presser foot pressure for different fabrics, and more information.
The Husqvarna Emerald 118 features 18 stitches with 70 stitch functions with adjustable stitch width and length up to 5mm and 4mm respectively, and thread tension. The stitch functions can be used for utility, decorative and stretch stitches. The free arm contains a built-in accessory box with a screwdriver, seam ripper, quilting guide, bobbins, needles, and more. To make sewing as smooth and convenient as possible you have a choice of 8 presser feet which includes a decorative foot, utility foot, non stick teflon foot, edging foot, buttonhole foot, blind hem foot, and automatic buttonhole foot. Certainly enough to keep the sewing enthusiast content and ready for any creative project.
The 118 Emerald has a choice of hand-controlled sewing speeds while you stop the needle in an up or down position which is handy for quilt making while doing corners. The foot pressure can be set to sew over many layers of materials. Apart from being affordable it also comes with a complete 5 year guarantee that covers part while the first 2 years covers parts and labor. From threading to loading the spool you will find the Emerald 118 one of the easiest to handle. It's simple to change the presser foot too. Gently pull the one in use towards you and the new one will snap into place. Lower the needle, press the foot pedal, and you are ready to begin sewing again.
Specification

| | |
| --- | --- |
| UPC | 7393033024420 |
| Manufacturer | Husqvarna |
| Model Number | Emerald 118 |
| Type | Sewing Machine |
| Promotion | FREE scissors + sewing kit + threads worth £85 |
| Warranty | Manufacturers 5 Year, Our 10 Year Extended Warranty Applies |
| Weight Kg | 7.0 |
| Size (Height, Width, Depth) | W 42 cm x H 30cm |
| Variable Electronic Speed Control | Yes |
| Bobbin Access | Top Loading |
| Transparent bobbin cover Bobbin Cover | Yes |
| Hard Carrying or Storage Cover | Yes |
| Automatically Tensions Thread | No |
| Integrated Needle Threader | Yes |
| Thread End Cutting | Manual |
| Number of Stitch Selections | 18 |
| Popular Stitch Functions | Straight, Zig-Zag, Multi Zigzag, Blind Hem, Stretch Blind Hem, Straight Stretch, Overlock Stretch, Ric Rac, Honeycomb, Herringbone |
| Formation of Buttonholes | 1-Step Fully Automatic |
| Variety of Buttonholes | 1 |
| Twin Needle | Optional |
| Maximum Speed Limit Adjustment | Yes |
| Needle Up/Down Function | Yes |
| Integrated Dual Feed System | No |
| Integrated Fabric Feed Lowering | Yes |
| Hook Movement | Smooth Rotary Action |
| Needle Positions | Left to Centre |
| Tutorial CD / DVD | No |
| Voltage | 220-240 Volts |

Customer Reviews
I'm now the proud third generation of Husqvarna Viking owners with both my mother and grandmothers machines still going strong at over 20 and 40 years respectively! I knew to expect quality from a Husqvarna machine but having not had the chance to see the more modern machines in person, I was blown away by the quality of this machine for the price. I bought this machine with the intention of it being my machine for life, same as with the others in my family, and it quite literally has every feature and function that I think could be necessary for a lifetime of happy sewing. Enough gadgets and gismos without being gimmicky!

I can also highly recommend this retailer too. I did have to wait a considerable number of months for this machine to come back in stock due to supply issues but the support team were happy to help answer my queries and I was informed when it came back in stock. I placed the order on Tuesday evening and the machine arrived early Thursday morning along with the free gifts listed. Couldn't have been better!

I love this machine. I have sewn for many years and own a far more complicated machine than this but that was the issue - too complicated! The Emerald 118 is perfect for all my needs from repairs to creating full size quilts. It's a fantastic machine, very easy to use, quiet motor, simple stitch and foot changing. In addition, Sewing Machine Sales were the ideal retailer. Fast service, great communications and really helpful all round. I would highly recommend both without hesitation.

Very happy with this machine. I have used a Frister & Rossman for the last 40 years, which has finally become very temperamental, so I was looking for a good quality replacement. I haven't tried everything out yet but so far so good. I needed a machine that gave me some fancy work but not too much, freearm facility, and mechanical rather than computerised, and this fits the bill perfectly. It is easy to thread, the needle threader is wonderful - no more struggling with my 72 year old eyesight, and so simple to use. It is quiet, no vibration, the adjustable speed is great - lovely to be able to regulate when doing curves and fiddly bits. The needle up/down function is also a boon. Just getting used to having knobs and levers in different places????. Hopefully this will give me years of sewing. Lovely free gifts with it as well.
Service from the company was excellent. I ordered it on a Friday evening and it was delivered the following Tuesday. Very quick and efficient. Thanks

Loving it! Having learned sewing on an old Duerkopp from the 1960s (Which I still use and love), the Emerald 118 opens up so many new possibilities! The motor is silent yet powerful, the working table is well illuminated and threading the machine or changing the presser foot could not be easier at least not in direct comparison to my vintage machine. I can't wait to explore all its features.

I am new to using a sewing machine however I am finding that the Emerald 118 is not too intimidating for me.
The user manual that comes packed with the machine has lots of information and of course You Tube has many great videos explaining the use of the Emerald 118, from setting up to using it. Because the sewing machine in question is so popular there are lots of tutorials specifically about this model which are of great help to a beginner such as myself. The speed control is great, at the beginning I set the speed to the slowest maximum speed and I was confident that the machine would not go too fast for me, this helped me to build confidence. I've already used the various presser feet and tried out all the stitches. I'm very happy with my purchase and it arrived in perfect condition, delivered by courier so I was not waiting too long for my new sewing machine. I would highly recommend this sewing machine and this company!

An easy to use and understand, well designed and constructed machine for even a mature person; initially bought to make our own curtains. Very easy to thread first time, which helps ageing eyes. We tried it out on a fine polyester lining which was handled brilliantly as was a medium weight satin dress material. The reverse lever is well positioned to be used by the fingers of your right hand. Quite and vibration free in use, neat and consistent stitching. The variable maximum speed control and the needle lift/lower button are well worth the extra money above the price of the 116 model. The only niggle is the length of the needle clamp screw, which can catch your fingers at times.

Best machine that I have ever had, so smooth, runs like silk. Jean Thomas

Only reason it's 4 not 5 is that I haven't yet had chance to try everything out! Absolutely delighted though and the services from Sewing Machine Sales both on-line, on telephone and delivery were exceptional - many thanks. Brilliant after sales query service too. I will definitely use the company again. Better get back to playing with my new machine ....!

Why not share your review with others.