Viking Husqvarna Jade 20 Computerised Sewing Machine
It is a perfectly balanced performance product made to sew accurately. The Jade 20 is computerized and designed to meet the expectations of a modern sewer. The exclusive Sewing Advisor feature helps you optimize your sewing by automatically setting the machine for different fabrics
Free scissors + sewing kit worth £50
FREE delivery by DPD
, order
Delivery: 1 Working Day(s) (Sat, Sun options)
Expected Delivery Date is Monday, December 6th

Click to buy or view finance options.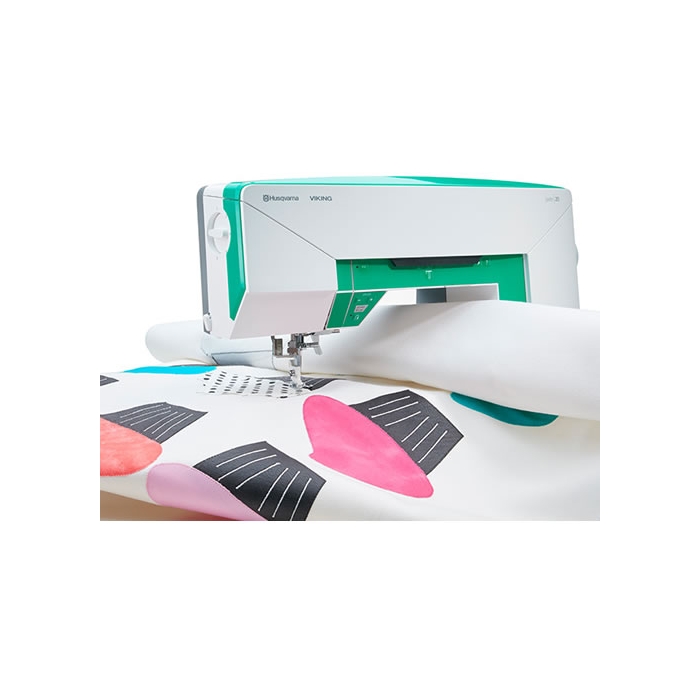 Why choose the Husqvarna Jade 20 from us?




The toughest and most intricate sewing projects just get simpler with the Husqvarna Viking Jade 20 sewing machine. This machine is a dream come true and is packed with features that enable you to be as creative as you desire. Perfectly balanced buttonholes, an exclusive sensory system, and a sewing advisor are only a part of the deal. This model comes with a large LCD display that indicates the current and recommended stitch settings. With the award winning design in the Jade 20 you also get all the space you need for quilting and other larger projects.
The Jade 20 offers a choice of 82 stitches up to 7mm wide. The menus on the screen are easy to navigate while you don't have to strain your eyes thanks to the dual lights on the machine that illuminates your working area to perfection. It has the capacity to quilt with a huge workspace of up to 200mm. If buttonholes have been a problem, you won't ever face the same situation with the Jades perfectly balanced buttonholes feature which allows you to do a professional job every time.
There are six buttonhole styles where you can sew on both sides in the same direction for evenly balanced holes. This sewing machine makes the most of modern technology with an exclusive sensor system that automatically adjusts to the thickness of the fabric. The presser foot sensor automatically lowers or raises the presser foot up to four positions. Quilts and heavy fabrics easily glide under the presser foot with the help of a sensor foot.
We love the "Sewing Advisor". You simply enter the type and weight of the fabric and sewing technique and the sewing advisor will select the best settings including stitch length and width, and sewing speed. There are many more features that make the Viking Jade 20 worth every investment. Place your order now and enjoy years of quality sewing with great after-sales.
To recap over the main features:
EXCLUSIVE SENSOR SYSTEM - Automatically and continuously senses and adjusts as you sew any thickness of fabric for perfect even feeding
UTILITY AND SPECIALTY STITCHES - Many stitches and different buttonhole styles built-in to choose from for endless creative opportunities.
UNIQUELY DESIGNED STORAGE - Store all of your accessories and footcontrol within the body of the machine using the cleverly designed lockable storade box, fits neatly in the body of the machine to complete the slender stylish design.
EXCLUSIVE SEWING ADVISOR - Select your type of fabric and sewing technique and the advisor feature instantly sets everything for you. First it will automatically sets the best stitch, stitch width, stitch length, thread tension, foot pressure, and sewing speed. Then the stitch is displayed with the recommended presser foot and needle size and type on the graphic display.
Accessories included
Feet:
Utility Foot A, Decorative Stitch Foot B, Buttonhole Foot C, Blindhem Foot D, Zipper Foot E, Edging Foot J, One.Step Buttonhole Foot C, Self-Adhesive Glide Plate.
Other:
Thread net, Edge guide, Felt pad (2), Bobbins (5, one is on the machine), Screwdriver, Auxiliary spool pin, Seam ripper, Brush, Screwdriver for needle plate, Spool cap (small), Spool cap (large), Foot control, Power cord, Needles
Specification

| | |
| --- | --- |
| UPC | 7393033093747 |
| Manufacturer | Husqvarna |
| Model Number | Jade 20 |
| Type | Sewing Machine |
| Promotion | Free scissors + sewing kit worth £50 |
| Warranty | Manufacturers 5 Year, Our 10 Year Extended Warranty Applies |
| Weight Kg | 8.5 |
| Size (Height, Width, Depth) | W 49 cm x H 30cm |
| Variable Electronic Speed Control | Yes |
| Bobbin Access | Top Loading |
| Transparent bobbin cover Bobbin Cover | Yes |
| Hard Carrying or Storage Cover | Yes |
| Automatically Tensions Thread | No |
| Integrated Needle Threader | Yes |
| Thread End Cutting | Manual |
| Number of Stitch Selections | 82 |
| Popular Stitch Functions | Straight, Zig-Zag, Multi Zigzag, Blind Hem, Stretch Blind Hem, Rolled Hem, Straight Stretch, Overlock Stretch, Scallop, Ric Rac, Honeycomb, Herringbone, Gathering, Applique, Sew-On Buttons, Quilting Stitches, Plus decorative patterns |
| Formation of Buttonholes | 1-Step Fully Automatic |
| Variety of Buttonholes | 6 |
| Twin Needle | Optional |
| Maximum Speed Limit Adjustment | Yes |
| Needle Up/Down Function | Yes |
| Integrated Dual Feed System | No |
| Integrated Fabric Feed Lowering | Yes |
| Hook Movement | Smooth Rotary Action |
| Needle Positions | Left to Right |
| Tutorial CD / DVD | No |
| Voltage | 220-240 Volts |

Customer Reviews
Fab machine for an incredible price, cheaper than anywhere else. Ordered on the Friday and received it on the Sunday, super efficient delivery.

Very friendly sales team and customer support order come next working day good price can't complain i would recommend them and i will be shopping with them again.

Lovely machine with good features. Sales and delivery was excellent at a reduced price to other sites and a free gift to add to it.

I have a Brother and a Singer which have both been ok but the Husqvarna Viking Jade 20 is in another league. I am totally delighted with my purchase, the quality of the build, the ease of use and amazing results. This machine is extremely good value for money and if you buy one I think you will not be disappointed.

I bought the Husqvarna Viking Jade 20 sewing machine at £90 cheaper than I could find it anywhere else. Sewing Machine Sales provided an excellent and very fast online service. I contacted them later to buy accessories and their interest in selling me the relatively inexpensive items was every bit as apparent as when I'd bought the machine itself. That's says a lot about a company's integrity in my opinion. I couldn't recommend them enough!

I recently purchased my Viking Husqvarna Jade 20 and so far, I am really pleased. Although it is early days for me, I particularly love the needle threader, the stop and fix functions, and the needle threading and loading of bobbins seems really easy.

I am also impressed with the way the power cable and foot control cables can be stored as part of the hard cover, and the accessory trays at the front and rear of the sewing arm are really handy.

This is my first computerised sewing machine - and - so far I think that my new Jade 20 and I have many happy sewing days and projects ahead.

Why not share your review with others.