Janome Atelier 7 Sewing Machine
Using the larger LCD screen the newer Atelier 7 by Janome is the latest computerised sewing machine with over 250 stitches to choose from including 11 buttonhole styles and 7 different alphabets it will keep you happily busy for a long time

Click to buy or view finance options.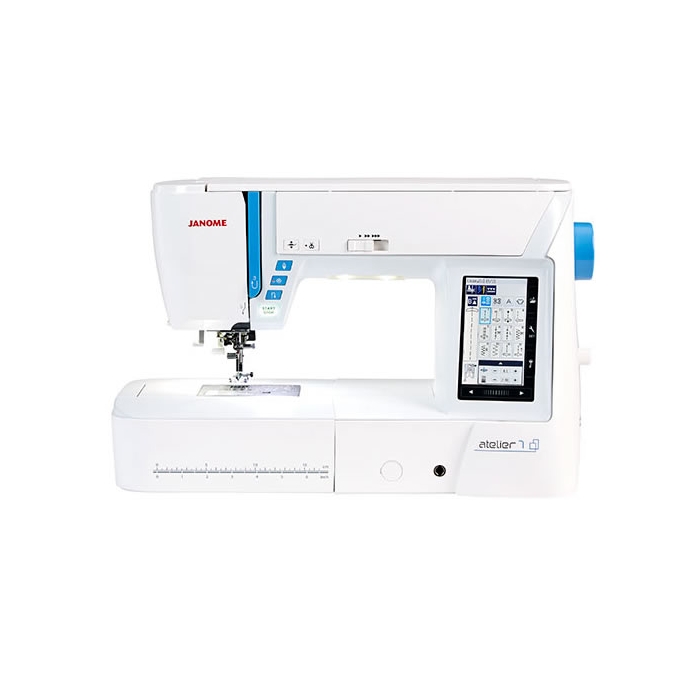 Why choose the Janome Atelier 7 from us?




The Atelier 7 is the highest and newest in the Atelier range, these latest Janome computerised sewing machines are designed to meet every sewing challenge head on. The machine feels absolutely solid and you can sit down to use it, confident in knowing it will do the job you want to it no questions asked. The atelier sewing machines had a 120mm high and 210mm wide bed area so not quite as huge as the MC8200 or MC8900 but certainly big enough for larger projects.
There are 240 built in stitches including 11 different style buttonholes plus 7 alphabet stitches including 9mm Capital letters. To be able to select all of these fantastic stitches with ease you can access them all via a high res touch screen which also displays stitch fundamentals such as stitch length and width and also what foot to use.
While sewing there are additional benefits. The Superior Feed System (SFS+) has 7 points of contact on the feed dogs to ensure the fabric feed is as accurate as possible and even. The maximum stitch width is 9mm so the variety you get with decorative stitches in immense of which you can still alter the length and width to make them the way you want them. Further to all of that there is a whopping 91 needle positions allowing for tighter more accurate sewing. For larger jobs the Atelier 7 sewing machine also has a knee lifter and extra hand features such as setting the needle in the up or down position for pivoting.
Depending on the type of sewing projects you like to do, you can also buy optional Accessory Kits, one for quilting, one for home furnishings and a third for fashion sewing. These contain all the feet you might need to give your work a professional look.

Quilting Kit JQ7 - (RRP £169 .00)
Open-toe craft foot
Convertible Free-motion foot
Stitch in the Ditch foot
Clear seam foot
Applique foot
Large quilting extension table
Home Decor Kit JHD1 - (RRP £129.00)
Border Guide Foot
Circular attachment
Free motion Couching Foot
Piping Foot
Ribbon Sewing Foot
Fashion Sewing Kit JFS1 - (RRP £109.00)
Narrow Beading Foot
Wide Beading Foot
Concealed Zipper Foot
Edge Stitch Foot
Gathering Foot
4mm Hemmer Foot
6mm Hemmer Foot
Ribbon Sequin Foot
Atelier 7 Features at a glance

Fully computerised with fast CPU
210mm ( 8.3" ) right of the needle
Arm height 120mm ( 4.7" )
240 stitches incl. 11 buttonholes
7 x Alphabets
Twin needle sewing
Top cover with stitch selection panel
High resolution touch screen
Up to 1,000 s.p.m.
Stitch width 9mm
Stitch length 5mm
Superior Feed System
Integrated drop feed
Easy set bobbin
Auto cutter on bobbin winder
Adjustable foot pressure
Auto thread cutter
Auto thread tension
Maximum speed controller
Needle up/down button
Auto lock feature
Start/stop button
Slow start feature
Mirror image
Built-in needle threader
Knee lifter
6 LED lights
Semi Rigid Fabric cover
Optional large extension table

Atelier 7 included accessories

ZigZag Foot
Overedge Foot
Satin Stitch Foot
Blind Hem Foot
Zipper Foot
Automatic Buttonhole Foot
Stabilizer plate
Rolled Hem Foot
Open Toe Satin Stitch Foot
Darning Foot
Free Motion Quilting Closed-toe Foot
Free Motion Quilting Open-toe Foot
Free Motion Quilting ZigZag Foot
Button Sewing Foot
Button Shank plate
1/4" seam foot
Dual Feed Foot
Straight Stitch Needle Plate
Bobbins, Needle Set, Additional Spool Pin, Screw Driver, Lint Brush, Seam Ripper, Quilting Guide Bar, Spool Holder, Stylus, Knee lifter, Power Cable, Instruction Book, Foot Control, Semi-hard fabric cover, Instructional DVD, Stitch composer - software for designing your own custom stitches.
Specification

| | |
| --- | --- |
| UPC | 5027843501292 |
| Manufacturer | Janome |
| Model Number | Atelier 7 |
| Type | Sewing Machine |
| Warranty | 2 Years Full Manufacturers Warranty |
| Weight Kg | 11.2 |
| Size (Height, Width, Depth) | W51 cm x H33 cm x D25 cm |
| Variable Electronic Speed Control | Yes |
| Bobbin Access | Top Loading |
| Transparent bobbin cover Bobbin Cover | Yes |
| Hard Carrying or Storage Cover | No |
| Automatically Tensions Thread | Yes |
| Integrated Needle Threader | Yes |
| Thread End Cutting | Automatic |
| Number of Stitch Selections | 240 |
| Popular Stitch Functions | Straight, Zig-Zag, Multi Zigzag, Blind Hem, Stretch Blind Hem, Rolled Hem, Straight Stretch, Overlock Stretch, Scallop, Ric Rac, Honeycomb, Herringbone, Gathering, Applique, Sew-On Buttons, Quilting Stitches, Basting Stitch, Closed Overedge, Plus decorative patterns |
| Formation of Buttonholes | 1-Step Fully Automatic |
| Variety of Buttonholes | 11 |
| Twin Needle | Included |
| Maximum Speed Limit Adjustment | Yes |
| Needle Up/Down Function | Yes |
| Integrated Dual Feed System | Yes |
| Integrated Fabric Feed Lowering | Yes |
| Hook Movement | Smooth Rotary Action |
| Needle Positions | Left / Right / Centre |
| Tutorial CD / DVD | No |
| Voltage | Dual Voltage 110-240 Volts |

Customer Reviews
Very lovely machine. For over 20 years, I used my trusted MC4000 without a single problem, so when I decided to upgrade I decided to stick with Janome. Brilliant machine and easy to use once you have mastered the menus. Only criticism I have is the needle threader which doesn't work. Sewing Machine Sales have said they will fix it but it means packing up and returning the whole machine and, quite frankly, that's just too much hassle and expense for such a small 'luxury'. Bit irritating though. Otherwise, the function and look of the machine is beautiful.

A really great machine.
I had an entry level Janome for years which was great. The Atelier 7 is robust and has great features such as automatic up down for doing corners and has all the feet you may ever need.


Why not share your review with others.