Janome DKS100 Sewing Machine REBOX
1
Review
Average rating 4.0 out of 5 Stars.
The Janome DKS100 Sewing Machine is one of the easiest machines Janome has released. DKS stands for Direct Key Selection. The machine has 100 built in high quality stitches


Price

£579.00


Today

£550.00
**REBOX BARGIAN**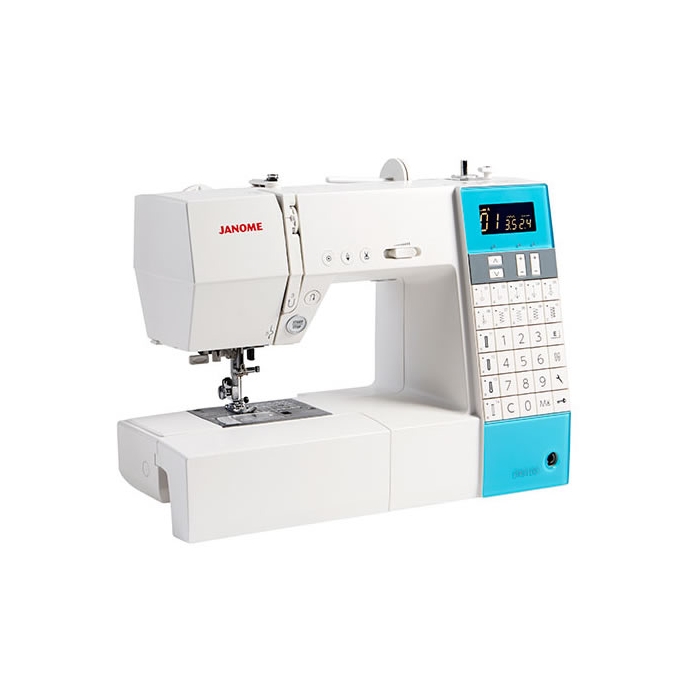 Why choose the Janome DKS100 from us?




Rebox quality sewing machine. This Janome DKS100 computerised sewing machine is ready to start stitching. The box has been opened which is why this machine is a rebox sewing machine, whoever grabs this machine first is getting a major bargain. It is covered by warrenty.
The Janome DKS100, is a powerful, exceptionally easy to use, fully computerised sewing machine.
With 100 built in stitches all of which are easily selectable via there own key, afterall that is what DKS stands for (Direct Key Selection).
The Janome DKS100 has much to offer with its easy to read LCD screen, stitch length and width selection by the press of a button and it's perfect choice of 3 buttonhole styles to suit your various projects, along with the superb selection of stitches to suit all of your sewing needs!
There are many special features on the DKS100 sewing machine, which include an easy set bobbin, an auto bobbin winder, automatic needle threader, automatic thread cutter and an automatic lock stitching feature that will lock off your sittches and pattern's for your leaving a professional finish.
To top it off this sewing machine can even be used without the use of the foot controller, by simply pressing the start button situated on the front of the machine and controlling the speed via the sliding button in addition to this Janome have now introduced a knee lifter with this model helping you stay on target at those crucial moments! The Janome DKS100 is sure to make your projects look professional!
  Features:
Fully Computerised
Free Arm
100 Stitch Options
3 Auto 1 Step Buttonholes
LCD Screen
Twin LED Lights
Jam Proof Top Loading Drop in Bobbin with See Through Cover
Variable Stitch Length & Width
Knee Lift Facility
Drop Feed for Freehand Work
Auto Needle Threader
Auto Thread Cutter
Auto Lockstitch
Maximum Stitch Length 5mm
Programmable Needle Up/Down
Lockstitch Feature
Stop/Start Button
Speed Control Slider
Adjustable Foot Pressure
Twin Needle Capability Including Regulator
Reverse Button
Snap on Feet
Weight - 8.0KG
Dimensions - Width 41cm x Height 30cm
Hard Cover Included
Accessories: 
Bobbins 
Needle Set 
Additional Spool Pin 
Satin Stitch Foot 
Zipper Foot 
Automatic Buttonhole Foot 
Overedge Foot 
Blind Hem Foot 
Seam Ripper (Buttonhole Opener) 
Screwdriver
Lint Brush 
Small Spool Holder 
Large Spool Holder 
Knee Lifter
Operational Manual
Operational DVD
Electronic Foot Control
Specification

| | |
| --- | --- |
| UPC | 5027843501179 |
| Manufacturer | Janome |
| Model Number | DKS100 |
| Type | Sewing Machine |
| Promotion | **REBOX BARGIAN** |
| Warranty | 2 Years Full Manufacturers Warranty |
| Weight Kg | 8.5 |
| Size (Height, Width, Depth) | W41 cm x H30 cm |
| Variable Electronic Speed Control | Yes |
| Bobbin Access | Top Loading |
| Transparent bobbin cover Bobbin Cover | Yes |
| Hard Carrying or Storage Cover | Yes |
| Automatically Tensions Thread | No |
| Integrated Needle Threader | Yes |
| Thread End Cutting | Automatic |
| Number of Stitch Selections | 100 |
| Popular Stitch Functions | Straight, Zig-Zag, Multi Zigzag, Blind Hem, Stretch Blind Hem, Rolled Hem, Straight Stretch, Overlock Stretch, Scallop, Ric Rac, Honeycomb, Herringbone, Gathering, Applique, Sew-On Buttons, Quilting Stitches |
| Formation of Buttonholes | 1-Step Fully Automatic |
| Variety of Buttonholes | 6 |
| Twin Needle | Optional |
| Maximum Speed Limit Adjustment | Yes |
| Needle Up/Down Function | Yes |
| Integrated Dual Feed System | No |
| Integrated Fabric Feed Lowering | Yes |
| Hook Movement | Smooth Rotary Action |
| Needle Positions | Left / Centre |
| Tutorial CD / DVD | No |
| Voltage | 220-240 Volts |

Customer Reviews
Bought this machine as my old Janome was playing up and needs a service (not poss during lock down). Seems solid and works fine for free machine embroidery and quilting which I need for my textile art. Not as fancy as my old model but does the job perfectly well. Arrived quickly and was set up and sewing away in no time.

Why not share your review with others.