Silver Viscount 404 Sewing Machine
Great machine with a huge stitch choice. In fact it has 404 stitches!! Silver Viscount 404 is a fabulous computerised sewing machine. We love the sleek lines and easy navigation on the large LCD screen. No complications, what you see is what you get. It can sew through thicker or multi layer materials just as easy as fine satin's.


Price

£449.00


Today

£389.00
FREE Sewing Kit GIFTS WORTH £50

Click to buy or view finance options.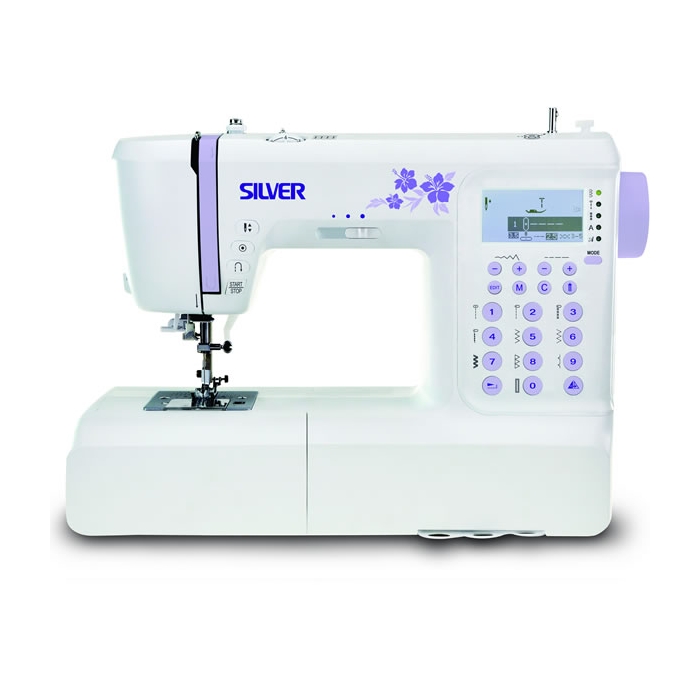 Why choose the Silver 404 from us?




Back to the wonderful stitches, wow 404 patterns in total; 9 automatic one-step buttonholes, 5 alphabets and memory banks are included, what you would expect from a top of the range model.
Easy Soft-Touch buttons nicely positioned on the front panel of the machine. Gradual speed control, start/stop button and extra lighting with the "Easy Read" LCD display, we find the Silver 404 a pleasure to use.
Pull off the sewing bed to access the sleeve arm, the removable sewing bed folds out to store presser feet and accessories. Bobbin is the smooth running rotary top loading type, with quick threading guides ans view through bobbin cover.
It's strong too, with a aluminum internal frame, the Silver 404 is designed to be reliable over many years. We have put this machine through its paces and are really excited with what it can do.
The Silver Viscount 404 is an all rounder and can handle all the must have needs of those quilting projects, home decor, craft projects, urgent alterations and much, much more.
Features not to be missed:
7mm stitch width.
6 gear feed system.
For Freehand Embroidery a Drop Feed.
Built in Needle Threader.
Lock Stitch Feature.
Full Speed Controller.
Pattern Expansion - up to five times.
4 Memory Banks To Store 20 Characters
Pull Out Stitch Plates
Start/Stop Button
Needle Up/Down
Speed Limiting Adjustment Lever
LCD Screen
Drop Feed Lever
Auto Stop Bobbin Winder
Reverse Button
Mirror Pattern Button
Twin Needle Button
Pattern Elongation Button
Direct Utility Stitch Selection Buttons
Standard Accessories Included:

1. All purpose zigzag foot (T)
2. Zipper foot (I)
3. Buttonhole foot (D)
4. Overcasting foot (E)
5. Blind hem foot (F)
6. Satin stitch foot (A)
7. Button sewing foot
8. Bobbin (3x)
9. Spool holder (Large)
10. Spool holder (Small)
11. Spool pin felt
12. Second spool pin
13. Screwdriver (L & S)
14. Edge/quilting guide
15. Brush/ Seam ripper
16. Needle (3x)
Specification

| | |
| --- | --- |
| UPC | 700461247692 |
| Manufacturer | Silver |
| Model Number | 404 |
| Type | Sewing Machine |
| Promotion | FREE Sewing Kit GIFTS WORTH £50 |
| Warranty | Extended Warranty 10 Years Parts and Labour |
| Weight Kg | 8.5 KG |
| Size (Height, Width, Depth) | H39 x W48 x D18 cm |
| Variable Electronic Speed Control | Yes |
| Bobbin Access | Top Loading |
| Transparent bobbin cover Bobbin Cover | Yes |
| Hard Carrying or Storage Cover | Yes |
| Automatically Tensions Thread | Yes |
| Integrated Needle Threader | Yes |
| Thread End Cutting | No |
| Number of Stitch Selections | 503 |
| Popular Stitch Functions | Straight, Zig-Zag, Multi Zigzag, Blind Hem, Stretch Blind Hem, Rolled Hem, Straight Stretch, Overlock Stretch, Scallop, Ric Rac, Honeycomb, Herringbone, Gathering, Applique, Sew-On Buttons, Quilting Stitches, Basting Stitch, Plus decorative patterns |
| Formation of Buttonholes | 1-Step Fully Automatic |
| Variety of Buttonholes | 11 |
| Twin Needle | Optional |
| Maximum Speed Limit Adjustment | Yes |
| Needle Up/Down Function | Yes |
| Integrated Dual Feed System | No |
| Integrated Fabric Feed Lowering | Yes |
| Hook Movement | Smooth Rotary Action |
| Needle Positions | Left / Right / Centre |
| Tutorial CD / DVD | No |
| Voltage | 220-240 Volts |

Customer Reviews
this is my second silver viscount machine, I love it just as much as the first one. the 9500e has a lot more stitches than the 1045. it is a very sturdy machine, you get a lot for your money and good service, from sewing machine sales.

Wonderful sewing machine. It was really easy to start using, with clear and full instructions supplied. It was fantastic to have all the extra feet supplied with the machine, which will save a lot of money buying them individually. The machine runs quietly and is easy to switch between the 503 stitch patterns. I am absolutely chuffed with this machine, it is probably the only machine I will ever need! Many thanks for the excellent customer service and really quick dispatch.

Awesome Machine. Haven't been able to stop using it since it arrived. Each element of it works so perfectly and quietly. I waited a long time and did an awful lot of research before I chose this machine and finally retired my old one - the wait and research were worth it. I challenge anyone to find another machine that matches up to this one, especially for the money and the fact it contains all the extras you normally get charged for. Had to make one call to customer services to ask a question over something I just couldn't fathom & I would give the team at Silver 5* too. 1st class service. One very happy crafts woman!

Excellent machine. Hassle free and very easy to use. Many, many features which are too numerous to list. I love this machine and feel very comfortable with it.

Thank you to all your staff at Sewing Machine Sales, which I found to be, friendly, pleasant, and most helpful. I ordered a Silver Viscount 9500e at 09.00 on Tuesday 28 05 13. and took delivery at 08.30 the next morning. Ordered and delivered in less then 24. hours. How Brilliant is that. My wife is more then pleased with the machine, just as I am, with the professionalism and promptness in which the transaction and delivery was carried out. I will certainly be dealing with you again. Once again many thanks.

Last week I purchased a Silver Vicount 9500e because my wife wanted to upgrade from her old basic machine. She chose this machine even though she had never used a computerised machine before. After refering to the instruction manual, she started working the machine, and fell in love with it, because of the simplicity, and brilliant results in all aspects, that was achieved. The Vicount 9500e is both sturdy and well designed with many extras, at a very resonable price. My wife says that she would recommend this machine to both beginners and experienced machinists. I could not have asked for anything more from Sewing Machines Sales, from ordering the machine to delivery was less than 24 hours, communication was brilliant, and the staff were friendly,helpful, and very professional.
Many Thanks.
Best Regards, B.Jay.

Fantastic machine. Has opened up a whole new world of sewing for me. Arrived quickly. No fuss ordering. Would definitely use again.

LOVE IT. I had a lovely Silver 1031 machine which I was very happy with until I started a king size appliqué quilt for my bed, I could then see its limitations. So I began my search for a new machine with some features like needle down, extension table (optional extra), larger hole to the right of needle, bigger variety of stitches. I didn't want to spend a fortune, I wanted a lot of machine for as little money as possible. I found found the silver 9500e quite early on but continued on looking for better but kept coming back to it. So I decided that was the one so next thing was to find it as cheap as possible. Phoned Sewing Machine Sales and spoke to a nice young man who took my order apart from the computer going down in the middle of my order the ordering and delivery was perfect and it arrived next day. I spend that evening learning about it, playing with the stitch patterns, writing names etc etc I loved the little cars, the variety of flowers and with 500 different patterns I could now do my heritage quilt I really wanted to do. The variety of feet supplied with the machine and the storage of them is brilliant each having its own place, easy to check you have everything before you put the machine away. The close down lid covering the cotton reel etc is really good as I was able to lay the quilt over the my machine to check the back without removing it completely or disturbing the thread. It is much quieter than my other machine. Changing the stitch patterns is easy to do and stitch length simple. The screen shows you the machine setup, the foot you are using, stitch size, tension range you should have for the foot selected. I am yet to find something I don't like about the 9500e. I was like an excited child with a new toy.

I started working on my appliqué quilt free motion stitch in the ditch in the centre of the king size quilt, it was manageable (I have only done this by hand before), I did have to do the first applique flower 3 times before I was happy with it then it got easier to do as the more practice I got. The speed limiter is excellent, helping to keep the machine going at a even speed important for free motion quilting. I nearly bottled out of machine quilting my quilt purely for its size, could I manage it? but the machine coped very well once I got going I did 3 flowers in a couple of hours and I was really pleased with the result, hand sewing would have been at least 2 hours each flower and now the centre is done it will be quicker and easier to do The 9500e is a lot of machine for the money and Sewing Machine Sales offer the best price I could find. I would recommend both this machine and Sewing Machine sales.

Why not share your review with others.