Singer C240 Featherweight Sewing Machine
1
Review
Average rating 5.0 out of 5 Stars.
The return of the Singer Featherweight. But improve some what! Introducing the SINGER C240 featherweight sewing machine, it is the first Singer with Integrated Even Feed system. Taking design and functionality to the next level. Because its compact and portable, it includes a hard cover


Price

£499.00


Today

£385.00
Reduced + 10 Year Warranty & FREE UK Delivery
FREE delivery by DPD
, order
Delivery: 1 Working Day(s) (Sat, Sun options)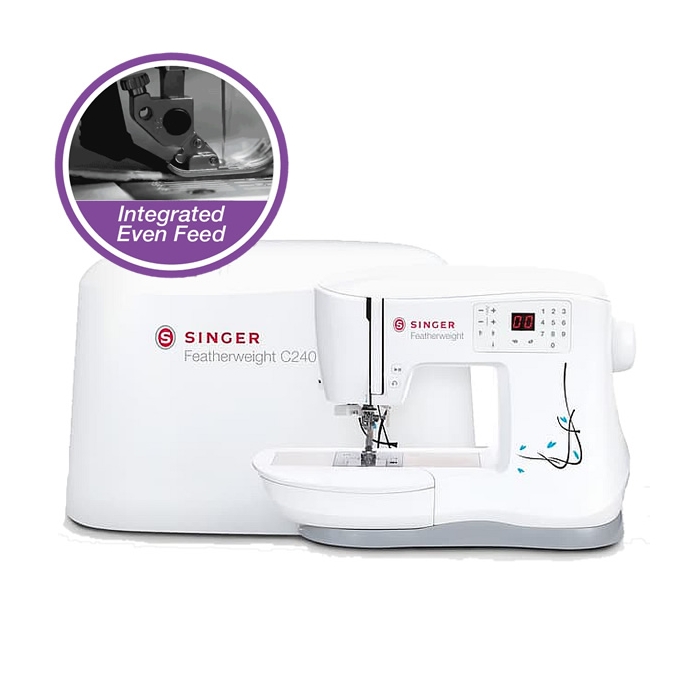 Why choose the Singer C240 Featherweight from us?




A game changer. The all new Singer C240 Featherweight sewing machine will propel the Singer brand back onto the top stage with its exclusive features.
This C240 Featherweight has been a long time in the making and the market has been desperate for this innovation from Singer.
The featherweight carries the sleek curvy styling that Singer is becoming known for with its clean crisp lines and high quality feel. It's computerised with LCD screen, it includes a hard protective cover and offers over 40 stitch options.
Packed with features that patchwork quilters and dressmakers alike will fall in love with. Such as the large sewing platform - the sewing bed of the C240 is spacious and supportive with a subtle camber front to back to reduce drag on your sewing project. The metal sewing bed not only looks fantastic but it offers enhanced strength to support heavier projects. With such a vast surface lavishly lit by LED lighting and the drop feed makes free motion or darning is made a breeze.
Delivering 70 stitches from straight stitch to decorative hearts. The C240 has designated dressmaking stitches such as stretch stitch and overcasting as well as blind hem and button holes. Boasting a good selection of mock hand quilting stitches and blanket stitches.
Where the Featherweight really impresses is with its decorative stitches of which there are over 40 built-in to the C240 with a maximum width of 7mm and length of 4.5mm. Both width and lenght are adjustable.
Sew with confidence by using the variable soft control speed limiter, you can restrict the c240 to sew really slow if you want to as the machine has 5 adjustable speeds to perform exactly how you want. With additional computerised features such as the Needle Up/Down button and Auto lockstitch this machine is so easy to use.
Here is the big difference!

The C240 Featherweight has Integrated Even Feed (IEF) system normally only found on extremely high end machines. This even feed system is 100 times better than any other such as a walking foot attachment. A feature essential to quilting as it will feed multiple layers of fabric while greatly reducing movement of the layers of fabric by feeding from the top as well as the bottom.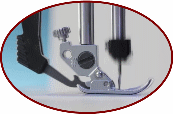 What is Integrated Even Feed system! (opens in a new window)
The IEF system is a winner on any sewing machine but at this price it's in a class of it's own. It will give perfect stitching results on any type of fabric.

Standard Accessories:

    General Purpose Foot
    All Purpose Foot
    Zipper Foot
    Buttonhole Foot
    Blind Hem Foot
    Satin Stitch Foot
    Pack of Needles
    Bobbins (Class 15J)
    Thread Spool Caps
    Auxiliary Spool Pin
    Spool Pin Felt
    Edge/Quilting Guide
    Clearance Plate
    Needle Plate Screwdriver
    Seam Ripper / Lint Brush
    Hard Protective Coveer
    Instruction Manual
    Power Cord
    Foot Control


Specification

| | |
| --- | --- |
| UPC | 7393033096519 |
| Manufacturer | Singer |
| Model Number | C240 Featherweight |
| Type | Sewing Machine |
| Promotion | Reduced + 10 Year Warranty & FREE UK Delivery |
| Warranty | Manufacturers 2 Year, Our 10 Year Extended Warranty Applies |
| Weight Kg | 9.2 |
| Size (Height, Width, Depth) | H34 x W42 x D25 cm |
| Variable Electronic Speed Control | Yes |
| Bobbin Access | Top Loading |
| Transparent bobbin cover Bobbin Cover | Yes |
| Hard Carrying or Storage Cover | Yes |
| Automatically Tensions Thread | Yes |
| Integrated Needle Threader | Advanced Automatic |
| Thread End Cutting | Manual |
| Number of Stitch Selections | 70 |
| Popular Stitch Functions | Straight, Zig-Zag, Multi Zigzag, Blind Hem, Stretch Blind Hem, Straight Stretch, Overlock Stretch, Scallop, Ric Rac, Honeycomb, Herringbone, Applique, Sew-On Buttons, Quilting Stitches, Plus decorative patterns |
| Formation of Buttonholes | 1-Step Fully Automatic |
| Variety of Buttonholes | 3 |
| Twin Needle | Optional |
| Maximum Speed Limit Adjustment | Yes |
| Needle Up/Down Function | Yes |
| Integrated Dual Feed System | Yes |
| Integrated Fabric Feed Lowering | Yes |
| Hook Movement | Smooth Rotary Action |
| Needle Positions | Left / Right / Centre |
| Tutorial CD / DVD | No |
| Voltage | Dual Voltage 110-240 Volts |

Customer Reviews
Treated myself to a new upgraded sewing machine. I chose Singer as that's what I've always sewed with and never had any problems. Also I was hoping the threading was the same!
This was A big purchase for me as the cost was quite high but it had the added feature of the integrated feed which I thought would help in sewing many different fabrics.
The hard cover looks impressive and I was impressed with the variety of stitches as well as the included accessories and feet. So far I have not any problems with sewing multiple layers of fabric or any other problems so I'm delighted that my sewing is going well. One thing I'm slightly disappointed it hasn't got is the cutting feature, otherwise I'm over the moon with it.
I really look forward to sewing with my new machine and I'm so glad I bought it.

Why not share your review with others.