25 Clear 15k Bobbins And Box
Fantastic value for money not only are the bobbins less than 50p each but they also come in a lovely neat storage case suitable for most Singer, Pfaff, Bernina, Brother, Janome, Jones, Newhome, Elna, Toyota, Riccar, BabyLock, Silver Viscount, Necchi, Fister Rossman, Juki sewing and embroidery machines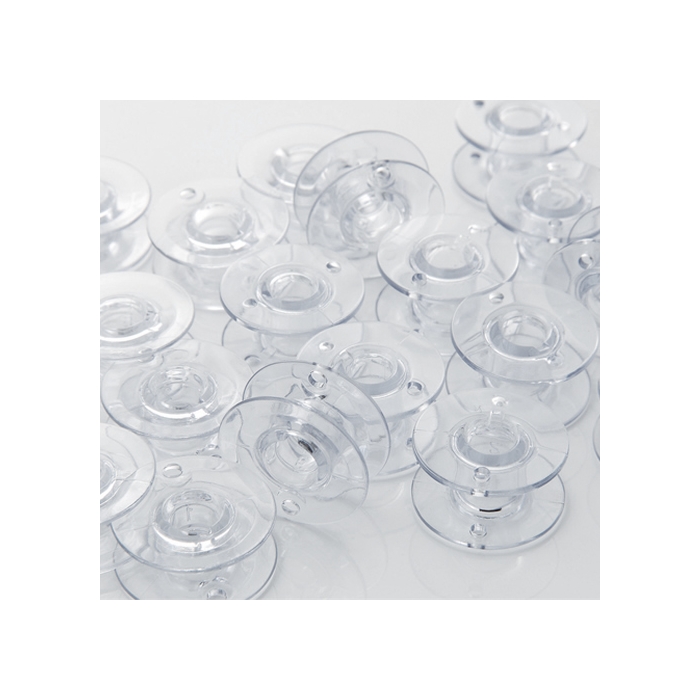 COVID-19 UPDATE:
While courier companies are making every effort to deliver within a standard operating time frame, this is not always possible. Deliveries may be delayed. more info.
Fits most sewing machines where the bobbin is placed into a case then the case is inserted into the machine, also many newer type machines where the spool/bobbin is dropped in from the top. This pack contains 25 multi-coloured bobbins in their own sturdy storage box. the bobbins are universal and fit most old and new type machines.
Now just to make sure that these will fit you machine if you measure one your own bobbins and if they measure approximately 20mm across and 11.5 mm deep then these will be perfect for your machine.


Perfect for current Models (2016):

Singer:
1507, 2250, 2259, 2263, 2273, 2282, 3321, 3323, 3232, 4411, 4423, 6160, 7463, 7465, 7467, 7470, One, One Plus, 9960, 9980 XL400
Brother:
L14, LX17, LX25, XR27nt, XR37NT, NV10a, Innov-IS 15, Innov-IS 20LE, Innov-IS 35, Innov-IS 100, Innov-IS 350, Innov-IS 550, Innov-IS 1100, Innov-IS 1300, Innov-IS 1800Q, VQ2 and embroidery machines.
Janome:
2060, 2080, 2015, 2200xt, J3-18, J3-20, J3-24, 521, 525S, 423S, 2522, CXL301, CMX-30, XL601, DXL603, QXL605, TXL607, DKS30, DKS100, MC5900, ATELIER 5, 8200, 8900
PFAFF:
1050, 1080, HOBBY 1122, HOBBY 1132, HOBBY 1142, SMARTER 140, SMARTER 160, SMARTER 260C, PASSPORT 2.0, PASSPORT 3.0. AMBITION ESSENTIAL, AMBITION 1.0, AMBITION 1.5, QUILT AMBITION 2.0
Husqvarna:
H-Class E10, E20 and 100Q

Elna:
1000, 220EX, 240EX, 340EX, 320EX, 3210, EX520, EX540, EX620, LOTUS, EX660


All current 2015 models of Alfa, Toyota, Jaguar, AEG, Frister & Rossmann and Juki and many more,
Specification

| | |
| --- | --- |
| Manufacturer | AEG, Alfa, Baby Lock, Brother, Elna, Frister Rossman, Janome, Silver, Jones, Newhome, Singer, Toyota |

Customer Reviews
Brilliant product, excellent value and amazing customer service.

Excellent value for money handy box to keep tidy.

Good value for money bobbins and a neat box. My Janome 2060 is new to me and I was concerned that the bobbins would be compatible to this machine. I emailed the company and received a reply the same day. Good customer service. Received the order promptly and came in a very glitzy gold padded envelope - made our postman and me smike

Fantastic value for money - received very quickly through the post. I purchased these bobbins for my Brother NV2600 and they fit perfectly. I did contact Sewing Machine Sales prior to ordering just to make sure that I would be ordering the correct item - everyone at this company are extremely helpful. I have bought two sewing machines from them and the service has been excellent. Many thanks again for all the help.

Good Value, nice tidy storage for bobbins that otherwise tend to be difficult to store tidily.

Very pleased with my bobbin box - now I can easily see what colours I already have on the bobbins.

Pleased with the item , good value for money, would recommend

Why not share your review with others.