This Singer ESP2 is super quality that will last years and what's more, like magic it can actually half your ironing time as the pressing area is nearly 11 times that of a conventional iron. Built in extra blast of steam when needed


Price

£299.00


Today

£215.00
FREE Silver Press Cover worth £10
Sorry, temporarily Out-Of-Stock
Please use the link above to sign up for new stock update. We will email you the moment it comes back in to stock.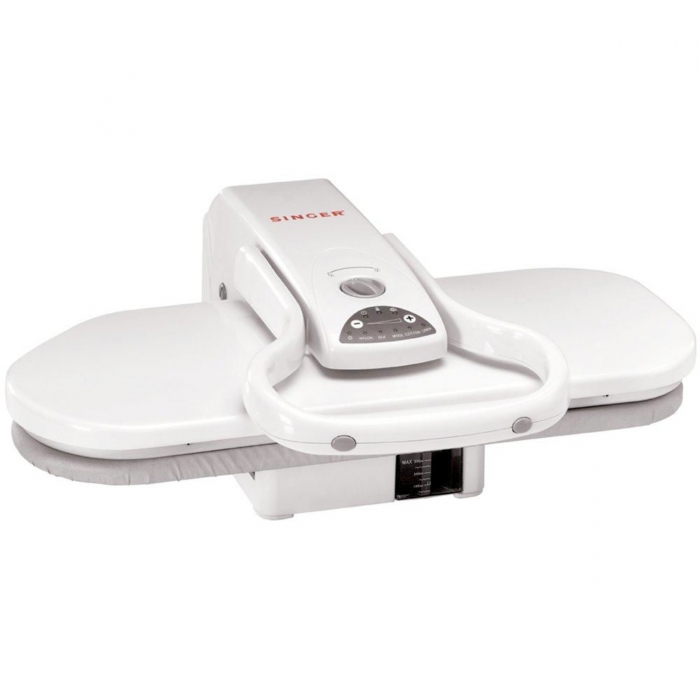 Why choose the Singer ESP2 from us?




BRAND NEW ESP2 STEAM PRESS FROM SINGER.
This is the best Singer ironing press ever, super quality that will last years! and what's more it can actually half your ironing time as the pressing area is nearly 11 times that of a conventional iron. Several layers can be pressed simultaneously by gently pulling down the handle, the whole area is pressed at once quickly and easily.
Why not take the drudgery out of the ironing? Sit down, make yourself comfortable, press away and see the pile of ironing disappear.
Dont forget to have a read of our product reviews, real world customers cant be wrong!

Ideal for clothes, linens, sewing projects, and household items like draperies and bedding the press features a streamlined handle design that can be operated with one hand.

The steaming function, controlled electronically from the buttons at each side of the handle, variable steam! quickly set the amount of steam at the touch of a button. The steam is pumped electronically from the 300ml water tank, up to the top heated plate. The press can also operate dry.

With its smart, sandwich construction and easy operation, the Singer ESP-2 (Electronic Steam Press) make's ironing effortless, closing the handle, squeezes the plates together with up to 100lbs of pressure.

Sit down and watch the pile of ironing disappear, while ironing the electronic alarm sounds after 10 seconds. You'll be amazed how quickly the Singer steam press deals with sheets, tablecloths, napkins, etc, the largest items can be folded into the ample space at the back of the board and press multiple layers. Just imagine perfect creases in pants and shirt sleeves in one go.

Lock closed it can be tucked away into a tiny space standing in a vertical position it occupies very little floor space. 

Main Features
Cuts ironing time by as much as 50% and is kind to clothes helps avoid shining.
Choice of automatic high pressure or light pressing.
Temperature control to suit all fabrics.
Vary the steam at the touch of a button.
Use with steam or not
Real steam not just a squirt of water like some... 
Power ON/OFF and temperature ready indicator.
Steam feature helps remove all wrinkles.
Automatic safety shut off operates in both closed and open situations.
Easy to see LED lamps show the temperature settings.  
Auto pressure, approx 100lbs 
Pressing area 63cm long 26cm wide.

The Bottom Line
The Singer ESP 2 steam press includes a measuring cup, pressing cushion, spray bottle, an instruction book and a washable pad cover. It is the perfect gift solution for someone you care and is a good value for money. The ESP-2 steam press is cost efficient, durable and long lasting. You don't have to worry anymore about your skin getting in contact with clothes that have been pressed using chemicals.

We are the largest retailer of presses in the UK, so don't hesitate to call us for independent advice on the iron press that's best suited for your needs.
Accessories Included:
Instruction Book
Water tank filler
Pressing cushion
Water spray bottle
Power lead
Specification

| | |
| --- | --- |
| UPC | 6938167862954 |
| Manufacturer | Singer |
| Model Number | ESP2 |
| Type | Steam Press |
| Press Type | Dry Ironing Press, Steam Ironing Press |
| Promotion | FREE Silver Press Cover worth £10 |
| Warranty | Full Manufacturers Warranty |
| Pressing Area | 63 cm x 26 cm |
| Weight Kg | 12 Kg |
| Temperature Control | Yes |
| Auto Safety Cut Off | Yes |
| Built-in Sleeve Board | No |
| Teflon Coated Plate | No |
| Variable Steam Pressure | Yes |
| Burst of Steam Button | Yes |
| Tutorial CD / DVD | No |
| Voltage | 220-240 Volts |

Customer Reviews
Items 41 to 48 of 48 total
Page
You're currently reading page

5
I recommend highly this machine, I used to have the older version which was good but this one really is brilliant! Ironing is pleasurable (well almost!)and once you learn the knack of how to use a press you will never go back to an ordinary iron again. Cotton sheets and duvet covers are made easy and everything looks as if it has been laundered professionally.

I would also add that the service from Sewing Machine Sales is excellent: helpful, knowledgable staff and very quick delivery.

I was without a steam press for a week and going back to old iron and ironing board was a real pain.
My new machine arrived today. In no time it was out of the box, did the weeks ironing in just over an hour. The new ESP 2 is a more sophisticated machine than the old Magic 7 but that machine served me well for many years.

WE HAVE NOT USED OUR NEW ESP STEAM PRESS YET, WHEN WE DO WE WILL LEAVE A REVIEW............ SO WHY THE REVIEW..........THIS IS FOR Sewing Machine SALES......ORDERED ON MONDAY DELIVERED ON TUESDAY, SO THE ONLY COMMENT IS PERFECTION SO FAR.
THANK YOU FOR PERFECT SERVICE.
MARGARET

The ESP 2 is my first ever steam press and I'll never go back to an iron.

Its a single blokes dream, simple, fast, bombproof. If you subscribe to the bachelor ethic of 'dynamic ironing' - i.e. you iron something just prior to rushing out the door with it on - this is a dream.

Does a T shirt in three presses, thats 20 seconds, and switches itself off when you forget to.

I have been repairing Sp type presses and irons for over 12 years. They are long lasting and easy to use. Take it from a technician, they are great value for money.

Received my ESP 2 steam press on Saturday, having ordered it two days earlier. I was soon ironing shirts in seconds. Fantastic.
One or two burns to my fingers but that was due to my carelessness.
Cant wait to tackle the king size duvet covers.

Can highly recommend to anyone who finds ironing a chore.

JUST RECEIVED MY SINGER ESP 2. TODAY.

THANK YOU FOR YOUR GREAT SERVICE.

INSTUCTION BOOK WAS EASY TO FOLLOW. THE PRESS ITSELF WAS EASY TO USE, HOW LOVELY TO SIT AND PRESS.

I WOULD CERTAINLY RECOMEND THIS PRODUCT AND YOUR COMPANY THANKS AGAIN.

I dont know if this is the right place for feedback, but I thought I would let you know that the recently purchased Steam Press is one of the best things Ive ever used. Ive almost mastered shirts now, and everything else was immediately very straightforward.
Ironing time has been cut by more than half, with the added convenience of being able to sit down to do it. I managed to burn myself once or twice (very minor, and mainly because I was over-enthusiastic) but thats stopped now as well.

I would (and have already) recommend this to anyone, its brilliant.
Items 41 to 48 of 48 total
Page
You're currently reading page

5

Why not share your review with others.