Husqvarna Designer Ruby 90
Let your creativity get carried away with the Husqvarna Designer Ruby 90 sewing and embroidery machine's innovative, state-of-the-art features. It has so much to offer embroidery and quilting lovers.
BRAND NEW SEWING & EMBROIDERY MACHINE FOR 2021 + 10 YEAR EXTENDED WARRANTY + FREE DELIVERY
FREE delivery by DPD
, order
Delivery: 1 Working Day(s) (Sat, Sun options)
Expected Delivery Date is Monday, September 20th

Click to buy or view finance options.
PART-EXCHANGE OFFER: Save £1000 off this machine by part-exchanging your old sewing machine. Once you've placed your order we will phone you to arrange the collection of your machine. As soon as we receive your machine we will deliver your brand new Designer Ruby 90.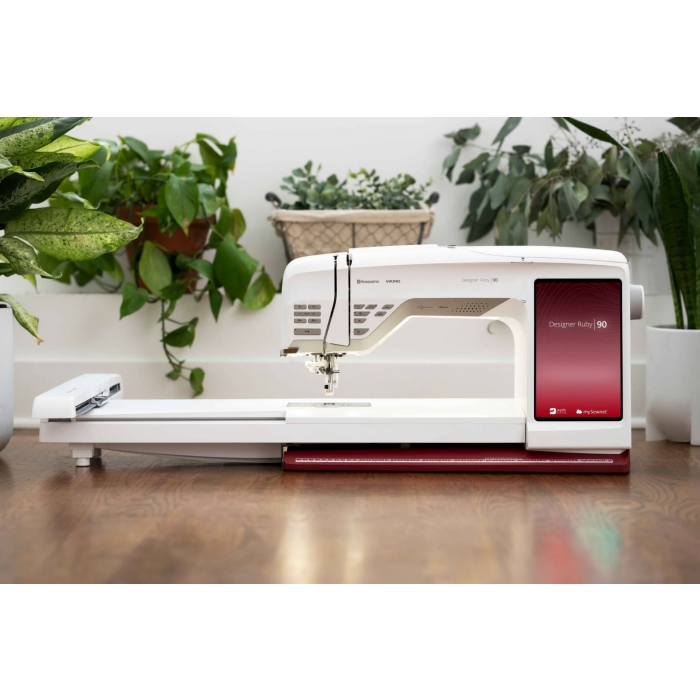 Why choose the Husqvarna Designer Ruby 90 from us?




The Husqvarna Designer Ruby 90 is engineered and designed in Sweden; it is sure to be a hit with its users for both embroidery, quilting or regular sewing.
At this moment even we haven't had a chance to get our hands on the Ruby 90, but as soon as we do, we will be reporting back with more detailed information.
Yes, it has all the top-of-the-line features and more, like WiFi connection to MySewnet or a smart phone. Access the Ruby 90 directly from your smart phone. With every purchase, enjoy 90 days free mySewnet Silver subscription and access it via the huge 10" full HD colour touchscreen.
We love the ribbon embroidery unit and yes, the new Husqvarna Designer Ruby 90 has the capability to use this fantastic attachment to make unique ribbon embroideries.
Small things that matter and are important, yet are often overlooked, allow smooth running and perfect fabric feeding or stitch precision - jam proof rotary hook unit, lightweight aluminium chassis, box feed, upper and lower bobbin sensors, 29 needle positions or sensor one-step buttonholes which are perfectly balanced.
Innovative Features:
On screen JoyOS Advisor, gives tips and advice about how to sew on stretch fabric, or insert a concealed zip and sew collars. JoyOS Advisor is like having your very own tutor built-in. It even offers advice on which type of stabilizer to use whilst embroidering.
Larger bobbins (compared to the previous Designer Ruby) give users more time to embroider and less time rethreading.
Fabric thickness is constantly being measured and automatically adjusts the foot pressure for accurate feeding on any fabric type.
Larger style sewing bed with more than 12" space to the right of the needle, gives plenty area for quilt making.
LED lights the needle and stitching area. Quickly and easily change the light intensity with control buttons on the front panel.
Free-motion has three settings for foot height to manage different fabric thicknesses and number of fabric layers.
Decorative stitches can be tapered, you can even change the taper angle.
The clever Sensor Foot Lift system will lift or lower the pressor foot automatically stitch dependent.
Save stitches or designs I to the machine memory, or use one of the two USB slots to transfer your designs too and from the machine when needed.
Ruby 90 Embroidery Highlights:
Fully compatible with Husqvarna new embroidery software, which indecently now allows one to create designs for the ribbon embroidery unit.
Sew designs faster and up to 1000spm. When using foil or some metallic thread you can slow the Ruby down to manage these difficult thread types.
Build your own applique designs on screen.
Stabilize your fabric layers before you start an embroidery by using the basting option. This is a must have!
Trim both top and bobbin thread ends between colour changes or sections of the same design, for example lettering. 
Choose from many different hoops, like the magnetic hoop. Three hoops are included, the larger one being 36 x 26cm.
Extensive Selection of Built-In Stitches:
Enjoy more than 800 built-in stitches and techniques including Pop-up, Sequin, Applique, Yarn, and Theme Stitches.
Beautiful Embroidery Designs Ready to Stitch:
Access more than 650+ built-in embroidery designs, each one can be customised on screen. Duplicate, resize, add additional elements to build your very own custom designs.
Three Hoops are Included:
Imperial Hoop (360x260 mm)
Crown Hoop (260x200 mm)
Splendid Square Hoop (120x120 mm)
Accessories:
Thread nets
Universal tool
Seam ripper
Lint brush
Spare bobbins
Spare needle pack
Edge/Quilting guide
Multipurpose tool
Thread cone holder
16 x Embroidery hoop clips
6 x Spool caps
Large spool holders
Straight stitch quilting plate
Complimentary software to download (available for WINDOWS or MAC)
Luggage style carrying bag with packing insert for embroidery unit
Machine soft cover
Electronic foot speed control
Power cord
Manuals
Specification

| | |
| --- | --- |
| Manufacturer | Husqvarna |
| Model Number | Designer Ruby 90 |
| Type | Sewing Machine |
| Promotion | BRAND NEW SEWING & EMBROIDERY MACHINE FOR 2021 + 10 YEAR EXTENDED WARRANTY + FREE DELIVERY |
| Warranty | Manufacturers 5 Year, Our 10 Year Extended Warranty Applies |
| Weight Kg | 12.0Kg |
| Size (Height, Width, Depth) | H39 x W31 x D15 cm --- edit this |
| Variable Electronic Speed Control | Yes |
| Bobbin Access | Top Loading |
| Transparent bobbin cover Bobbin Cover | Yes |
| Hard Carrying or Storage Cover | No |
| Automatically Tensions Thread | No |
| Integrated Needle Threader | Yes |
| Thread End Cutting | Automatic |
| Number of Stitch Selections | Unlimited |
| Popular Stitch Functions | Straight, Zig-Zag, Multi Zigzag, Blind Hem, Stretch Blind Hem, Rolled Hem, Straight Stretch, Overlock Stretch, Scallop, Ric Rac, Honeycomb, Herringbone, Gathering, Applique, Sew-On Buttons, Quilting Stitches, Basting Stitch, Closed Overedge, Plus decorative patterns |
| Formation of Buttonholes | 1-Step Fully Automatic |
| Twin Needle | Included |
| Maximum Speed Limit Adjustment | Yes |
| Needle Up/Down Function | Yes |
| Integrated Dual Feed System | Yes |
| Integrated Fabric Feed Lowering | Yes |
| Hook Movement | Smooth Rotary Action |
| Needle Positions | Left / Right / Centre |
| Tutorial CD / DVD | No |
| Voltage | Dual Voltage 110-240 Volts |

Why not share your review with others.