580 Roller Iron Steam Press 85cm wide
Forget your old domestic iron and discover the innovative solution that Roller Irons provide, you can have perfectly ironed laundry in only half the time. and yes, time saved means more time for you! No matter what you iron, you can remain seated and don't need to exert any pressure. No more tired legs or aching back!


Price

£1,399.00


Today

£1,299.00
0% Finance Available, for as little as £25 per week
FREE delivery by DPD
, order
Delivery: 1 Working Day(s) (Sat, Sun options)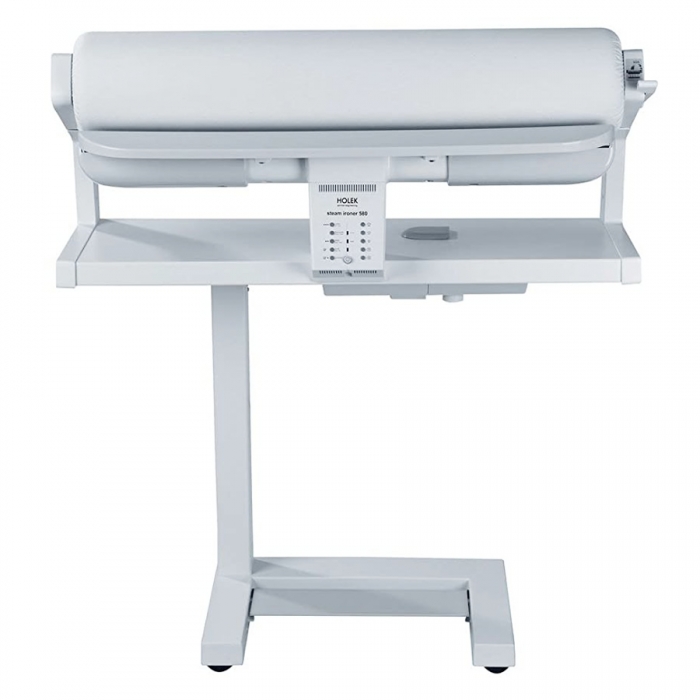 Why choose the MegaPress 580 Roller Iron from us?




Industrial heritage makes our 85cm roller press the NEW 580 the most cost and time effective press on the market, maybe that why it's a best seller. Ideal for medium and smaller size laundry rooms, where speed and quality of pressing is essential and YES its a steam roller press....!

Experience the ultimate in ironing comfort!
Anyone who has ever worked with a roller ironer can't imagine ever doing without it again! Our Roller Irons have two open heating shoe ends, ideal for ironing tubular pieces.

The 580 roller press has a massive 85 cm (33.5 inch) roller.... castors for easy movement and collapses to vertical position for storage.

You can comfortably control roller speed and pressure with the foot pedal.

Sheets and tablecloths are child's play, thanks to the larger ironing surface. The big collecting table means that everything stays smooth and practically folds itself!

3 steam levels to choose from! The steam is distributed evenly from below for good fabric penetration. Even the most stubbon wrinkles just disappear. You can choose between constant steam or just a burst of steam, as needed.

All it takes is one minute, and your roller ironer is ready to go. The steam comes from below for good fabric penetration. Even the most stubbon wrinkles just disappear, It is no longer necessary to dampen your laundry before ironing.

With this roller press 580 there is no danger of unwanted shiny spots and even rows of buttons pose no problem for the soft, highly-elastic roller

The heating shoe lies below, as on professional hot mangles. Heat distribution is perfectly even. Even the most demanding fabrics are smoothed gently and easily.

After ironing... fold the roller press ironer together and roll it away. It takes up about as much space as a chair and includes a handy cover...

Dimensions of the 580 roller press
Unfolded wide 94 x deep 40 x high 105 cm.
Folded wide 52 x deep 40 x high 100 cm.

Specification
Roller width 85cm (33.5")
Working height 88cm (35")
Ironing width 83cm (33")
Shoe diameter 85mm
Roller pressure 600N
Ironing speed 1.25 to 3.58 meters per minute
Thermostatic temperature control
Max Power 3.3 kW
Water tank capacity 1.3 litres Steaming time 60+ minutes
Voltage: 220 / 240 v
Weight 39 kg
Adjustable steam settings
Adjustable roller speed
Water level lamp indicator (when 10% water is left)

Specification

| | |
| --- | --- |
| UPC | 7393033023171 |
| Manufacturer | MegaPress |
| Model Number | 580 Roller Iron |
| Type | Roller Ironing Press |
| Press Type | Dry Roller Press, Steam Roller Press |
| Promotion | 0% Finance Available, for as little as £25 per week |
| Warranty | Full Manufacturers Warranty |
| Pressing Area | 85 cm wide roller |
| Weight Kg | 39 Kg |
| Temperature Control | Yes |
| Auto Safety Cut Off | Yes |
| Built-in Sleeve Board | Yes |
| Teflon Coated Plate | No |
| Variable Steam Pressure | Yes |
| Burst of Steam Button | Yes |
| Tutorial CD / DVD | Yes |
| Voltage | 220-240 Volts |

Customer Reviews
I would rate the Ironing Press - 5 Star
The machine is so easy to use, I absolutely love it. Now I know that I should have bought one years ago. I use the machine every other day or so and get through the ironing so quick I no longer have the usual mountain of clothes.

Could not fault Sewing Machine Sales or the Steam Iron ( better than Mieli version which I used to own, and better price ) Would recommend this rotary iron. The only problem was with the delivery company as When the van driver opened the door of the van my iron was upside down on top of other parcels which were crushed by the weight of the iron Luckily my iron was intact.

I've used this iron for about 18 months now and it certainly does the job. It is in use every day in a busy guest house and makes life a lot easier than using a traditional iron. The unit is sturdy and stable and feels well made.

This is our second 580 roller iron press and is just as good. We have a small guest house and could not manage without it.
Delivery service great we love the one hour time slot means we can plan the rest of our day, not having to sit in waiting.
Many thanks

Love this roller press my hands are not good now and with machine I can do my ironing again with out pain well worth the money love it.i am a retired person and I use it with ease,,I have no business or b an b it for my own use thk you

I bought this as a replacement for a very old rotary iron and I am delighted with my new one, it is easy to operate and does a great job, you must pay attention to fabric type for best results.
This rotary iron saves me so much time and effort. Great as I have problems with wrists.
excellent product.

I run a small b&b and was looking for a replacement iron. The roller iron is wide enough to iron a single sheet either in one go (if folded in half) or in two runs. Pillow cases take no time at all. Large duvet covers take three runs(left, right then middle) and come out well. The finish on the ironed products is very good.
The iron is solid in construction and feels very well made. It is quite heavy to move around, but the wheels help. It is quite pricey so I hope it lasts for years.
So far I am very pleased with this product and would recommend it.

I am so delighted with my steam iron. Mainly, the steam, especially for Egyptian cotton bedding, but another plus is that it is open at both ends of the roller, and makes single fitted sheets so much easier to do.
Also you control the speed of the roller with the foot pedal, and you can also hold the roller for a few seconds on badly creased linen on the one spot. A must for B&B owners!!

I spent ages researching which machine to buy, could I justify spending that amount of money on 'an iron'. Well I am so glad I did, I run a B&B and this has halved my ironing time in half. Easy to use, quite compact. Would definitely recommend this to others. Service was great too.

Excellent. Service ordered Saturday arrived by Tuesday thank you, the iron is very good I have had one for 5 years so just replacing it .

Why not share your review with others.