Mega Press 202 Steam Ironing Press
This Megapress steam press is the modern, easy to use and its the fast answer to ironing its medium size can cope with all you home ironing including shirts, pants and sheets no problem. If your unsure, please do not hesitate to call us for expert advice on our range of Iron presses


Price

£249.00


Today

£199.00
Save ££ + FREE Cover and Foam Padding worth £39
Pre Order Now. Delivery date to be confirmed, order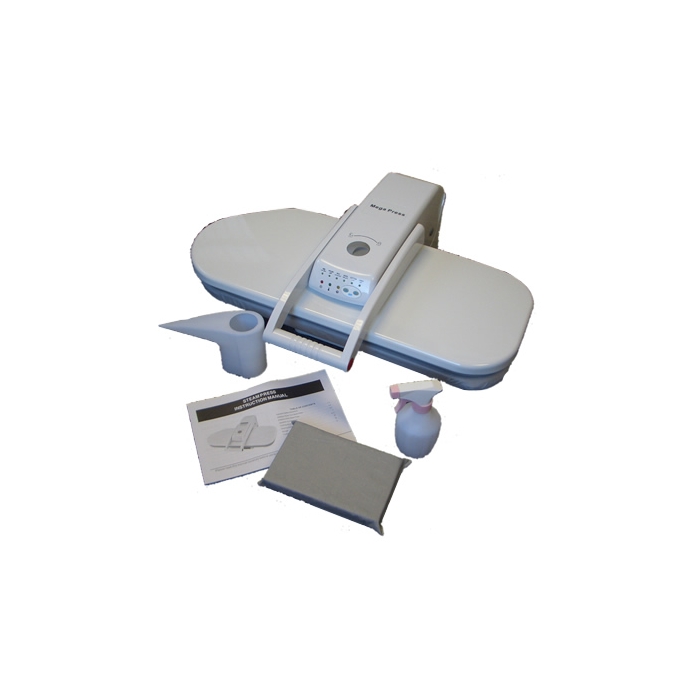 Why choose the MegaPress PSP202 from us?




Never been at a lower price with this quality, this new Mega Press steam press can be used in the conventional manner clothing, curtains, sheets etc. It is the classic Ironing press for every day use, also can be tucked away into a small area when locked occupies only a small floor space.

Simply use the extra burst of steam buttons on left and right sides of handle, use when needed for stubborn wrinkles. The Mega Press 202 has this feature, and more, also an power on / off switch for safety.

The amount of steam can be variable simply by press the steam control button when needed.
The Megapress steams from the upper plate directly on to the fabric and is as good as any trouser press for providing a razor sharp crease just where it's needed.
Pressing is kinder to fabrics because it avoids putting a shine on the material and helps garments keep their shape and as there is no to and fro ironing movement, everything lasts longer too!
Much larger pressing area than that of a conventional Iron and with many fabrics you can press several layers simultaneously.
Take the drudgery out of the ironing, sit down make your self comfortable, press away and see the pile of ironing disappear fast.
The Megapress steam press is a simple one handed operation, for light weight fabrics the handle is lowered to the first position... for automatic high pressure - normal ironing the handle is lowered to the second position giving a pressure of 45 Kilos ( approx 100 lbs) evenly across the whole garment.
The choice of different pressures is backed up with a whole range of variable functions to be used depending on the type of fabric being pressed, so you can rest assured the most delicate blouses, to the toughest denims will get the right treatment.

The Megapress iron make's ironing effortless, closing the handle, squeezes the plates together with upto 100lbs of pressure.
Cuts ironing time by as much as 50% and is kind to clothes helps avoid shining.
Choice of automatic high pressure or light pressing.
Temperature control to suit all fabrics.
Steam ON or OFF setting
Real steam not just a squirt of water like some...
Power ON/OFF and temperature ready indicator
Extra burst of steam feature helps remove all wrinkles.
Automatic safety shut off operates in both closed and open situations.
Auto safety shut off Auto pressure, approx 100lbs
Pressing area 64cm long 27cm wide
Specification

| | |
| --- | --- |
| Manufacturer | MegaPress |
| Model Number | PSP202 |
| Type | Steam Press |
| Press Type | Dry Ironing Press, Steam Ironing Press |
| Promotion | Save ££ + FREE Cover and Foam Padding worth £39 |
| Warranty | Full Manufacturers Warranty |
| Pressing Area | 64 cm x 27 cm |
| Weight Kg | 12 Kg |
| Temperature Control | Yes |
| Auto Safety Cut Off | Yes |
| Built-in Sleeve Board | No |
| Teflon Coated Plate | Yes |
| Variable Steam Pressure | No |
| Burst of Steam Button | Yes |
| Tutorial CD / DVD | No |
| Voltage | 220-240 Volts |

Customer Reviews
My previous steam press, identical to this one, but with a different 'badge', packed up on Christmas Eve after 15 years. Desperate for a replacement, I found this one, and I'm so glad I did! I just couldn't face going back to ironing bed linen on anything else! So quick and easy to use, and ironing can be done sitting down. No downside whatsoever for this steam press, and it should last me the rest of my life!

Bought this for my daughter and she has just used it. She is amazed at how quick she is getting through her ironing and said I should buy one for myself as it is amazing and quick, and takes the mundane chore of ironing away.

My Mega Press 202 steam ironing press, arrived so fast, I tried it out straight away, its wonderful. I just need more practice on collars and sleeves which will happen the more I use it.
I would recommend it to anyone.

Great service with free next day delivery.
A great way to iron. Takes some practice but cuts ironing time in half as you only need to iron one side.

What a great machine! Makes bedding especially easy to deal with and so much quicker than a normal iron
And a great company to deal with: good price and speedy delivery. Also easy to order and pay for.

I wish I had bought one earlier! The Mega Press is good instructions and is very easy to use. I rattled through the ironing mountain that I'd put off for ages and it got through the bone dry laundry without any issues. It gives a very professional finish to the clothing and for me it is the way forward because as much as I love ironing I tend to iron things out of shape!
I found doing bed linen a doddle, even the fitted sheets and really who doesn't love freshly washed and pressed bed linen.



Great value and quick delivery. They forgot to send the additional free cover but one call later and extra cover arrived 1st class couple of days later. Been using the iron for a few months now and so far great. My father in law has also asked me to order one for him

Excellent machine, great price and quick delivery, came without additional iron pad and jug however customer services sorted this asap and missing items arrived 24hrs later. Machine very easy to use and seems good quality

Ordered midday wednesday, delivered midday thursday fantastic service. Steam press does exactly what it says on the tin and more !!!!! Top notch all round.

Great press for bedding - but even more impressed with the service received from the company - ordered one day, delivered the next, can't ask for more.

Why not share your review with others.