Mega Press Elite Ultra XL Ironing Press (Free Stand)
This Megapress Ultra XL is one of the larger steam press available with a pressing area of 90cm, now that's big with advanced features to make Ironing quick and effortlessly. This Megapress is sure to save you ironing time at 24 times to size of a regular iron


Price

£449.00


Today

£375.00
Free Adjustable Height Press Stand + Replacement Cover & Foam
Sorry, temporarily Out-Of-Stock
Please use the link above to sign up for new stock update. We will email you the moment it comes back in to stock.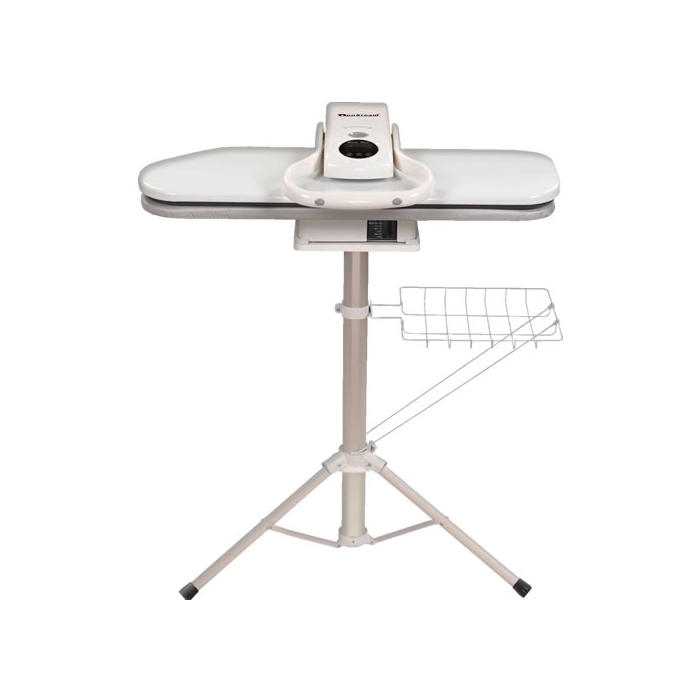 Why choose the MegaPress Ultra XL from us?




This is the largest flat bed steam press around, it would be perfectly fitted in any home and it makes easy work those enormous bed sheets. The huge heating plate makes this 16 times larger than a standard household iron and 59.7% larger than a standard domestic ironing press. A standard ironing press measures 61cm x 26cm the Ultra XL is 90cm x 30cm that's the equivalent of having 1.6 standard size steam press', it is massive.
With the steam press stand you can sit down and make yourself comfortable while you battle effortlessly through the ever growing mountain of ironing, well the mountain will be no more with the Ultra XL.
Best suited for bed sheets, linens, table cloths and curtains, but it still retains the shape of a domestic press so normal clothing will also be a breeze on this machine.
This press has advanced features; you can set the steam function to automatic or manual. In automatic steam mode the press will release a burst of steam when the pressing plate is approximately 3 inches above the bed, while in manual mode you have control via the switches on the handle you say as and when the press steams and for how long. The water is pumped electronically from the "slide to open" 300ml water reservoir under the bed of the press all the way up to the top heating plate where the fine water jets are changed into steam. You don't have to use steam the Ultra XL (ESP77T) can also be used as a dry press.
The top control panel will show you everything you need. It houses the digital display, the on/off switch, the steam setting button and the "mode" select, you can select different modes from Nylon, Silk, Wool, Cotton and Linen. The digital display will show the heating plate temperature and indicate when it is at the right temperature for the mode you have selected, It will also display your mode and your steam setting and when the steam function is available.
Main Features
Cuts ironing time by as much as 65% and is kind to clothes helps avoid shining.
Choose between auto and manual steam setting.
Digital controls.
Power ON/OFF and temperature ready indicator.
Automatic safety press shut off after 10 second.
Automatic wake up feature.
Easy to see illuminated digital display.
Auto pressure, approx 100lbs.
Locking knob to lock the steam bress down when stored.
Pressing area 90cm long 30cm wide.
2200 watts.
Included accessories
Instruction Manual
Measuring filler jug
Spray Bottle
Pressing Cushion
We have the largest range of steam presses available in the UK, so don't hesitate to call us for independent advice on the iron press that's best suited for your needs.
Specification

| | |
| --- | --- |
| Manufacturer | MegaPress |
| Model Number | Ultra XL |
| Type | Steam Press |
| Press Type | Dry Ironing Press, Steam Ironing Press |
| Promotion | Free Adjustable Height Press Stand + Replacement Cover & Foam |
| Warranty | Full Manufacturers Warranty |
| Pressing Area | 90 cm x 30 cm |
| Weight Kg | 16 Kg |
| Temperature Control | Yes |
| Auto Safety Cut Off | Yes |
| Built-in Sleeve Board | No |
| Teflon Coated Plate | No |
| Variable Steam Pressure | Yes |
| Burst of Steam Button | Yes |
| Tutorial CD / DVD | No |
| Voltage | 220-240 Volts |

Customer Reviews
I'm very very happy with my press. I run my own ironing business and has made such a difference on all the bedding my customers bring. Would highly recommend this steam press, for the price. Would definitely get the stand as well, great height saves on back pain. My only niggle is a bigger water tank would be better as I seemed to run out of water very fast. Also have had to purchase some ironing board clips to keep the press cover in place , as it tends to wrinkle .

This is an excellent ironing press. Very well designed, working especially well on the optional stand, which you should also purchase to accompany the press. The controls are easy and straightforward, making the press a joy to use. Once up to the required temperature for the type of material, pressing items on the extra large surface is quick, easy, and roughly four times faster than a regular steam iron. I highly recommend this press.

Why not share your review with others.