Mega Press Grande Steam Ironing Press
This huge press will have you zipping through your Ironing in no time, because its 50% larger than regular Ironing presses. If your unsure, please do not hesitate to call us for expert advice on our range of Iron presses.


Price

£349.00


Today

£259.00
FREE Cover and Foam Padding worth £39
FREE delivery by DPD
, order
Delivery: 1 Working Day(s) (Sat, Sun options)
Expected Delivery Date is Monday, October 25th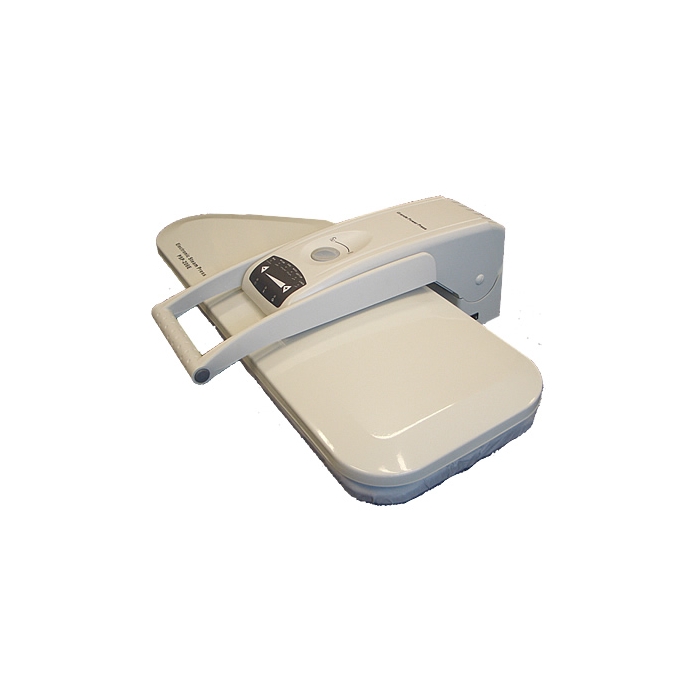 Why choose the MegaPress PSP206 Grande from us?




Its BIG...! The larger style press is becoming a best seller, customer are beginning to see the benefits of larger is ALWAYS better! The MegaPress Grande with it's extra large pressing area will reduce ironing time! the board size in huge at 80cm x 31cm If fact its 50% larger than standard Iron press, making it ideal for pressing clothing, bedding and curtains. Having the ability to iron multiple layers at once it will zip through bed linen, duvet covers or sheets.

This Grande steam press is easy to setup and use, simply fill the water tank and select the heat setting using the up/down buttons. Not complicated, simple high quality and reliability for home use or when needed for a heavy ironing session, its not the lightest press we stock, however its strong construction and automatic pressure it will effortlessly remove creases.  For safety, the Megapress Grande has an automatic shutoff system if left switched on too long.
 
You can put a really good finish on the most delicate blouse, the toughest denim or the most difficult jacket with the Grande steam press.  As good as any trouser press for putting a razor sharp crease where it's needed.  And thick denim jeans are no problem.  Unlike a trouser press however, a steam press will also press:  jackets, waistcoats, linens and skirts etc.  Where sharp creases are not required the supplied pressing cushion can be used.

Some tough fabrics are very hard to press properly especially if very dry. The Megapress Grande has 'burst of steam' buttons solves this problem by providing extra steam when it is needed.  You can also dry press with the steam turned off, or steam press with an alternative method by using the supplied spray bottle or a damp cloth over the area to be pressed.

Features:
Pressure equivalent to 50 Kg removes creases without effort
Large opening for bulky items
Large 300ml water tank with access from top for easy filling
Suitable for delicate fabrics and avoids shining
Temperature control for different materials
Hard wearing heating plate.
Non stick ironing cover for a crisp professional finish
Easy one handed operation standing or sitting
Automatic shutoff safety feature
Easy to carry handle.
Provides a powerful burst of steam when you need it.
Left or Right hand use - steam buttons on each side of handle
1600 watts power
Large pressing area 80cm (approx. 32") x 31 cm (approx. 12").

The Megapress Electronic also includes: instruction book, pressing cushion, power lead, water filling jug and water spray bottle.
Specification

| | |
| --- | --- |
| Manufacturer | MegaPress |
| Model Number | PSP206 Grande |
| Type | Steam Press |
| Press Type | Dry Ironing Press, Steam Ironing Press |
| Promotion | FREE Cover and Foam Padding worth £39 |
| Warranty | Full Manufacturers Warranty |
| Pressing Area | 80 cm x 31 cm |
| Weight Kg | 12 Kg |
| Temperature Control | Yes |
| Auto Safety Cut Off | Yes |
| Built-in Sleeve Board | No |
| Teflon Coated Plate | Yes |
| Variable Steam Pressure | No |
| Burst of Steam Button | Yes |
| Tutorial CD / DVD | No |
| Voltage | 220-240 Volts |

Customer Reviews
This is so brilliant it is hard to explain. However, it is big enough to do king size duvets and anything else we can throw at it. It's so easy to use and the results are amazing. Delivery was quick and efficient. We are very happy.

Where have you been all my life? It's so fast. I have done fine jumper, sheets and two shirts, uniforms. Can't stop using. Love it. Got the bigger PSO-206E model and glad I did.
A jug was supposed to come with it but not included.

Exceptional service; Easy ordering and fast delivery of a wonderful Ironing Press.

I have used an ancient Elnapress for years which worked well, without any added extras. I run a small holiday cottage and the steam press iron seemed a logical choice for my weekly laundry - and a larger one to save on ironing time. I am a little disappointed in the product. The large ironing plate is great but there is little pressure exerted on the outer edges of the iron so I actually spend more time having to re-iron the extremities of my bedlinen. The iron is also lighter than I expected as made of plastic and moves when I draw the bedlinen from side to side, making the ironing more difficult and time consuming having to re-position the device, especially when ironing duvet covers. inbuilt steamer does not give even cover and often wets the linen too much. The wee hand sprayer is better.
I actually feel I would have been better buying the standard size of steam press, rather than being greedy and gone for the larger model!

verry good top man

Fast dispatch and delivery. Excellent machine to do our smaller pressing in our laundrette.

Previous Spanish press gave up the ghost on Monday. Contacted company in Newcastle area by phone and email. Choose a mega steam press in the afternoon. It arrived the following day at 1 pm
So very pleased with service and what a great machine. Certainly far better then the previous press I had as the steam aspect makes a big difference. Fantastic machine, fantastic service
Well done and thank you

Very pleased with this press. Large pressing area for sheets. Ideal for guest houses or B and B. Company easy to deal with and very quick service - I ordered at 2 pm and received the press the next day - brilliant!

Got this last week, with fantastic delivery time, Well packed, with all the accessories enclosed. The instruction manual is so easy to understand. Knew it would be heavy as I chose the Mega Press. Impressed with quality of the Press, and have done two lots of ironing so far. Brilliant! especially for T-shirts, tops, jeans, and even managed to make a fitted sheet look decent, which is a feat in itself. Husband now gets his socks pressed as you can place half a dozen on the press and bingo! all done in a couple of seconds. Now Getting the hang of shirts. I have always hated ironing, because I had piles to do. This 70 year old still has piles of ironing, but I can now sit down, watch the tele and get through it more quickly with professional looking ironing and don't feel exhausted the way I used to. Have decided to buy the stand. This has been a great buy.

Great presser. One of the the best products I have purchased. I am going to purchased one for my mother.

Why not share your review with others.