Oliso Smart Iron for Sewing & Quilting
The Oliso self lifting Iron's ergonomic design means no more repetitive lifting, which is better for wrists and shoulders, allowing faster pressing, less strain and safer ironing. Just one quick glide over your fabric and you can consider those wrinkles history!


Price

£149.00


Today

£139.00
*PRE ORDER NOW*
Pre Order Now. Delivery date to be confirmed, order
IMPORTANT NOTICE: OUT OF STOCK - BACK IN STOCK SHORTLY
Due to high demand this model is only available to pre-order.
Pre-ordering is essential to book the earliest delivery timeslot.
The stock due timescale may be subject to change more info.
The first of it's kind. It has eventually arrived in the UK in 2020. Yes, this is the UK specification model. The Oliso Smart Iron has been causing a storm all over the globe since its creation in 2006, where it won Time Magazine's Invention of the year. Oliso have re-invented the Iron for sewing and quilting and have stayed true to their vision to Surprise, Delight and Simplify life.

The TG1100 Smart Iron by Oliso has features that really make a difference to quilters that a conventional iron simply isn't designed to do. The biggest key feature about this revolutionary iron is the Itouch technology. Itouch Activated Handle makes the Oliso the only iron that can automatically lift and lower with your touch, making ironing easier, safer, faster and fun. Itouch also helps prevent scorches, burns, tips and leaks.
Simply touch the iron's handle and it will lower itself onto your project. As soon as you release your hand from the handle, the iron raises from the project immediately. No more constantly lifting and tilting your iron, it can remain in the same operational position for as long as you need, with no need to lift it upright. This might sound unimportant to those who use an iron for its intended purpose for ironing clothes, but for a quilter the fatigue can quickly set in and we've all been there.
Another feature the Oliso has, that a conventional iron lacks, is difficult to describe. It has a 5cm detailed tip and making it perfect for extra tight spaces, around buttons and between layers to create crisp pockets, pleats, cuffs and seams. Where the front of an ordinary comes down and meets the ironing plate, on the Oliso, there is a 5cm void above the join, where a layer of fabric or deep seem can fit above the pressing plate whilst the material underneath is pressed.
As well as enhanced features for sewing, the Olisio Smart Iron is packed full of extra features Features;
Side Fill Water Tank - As the iron can stay in the horizontal position the side fill funnel accommodates this.
Extra-long Pivot Cord - A 3.7 meter cord fixed to a 360 degree pivot joint at the iron
Anti-tip design - Offer's better stability resulting in less accidents.
Auto Shut-Off - The iron has a built-in auto shut off which kicks in after 8 minutes of inactivity.
No Drip System - As soon as the iron lifts the water feed to the steam system closes resulting in zero spitting or drips.
Pro Press Sole Plate - Perfectly flat give even distribution of steam perfect for sewing and quilting.
Triple Play Professional Steam - Continuous Steam, Horizontal Burst, Vertical Burst.
Extra Smooth Sole Plate - Easy to clean, durable and scratch-resistant heating plate.
Spray function - Used for stubborn wrinkles or for inserting crisp creases.
2000 watts - Heats up in seconds.
The bottom line: After using it for some time I noticed a couple of interesting features which are not usually mentioned. No more lifting involved, saves twisting shoulders and elbows...just slide it to one side, let go and it levitates. Yes, we all know that, however, it's not a gimmick..! It means that the water tank is larger than most, giving a longer ironing time. Yes, it does mean it is a little heavier than regular irons, but this is a very helpful feature as there is no need to press down whilst ironing, the iron will glide with the softest of touches, again less arm fatigue. This is really noticeable whilst using the Oliso. It effortlessly moves over the fabric and the steam blast is powerful when needed.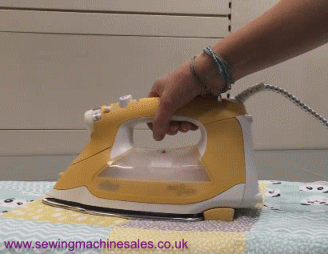 Specification

| | |
| --- | --- |
| UPC | 5029784868243 |
| Model Number | Oliso Smart Iron TG1100 |
| Promotion | *PRE ORDER NOW* |
| Pressing Area | 12.5 x 23cm |
| Weight Kg | 1.5kg |
| Temperature Control | Yes |
| Auto Safety Cut Off | Yes |
| Variable Steam Pressure | Yes |
| Burst of Steam Button | Yes |
| Tutorial CD / DVD | No |
| Voltage | 220-240 Volts |

Customer Reviews
First time I seen that iron was on you tube and I love it so I bought it , cuz you can't get that smartiron here in Germany, delivery was fast thank you i'm very happy

This iron should go straight to the top of your Christmas/Birthday list. It is brilliant. First seen being used on a YouTube quilting video, excellent particularly for those small seams, with this iron you just can't go wrong.

Thank you for the opportunity to give a review.
I am looking forward to using my new Oliso Smart Iron, but husband has bought it for me for Christmas, so at this time, I am unable to say how good it is, although I believe it will be excellent, especially as I quilt, so this will be a boon. Can't wait. :-)

Great product mum loved it as I bought as a present for her.

I am delighted with my Oliso. So easy to use with not having to stand it up each time. Irons perfectly.

Why not share your review with others.