SpeedyPress Professional 70HD Steam Press
1
Review
Average rating 5.0 out of 5 Stars.
The Speedypress 70HD is modern, bright and white in colour, this Ironing press with steam is ready to tackle any Ironing task, it even Includes a detailing hand Iron that can be used at the same time as the press


Price

£299.00


Today

£275.00
The latest 2021 version + Free Cover & Foam worth £39
FREE delivery by DPD
, order
Delivery: 1 Working Day(s) (Sat, Sun options)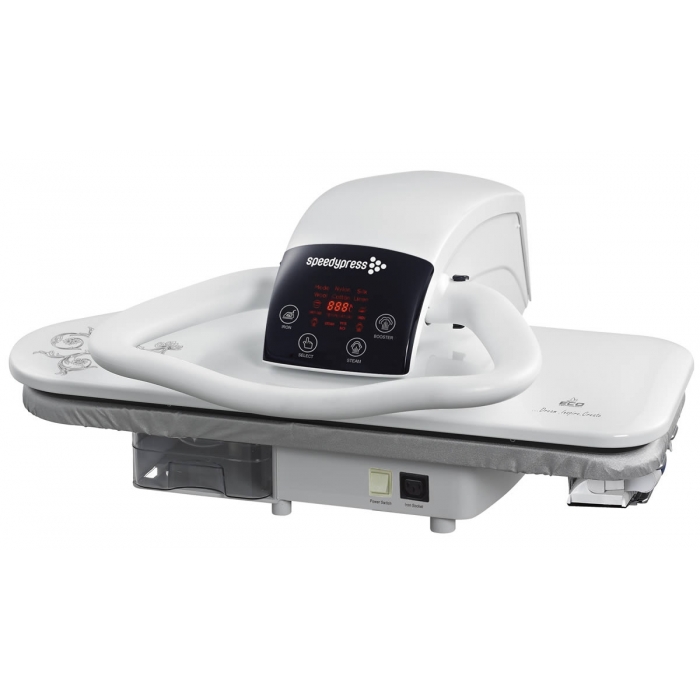 Why choose the SpeedyPress Professional 70HD from us?




The SPEEDYPRESS Professional 70HD Steam press is 12 times the size of a regular iron! 68cm x 27.5cm; 1600 watt. Fast heating time of 3 minutes. Includes a detailing iron 15cm x 7.5cm that can be plugged in to the press when needed and stored on the handy pull out iron rest when not in use.
Built for long-term heavy use. Can be used as a total dry press or with automatic steam. When pressing down, it's equivalent to 46kg of pressure (or 23g per cubic metre). Steam function: Powerful steam output of 90g per minute, and a booster steam output of 120g per minute, without any water dripping. Easy to carry and store. Waterproof and washable cover.
Strong burst of automatic steam: Fast heat-up time. Can steam within 2.5 minutes of being switched on. Powerful steam output; almost no water will be sprayed out besides for steam. As you press the handle down to a half-closed position, it emits steam automatically.
Digital control and display: Electronic control for precise ironing temperature. Temperature range from 60°c - 220°c.
Heating tube / elements: Even distribution of heat. Intensive pressure to fix heating tube in order. The heating tube stays straight after long-term heating.
Opening angle: A huge opening angle means there is ample space for bulky fabrics and large items like double sheets etc. It also helps prevent the user from getting hurt whilst operating it. Can reduce ironing time by up to 75%!
Safety: Automatic cut-off after 15 seconds in a closed position. Automatic cut-off after sitting idle for 15 minutes. Overheat protection inside the machine.
Handle: Very large strong handle with extra thickness to make operation more comfortable and smooth. Safety lock on handle.
Pressing operations: The handle lifts up automatically, to safely protect fabrics from overheating. Its unique pressing system makes ironing even easier and smoother.
Water tank & anti-scale water filter: Water tank has a massive capacity of 800 ml. Unique anti-scale filter to extend lifetime of machine and steam function. Very easy to replace water filter cartridge. The tank can be taken out completely for easy refill. The tank can also be filled whilst ironing. Water tank indicator shows clear water level.
Superior Ironing Board: Shape and size is ideal for all the family's laundry. Shirt buttons, zippers, etc. press down into the padding of the board.

User Friendly Controls: Clear and simple pressure and temperature selector controls for ease of use.

Pressure Sensitive Handle: Fingertip pressure is all that is required. Our presses then apply their own pressure to the garment.

New Supertherm Heating Plate: Minimises heat radiation - cooler for the user.

Plenty Of Space At The Back Of The Board: Makes ironing sheets and tablecloths so simple.

Low Power Use: Our presses use very little energy, about the same as a normal iron, thanks to its special heating plate.
Irons multi layers. Ample ironing space for bulky garments.
Especially suitable for larger items such as bedding / sheets.
Fabrics last much longer.
Accessories Included:
Instruction Book
Spare anti-scale water filter
Detailing hand Iron
Pressing cushion
Water spray bottle
Power lead
Specification

| | |
| --- | --- |
| Manufacturer | SpeedyPress |
| Model Number | Professional 70HD |
| Type | Steam Press |
| Press Type | Dry Ironing Press, Steam Ironing Press |
| Promotion | The latest 2021 version + Free Cover & Foam worth £39 |
| Warranty | Full Manufacturers Warranty |
| Pressing Area | 68cm x 27.5cm |
| Weight Kg | 14 Kg |
| Temperature Control | Yes |
| Auto Safety Cut Off | Yes |
| Built-in Sleeve Board | No |
| Teflon Coated Plate | Yes |
| Variable Steam Pressure | No |
| Burst of Steam Button | Yes |
| Tutorial CD / DVD | No |
| Voltage | 220-240 Volts |

Customer Reviews
I am really pleased with the steam press in fact my mother went out and bought one a few days later. It is easy to use, very effective and quick. In the past I used to avoid ironing however I was looking for things to iron as it was such a pleasure to use.

Why not share your review with others.