DesignaKnit 9 Knitting Machine Software
A very versatile pattern designing windows software for electronic knitting machines. Every aspect of your knitting can now be customised using the latest DesignaKnit 9 software
FREE delivery by DPD
, order
Delivery: 1 Working Day(s) (Sat, Sun options)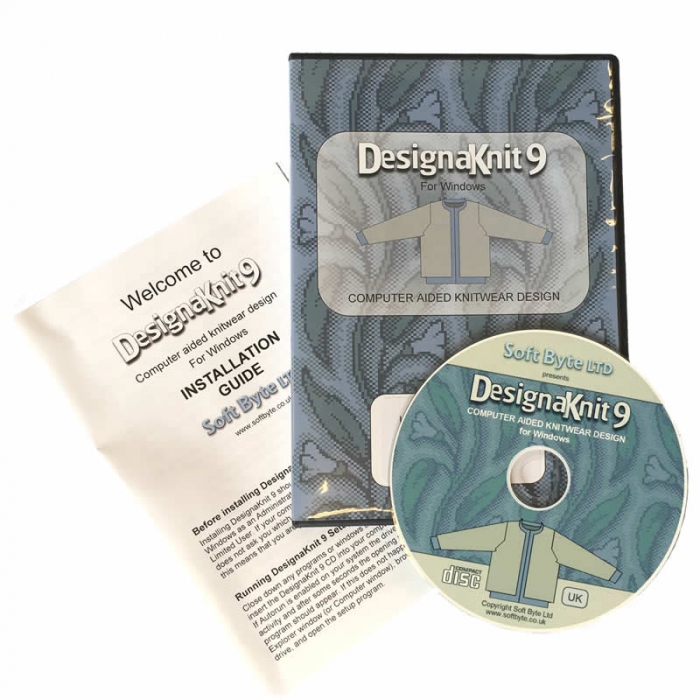 Why choose the Silver Reed DesignaKnit 9 Machine Standard from us?




The DesignaKnit is a software program which allows custom designs and shapes to be knit using one of Silver Reed's electronic knitting machines.
DesignaKnit for knitting machines, has three purchase options:
Machine Standard
Machine Pro
Complete
Machine Pro has the added benefit of pattern drafting (opens video in now page).
Complete version for hand and machine knitting- It includes everything in Machine Standard and Pro versions, plus a complete design and charting system for the hand knitter, including an extensive collection of stitch cables. Select from 200 hand knitting stitch symbols with abbreviations and knitting instructions. Use as they are or alter the instructions to suit your needs.
On all versions from the opening screen, it gives you easy selections to get started.
Standard Garment Styling - allows creating and amending of complete garments. Basic shape files are provided to be used and altered or completely new garments can be designed easily by using the step
by step guidance. Standard size tables are provided as well as an option to create custom sizes for intended wearers, to ensure a good fit for all body shapes and sizes. Standard Garment Styling is a great starting point to get to grips with the screen layouts and concepts of DesignaKnit.
Original Pattern Drafting (only available on PRO version) Pattern drafting (opens video in now page) - allows complete freedom of designing shapes and garment pieces. A piece may be started from scratch on a blank workspace, or shapes may be drawn in from various other sources and worked on until the desired result is achieved. Garment shapes from Standard Garment Styling can be opened, outside patterns may be used to create pieces and stitch patterns from Stitch Designer can be applied. Once designed, the pattern pieces and knitting instructions can be printed in a variety of ways and Interactive Knitting can be used to follow knitting instructions on the computer screen or, if the computer is connected to a knitting machine by a cable link, knit interactively. 
Stitch Designer - allows stitch patterns to be created, saved, amended and integrated into (garment) pieces by using a wide variety of tools including Stitch cables and Lace patterns. An extensive selection of stitch patterns is provided together with many tools to create unique and individual designs from scratch. This short video shows how to add mofits, adjust the position, and also to add a single motif. Stitch designer video (opens in new window)
Interactive Knitting - provides row by row, stitch by stitch instructions on what needs to be done at the knitting stage. If there is a cable link in place, garment pieces and swatches can be machine knitted interactively, otherwise, the instructions can be read and followed on the computer screen.
DesignaKnit Graphics Studio - allows a wide variety of graphics such as line drawings, photographs, pictures, scanned charted designs or any other supported graphic file format to be converted into
stitch patterns. Different options regarding size, colours and amount of detail can be tried and tested by using the buttons on the Left Toolbar or by using the provided Wizard tool, which can be accessed at any time to
step through the process in a logical way. Once the options are set as required, the stitch pattern can be converted to Stitch Designer, where it can be amended further if necessary and applied to (garment) pieces.
Graphic files can easily be too large, consist of too many pixels to be converted at a one pixel per stitch ratio (which is the ideal conversion rate in Stitch Designer) and / or contain too many colours to be converted into a workable number of yarns to be used in Stitch Designer directly. DesignaKnit Graphics Studio allows the image to be amended to workable stitches and rows size, while allowing its colours to be manipulated into
the required yarn colours. The graphic image itself can also be modified before conversion by cropping, flipping, rotating and applying different colours that can even be merged into one yarn colour.
The provided Wizard tool steps through the conversion process in a logical way and a preview can be shown to reflect changes as they are made. Selection box, grid settings, conversion settings, yarns palette and colour manipulation tools can all be used until the required result is achieved. Changes are superimposed, leaving the original graphic file unaffected. On completing the process, the graphic file is converted into a stitch pattern and will open on the Stitch Designer workspace where it can be saved and amended further if necessary.
Other features:
You can create very simple fair isle design using the pencil tool and select colours and view the repeat pattern square all over the garment piece. Maybe its not as you had imagined it! Then simply change it until its perfect and send it to the knitting machine.
Using the graphics studio section, import an image and let the clever program convert it into knitting stitches the machine will understand.
Some of our images shows a photo imported in to the DesignaKnit software, then we adjust the image, add or delete colours. The software will automatically transform the image in to stitches, use real view or stitcher to view exactly how it will be knitted.
The software installs with only one click and from there has on-line updates, so you always get the latest amendments.
Over 100 patterns are included, each can be customised or can be used as they are.
Still have all your favorite punch card patterns.? so why not convert your punch card or mylar sheet library into DesignaKnit version 8 stitch patterns.
Garment styling is simple or just select one of the built-in styles. We all know, everybody has a different shape so edit sizes to suit individual body shapes for one-off professional fittings.
We all like to wear a cardigan that's a comfortable fit. Once this size, shape pieces are known, save it and reuse this garment style over and over again.
Included in the help are 16 short videos with explain individual sections of the program. Easy to follow and in plain English.
Suitable for PC which use Windows operating system. And usually one would have the SilverLink, to transfer data to the electronic machines.
Specification

| | |
| --- | --- |
| Manufacturer | Silver Reed |
| Model Number | DesignaKnit 9 Machine Standard |
| Warranty | Full Manufacturers Warranty |
| Weight Kg | 1kg |
| Size (Height, Width, Depth) | 11cm |
| Hard Carrying or Storage Cover | No |
| Tutorial CD / DVD | Yes |

Customer Reviews
amazing program.....I use it with my knitting machine. There is, however, a big learning curve which youtube is very helpful

Thank you, good service

Why not share your review with others.