Silver Reed LK150 Knitting Machine
Perfect for beginners, this knitting machine can produce knitwear for all seasons. It uses larger gauge needles to allow thicker yarns.


Price

£349.00


Today

£329.00
FREE INSTRUCTIONAL DVD INCLUDED!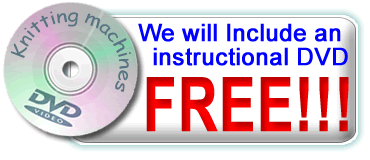 Why choose the Silver LK150 from us?




COVID-19 UPDATE:
While courier companies are making every effort to deliver within a standard operating time frame, this is not always possible. Delivery's may be delayed. more info.
It's not really a basic Knitting Machine, its more of a manually operated machine that can produce some fantastic knitwear using various thickness of knitting yarn. The LK150 Silver Reed Knitting Machine for the beginner, is a real delight to use. Smooth pushing of the carriage across the bed, thanks to the new slippery bed slides and roller capped needle shanks.
The Silver LK150 Zippy 90 can be used to knit most yarns...even Mohair, DK, 4 ply and multi coloured thick yarns. Just like a sewing machine, you set the yarn tension, or should I say the knitting feel or tightness, by adjusting the numbered dial on the carriage. Don't worry the instruction book gives a good starting point for different yarn thickness. There's no right or wrong tension, just set it by simply adjusting the dial so the knitting feels soft or firm depending on your preference.
Other knitting machines in the Silver Reed range may be more automated in the way they knit various patterns or stitches, however the Silver Reed LK150 is still very capable of knitting most stitches with ease.
Using the lightweight LK150 you can knit Tuck stitch, Slip stitch, Fair Isle, Garter and Moss stitch, Mock English rib, Lace and Open knitting plus my favourite on this machine, Cable stitch. There is no stopping the user's custom knitting options, anything from cushions, throws, jumpers, cardigans...imagine having a fashion idea for a colourful, patterned custom top for that special occasion and being able to make it yourself in less than a week.
Accessories included with our LK150 Zippy 90 are more than enough to get you started; even the instruction book explains in text and picture format, usually the images are enough. All you'll need is wool or knitting yarn.
Also included, edge weights and full bed width weights, row counter, needle pushers 1x1, 2x1, 3x1, 3 x transfer tools, latch tool, 2 x table clamps, spare needles, knitting gauge scale rule, 2 x ravel cords, two way yarn mast, tapestry needle, oil and instruction book.
Specification

| | |
| --- | --- |
| gitn | 610696778390 |
| Manufacturer | Silver |
| Model Number | LK150 |
| Type | Knitting Machine |
| Promotion | FREE INSTRUCTIONAL DVD INCLUDED! |
| Warranty | Full Manufacturers Warranty |
| Weight Kg | 6.0 |
| Size (Height, Width, Depth) | 1.4m long |
| Hard Carrying or Storage Cover | No |
| Number of Stitch Selections | Manual Tuck, Slip, Fair Isle, Garter, Moss, Lace, Cable |
| Tutorial CD / DVD | No |

Customer Reviews
I have just become the proud owner of a Silver Reed LK150, and I love it. Sewing machine sales delivered it in super-fast time, enabling me to get down and learn how to use it straight away. Although I am still in the frustration phase at the moment, being a complete novice, the manual is very clear and the machine clear and intuitive. I am really thrilled with the machine which is ideal for a beginner like myself and would thoroughly recommend it.

My first knitting machine and I love it. Can not fault Sewing Machine Sales, customer service was excellent.

Who knew this lightweight machine does so much more than I thought it would. It is so much easier to use than my more sophisticated standard gauge. I am very pleased with it. The only downside is that the hand manipulation of the ribbing takes a little patience, but the results are good. Delivery was very swift.

A great machine and so much fun to use. Excellent service from Sewing Machine Sales. I'll be back for the Intarsia carriage once I've got to grips with this super LK150. Thank you.

I love my new Silver Reed LK 150 machine.
The service is great and we had good communications.
Delivery was very quick.
The prize is also favorable.
I highly recommend this store.

I researched knitting machines for beginners and this got the best reviews. I set it up quickly and easily and after a couple of stops and starts had finished a basic scarf in approx 2 hours. Can recommend it

Amazing customer service, quick delivery and great after care.

I have just newly acquired this machine (one week) and so far am very pleased with its ease of use. I have not yet made a garment, but have knitted plain stocking stitch pieces with which I can then transfer to hand knitting needles and add my own fair isle patterns, then shape to finish. I have used double knitting yarn with perfect results.

Thank you for fast delivery of my LK 150!
Good price, and excelent service! Looking forward to use my New knitting machine

Happy returning customer - everytime excellent service, fast delivery and fair prices.
I am looking forward to learn my new LK150 :-)

Why not share your review with others.