Silver Reed SK155 Chunky Knitting Machine
Its what we have been asking for and it's now available here in the UK. The SK155 by Silver Reed is a metal bed chunky knitting machine with 9mm needle pitch for DK yarns and hand knit wool's. It also has the punch card for pattern knitting at great speeds.


Price

£949.00


Today

£869.00
FREE INSTRUCTIONAL DVD INCLUDED!
FREE delivery by DPD
, order
Delivery: 1 Working Day(s) (Sat, Sun options)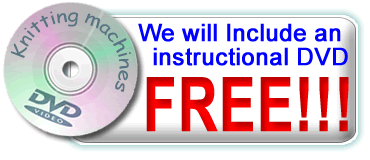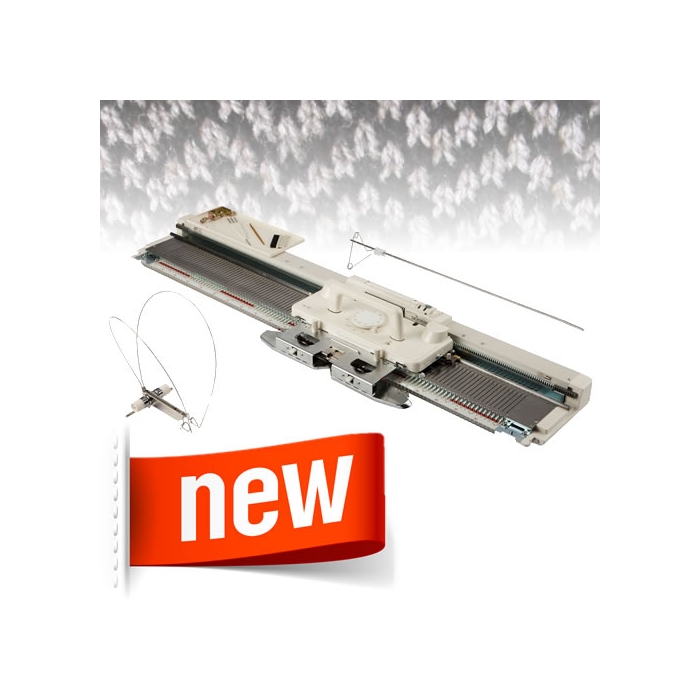 Why choose the Silver Reed SK155 from us?




WOW, what a machine. This is the much improved version using a metal bed and punch card facility. The Silver Reed SK155 is made to knit thicker yarns, anything from DK up to the most chunky of wool's. It opens out the options to use many of the exquisite hand knitting yarns that are available at the moment, the only thing to remember is that if you using hand knitting yarns, they will need to be wound on to a cone before use...the reason is simple… the SK155 will knit very-very quickly!
With the added benefit of having the punchcard system, now the user has many automatic stitch options...you can even punch your own custom pattern cards, insert them into the punchcard reader and hey-presto your very own fair Isle jumper designs.
Using DK for example, the SK155 chunky knitter can knit Tuck Stitch, Slip Stitch and Lace using punch card patterns.
The bed has 110 needles each set at 9mm apart. Using super extra thick yarns, it is possible to use every other needle to create individual fashioned garments, cushion covers or throws.
It is very well designed and packs away in a metal case, taking up very little space. The overall length is 112 cm or 44"
Once unpacked from the neat cover, there's not really a lot of setting up before knitting can start. As with all knitting machines, one would need to use table clamps, which are included, to position the machine on a suitable table. Then erect the yarn post and top tension arms, unpack your accessories which are stored in a large plastic container...each accessory has it's individual place and off you go.
The SK155 oozes quality and I'm sure will give you many happy hours of maybe knitting gifts for friends and family. Infact I have made a load of jumpers and cushion covers already using mohair and cotton ribbon yarns.
Accessories included:
Storage box.
2 x Clamps
2 x Edge weights
4 x Bed width weights.
Row counter.
Needle pusher.
3 x transfer tools 1x2, 2x3, 1x3.
Latch tool.
2 x Spare needles.
Knitting gauge scale rule.
Ravel cord.
Two way yarn mast.
Top tension assembly for mast,
Cleaning brush.
Crochet hook.
Tuck brushes.
Tapestry needle.
Punch card set.
Punch card snaps.
Instruction book
Specification

| | |
| --- | --- |
| Manufacturer | Silver Reed |
| Model Number | SK155 |
| Type | Knitting Machine |
| Promotion | FREE INSTRUCTIONAL DVD INCLUDED! |
| Warranty | Full Manufacturers Warranty |
| Weight Kg | 6.0 |
| Size (Height, Width, Depth) | 1.4m long |
| Hard Carrying or Storage Cover | No |
| Number of Stitch Selections | Manual Tuck, Slip, Fair Isle, Garter, Moss, Lace, Cable |
| Tutorial CD / DVD | No |

Customer Reviews
Machine arrived quickly, packaged well and appears to work well (still learning only been 3 days), Would recommend.

Very efficient service - machine arrived very well packed and all in good order. Many thanks

Great machine SK155 and still learning. Great service. Would recommend.


Very good machine- it took a little time to get how to use it - just the basics at first. I read the manual & looked on web sites and Once I did it's a really good machine for the heavier yarns. Lots more to find out yet.

A very friendly way of selling. Fast shipping and very good packaging of the product. A company worth recommending. The product meets 100% of my expectations. Very clear instruction manual. Beginners should not have any problems. You can start your knitting adventure.

Excellent machine, quick delivery, I was so excited to unpack the machine and it was quick and easy to set up and get knitting. Did not disappoint, I am a true beginner and appreciated the manual greatly. Have yet to get a punch card to work not sure what I am doing wrong!

Great machine and amazing service from sewing machine sales

Great machine SK155, exelent service

The SK155 chunky machine has exceeded my expectations, it knits hand knitting chunky wool as if it's been hand knitted. I would recommend the Silver Reed chunky machine and give it 5 stars.

Fabulous Service, quick delivery, such a beautiful knitting machine, it's great to be able to use chunkier Yarns. Really good user manual, (I am sorry but the free dvd really wasn't much help unless you're looking to go straight into knitting a pullover)
The moving of the levers take some getting used to as I didn't need to move anything with my standard gauge Brother machine but I am so very happy that I have invested in the SK155.
I have only used punch card no1 so far but it does a wonderful tuck stitch & I look forward to using each of the others as I get more confident.
One of the best parts of this machine is the built in yarn cutter (it's the little things that make a difference) and I love the 2 yarn holders on each end of the machine.
I am totally going to enjoy a very long journey with this machine

Why not share your review with others.