Husqvarna Amber Air S400 Overlocker
1
Review
Average rating 5.0 out of 5 Stars.
Air threading and needle threading equal a hassle free overlocker. The easiest Husqvarna Viking overlocker machine to use by a long way
Bundle deals and £130 off - Limited time offer
FREE delivery by DPD
, order
Delivery: 1 Working Day(s) (Sat, Sun options)
Expected Delivery Date is Monday, December 6th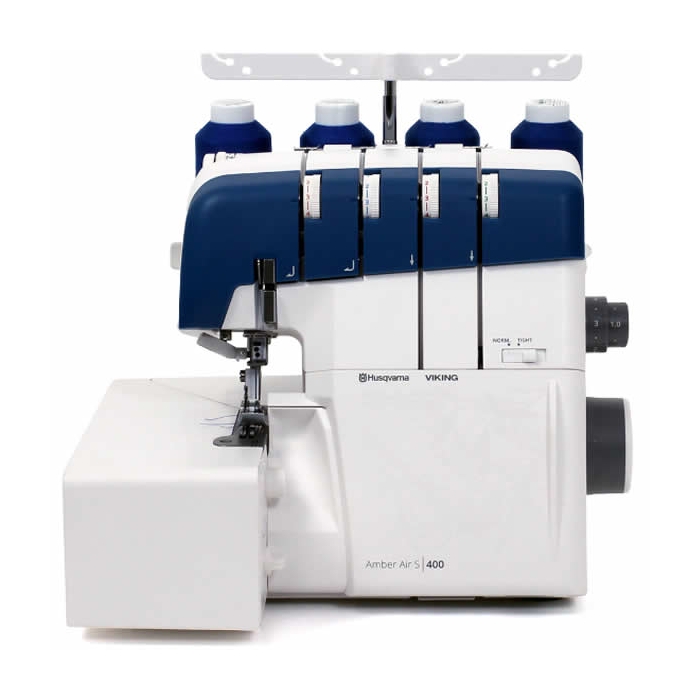 Why choose the Husqvarna Amber Air S400 from us?




The Husqvarna Viking Amber Air brings the benefits of Air threading to the Husqvarna brand. As an overlocker, the S400 is a powerful machine capable of 2, 3 and 4 thread overlocking with a combined total of 15 stitches. This machine can give you the ability to overlock all manner of materials. Two thread overlocking is for overlocking your finer material and to decoratively finished edges. Three thread overlocking is for medium weight material such as cotton to stop it from fraying to ensure the stitch holds strong. Four thread overlocking provides more security and is for heavier material and projects that are designed to move more freely without breaking the stitch, perfect for denim, jersey and fleece.
Differential feed is also used for jersey and other materials that have a stretch to them, by feeding material at different speeds it limits the distortion in stretchy material. If you're making something with a difficult material you don't even need to sew it, just pin the pattern together and overlock it all, being careful not to sew over a pin. The machine has built-in cutting knives which trim off excess material and ensures the correct amount of material is fed into the overlocked seam for a perfect finish.
The Amber Air has a dual dial on the side which is used to alter stitch length and stitch width. These are necessary features for overlocking an array of fabrics from fine to heavy material. Finer material requires a narrower stitch width and shorter stitch length, which is also what is required for a rolled hem. Naturally the opposite applies to the heavy material which requires a longer and wider stitch.
To give a full body to the stitch the looper tensions can be individually adjusted to balance the stitch accurately. The loopers are the parts that move back and forth, above and below the fabric edge and are the threads the protect the fabric edge. If you adjust the tensions and the stitch still seems slack there is the ability to adjust the knife position to feed more fabric into the stitch or less to your desired effect. Also, the machine comes with a trim bin which collects all of the offcuts and reduces mess.
Threading up an overlocker has always been the worst thing about these machines. Amber Air S400 owners don't have to endure this phobia. The Air Threading system threads the machine loopers with a simple and firm depression of a lever. All you do is feed the beginning of a thread into a hole and once the lever is pressed the threading system passes the thread through the looper in the blink of an eye, no more fiddling around with tweezers or wires. The needles also have a built-in threader making it even easier overall to set this machine up. No threading wires needed, no tweezers needed, no magnifying glasses needed, no hassle.
Accessories Included
Screwdrivers
Double-ended wrench
Tweezers
Needle Set
Thread Nets
Spool Holders
Lint Brush
Waste Tray
Needle Holder
Upper Cutter
Looper Threading Wire
Accessory Box
Foot Control
Dust Cover
Instruction Manual
Specification

| | |
| --- | --- |
| UPC | 7393033102951 |
| Manufacturer | Husqvarna |
| Model Number | Amber Air S400 |
| Type | Overlocker |
| Promotion | Bundle deals and £130 off - Limited time offer |
| Warranty | Manufacturers 5 Year, Our 10 Year Extended Warranty Applies |
| Weight Kg | 7.5kg |
| Size (Height, Width, Depth) | H30 x W39 x D30 cm |
| Variable Electronic Speed Control | No |
| Tutorial CD / DVD | No |
| Jet Air Threading | Yes |
| Lay In Threading | Yes |
| Auto Tension Release | Yes |
| Auto Looper Threader | Yes |
| Colour-Coded Threading | Yes |
| LCD Screen | No |
| Sleeve Arm | No |
| Rolled Hem | Yes, by Lever |
| Differential Feed | Yes |
| Stitch Functions | 2 Thread, 3 Thread, 4 Thread |

Customer Reviews
Thank you for the delivery on Saturday, now a week later I am very pleased with the way it threads, so much faster to there's than my old faithful Janome.

Why not share your review with others.