Viking Husqvarna Huskylock S21 Overlocker
It does 2, 3 and 4 thread overlocking, as well a cover stitch. The extension table comes in very handy for supporting larger items. But on the S21 Huskylock we like the automatic tensions settings the best
Free Premium overlocking pack worth £48
FREE delivery by DPD
, order
Delivery: 1 Working Day(s) (Sat, Sun options)
Expected Delivery Date is Wednesday, January 19th

Click to buy or view finance options.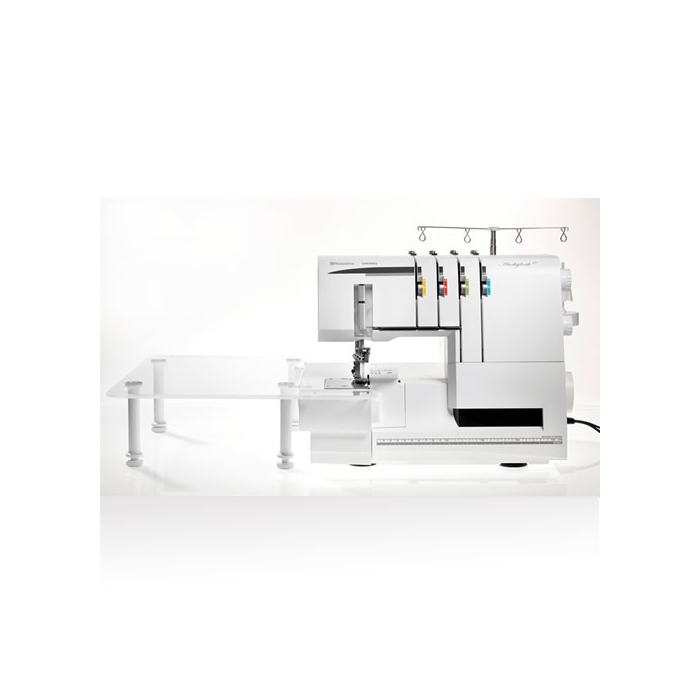 Why choose the Husqvarna S21 Huskylock from us?




The Huskylock S21 Overlocker offers a variety of features to allow for professional sewing every time. This overlocker offers you a extended sewing space, pre-programmed stitch settings, a wide range of stitches, a sewing advisor, and automatic tension settings. Husqvarna is known for its ergonomically designed machines and this Huskylock S21 is among them. The large sewing space allows you to sew quilts, garments, and home decor items with ease. For easier fabric feeding it also designed with a custom extension table for large projects. To add a professional finish to your project the S21 offers a host of 2, 3, and 4-thread capabilities to trim, stitch, embellish and overcast a variety of fabrics and amazing speed. Plus four cover stitch options even on the most stretch of materials.
The Huskylock S21 Overlocker comes with pre-programmed stitch settings. Simply choose the stitch program and the machine does the rest including the setting of the thread tension. Also included is a threading guide DVD with illustrated instructions to become a master at threading your machine easily and quickly. The electronic 2-speed control allows you to set the speed for overlocking to achieve the best results. Other features and accessories include color coded thread guides, universal presser foot, snap-on presser feet, movable upper cutter, thread cutter, a built-in extended carrying handle, and more.
If you like to sew fast or have no time to spare, this Husqvarna S21 overlocker can achieve speeds of up to 1100 perfect stitches per minutes. It also features a built-in two-thread converter. 2-thread stitches are used for lightweight finishes while you can use the 3 and 4-thread options for seaming and overcasting.
The accessory box is loaded with tools that include thread spool nets and unreeling discs, screwdriver, needle threader, cover-stitch knife cover, cone holders, a needle pack, tweezers, Allen key, oil, lint brush, needles, threading tweezers, waste catching tray and more.
A DVD which will help get you started on your next sewing project straight out from the box, however we are always here if you need further advice. We love to use this series of overlock machine and find then simple to use. We don't need to worry about thread tensions and is a machine that can sew through nearly anything. If you are looking to add a professional finish to any of your sewing projects with decorative details, the Huskylock S21 Overlocker offers you more than value for money.
Specification

| | |
| --- | --- |
| UPC | 7393033084035 |
| Manufacturer | Husqvarna |
| Model Number | S21 Huskylock |
| Type | Overlock & Cover Hem |
| Promotion | Free Premium overlocking pack worth £48 |
| Warranty | Extended Warranty 10 Years Parts and Labour |
| Weight Kg | 9.2Kg |
| Size (Height, Width, Depth) | H30 x W44 x D33 |
| Variable Electronic Speed Control | Yes |
| Tutorial CD / DVD | Yes |
| Jet Air Threading | No |
| Lay In Threading | Yes |
| Auto Tension Release | Yes |
| Auto Looper Threader | Yes |
| Colour-Coded Threading | Yes |
| LCD Screen | No |
| Sleeve Arm | No |
| Rolled Hem | Yes, by Lever |
| Differential Feed | Yes |
| Stitch Functions | 2 Thread, 3 Thread, 4 Thread, 5 Thread, 1 Thread Chain |

Customer Reviews
I've just bought the Husqvarna Huskylock S21 Overlocker. It was easy to unbox and set up as I already have an overlocker but a much more basic one. The threads are already in the machine to get you started but they were tangled up under the presser foot. I had to thread it up from scratch. I found the threading instruction diagrams a bit unclear especially as there are more than one upper looper places for the blue thread route to take, the diagrams need a close up of these areas. Once I went on the HeirloomCreations site on Utube it became clearer and I now know which upper looper hook to thread up. There are lots of stiches and variations. It has more going for it than I first realised. This machine does several overlocking sttiches using 2,3,and 4 threads; it does a coverstitch (takes up a hem at the same time as it neatens the edge) ;as well as a rolled hem and a flatlock stitch (joins stretchy fabrics with a ladder like decorative effect. I was not aware of the flatlock stitch as I was more interested in an overlocker with a coverstitch facility. Bonus all the way. Very pleased with my purchase.

This machine exceeded my expectations. Easy to use straightforward. I'm very pleased with the results so far.

Why not share your review with others.