Juki MO-2000QVP Overlocker
Computerised and with air threading system, as well as built in needle threader and 15 overlock stitch options...the Juki MO2000QVP wants for nothing! Plug in the electronic foot control and sew at a smooth 1500spm
*MORE STOCK DUE SOON*

Click to buy or view finance options.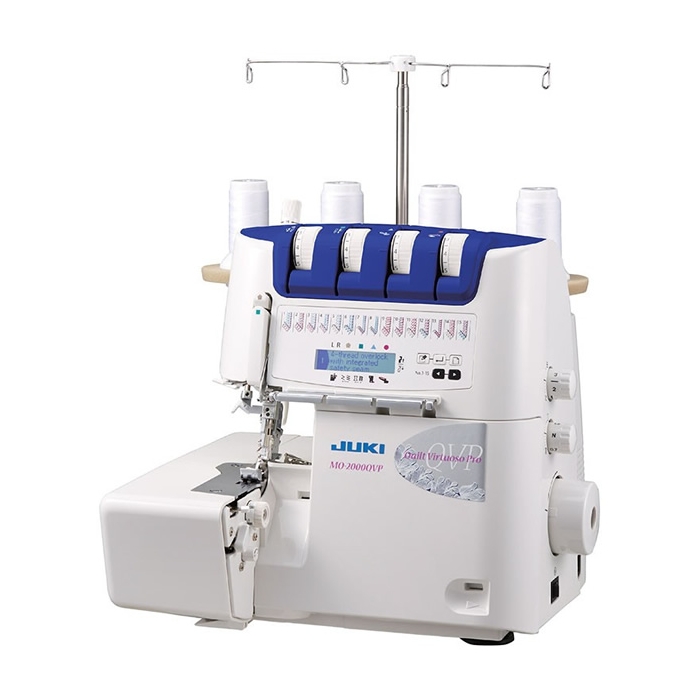 Why choose the Juki MO-2000QVP from us?




Again Juki to the rescue with the MO-2000QVP, helping to make overlockers more user friendly? How! As well as the superb looper air threading system, allowing both lower loopers to be threaded by blowing the thread down tiny tubes and right through the looper eye, if that wasn't clever enough, the Juki MO-2000QVP is computerised with an LCD screen, which shows the user any one of the 15 stitch options, on screen. Depending on the stitch selected, it also indicates which needle to thread ( this Juki has an automatic needle threader - more about this hidden jem later), the thread tensions settings, the cutting width, stitch length, whether to use differential feed or not. All these functions added together in a silky smooth overlocker makes for one of the easiest overlock machines on the market to use.
Well engineered for smooth running at up to1500spm. The MO2000 uses counter balance weight to virtually remove vibration.
Yes it has 15 stitch functions and each will be sewn perfectly accurate. Other overlockers may have more stitch options, some may have less, but the beauty or advantage that the Juki MO-2000 QVP has over its competitors is its user friendly ability.
Stitch options are:
4-Thread overlock with integrated safety seam.
3-Thread super stretch.
3-Thread wide overlock using (left needle.
3-Thread narrow overlock using right needle.
3-Thread wide flatlock using left needle.
3-Thread narrow flatlock using right needle.
3-Thread narrow seam.
3-Thread rolled hem.
2-Thread wrapped overlock using left needle.
2-Thread wrapped overlock using right needle.
2-Thread flatlock using left needle.
2-Thread flatlock using right needle.
2-Thread rolled hem.
2-Thread overlock using left needle.
2-Thread overlock using right needle.
The followingmay not affect everyone, but it just goes to show how clever and well thought out the Juki engineering team have developed a product for every user. Most overlockers have colour coded threading paths, each with a dot maybe red or green. If you're a little colour blind then that's a problem! Juki MO2000 still uses colours, however the colours are shapes; for example a red square, a green triangle and so on… much more user friendly, even to this level of perfection.
Please take time to view our video, it shows the hidden jem we mentioned...the built in automatic needle threader, which operates much the same as a needle threader on a regular sewing machine. It also shows the unique air pump that pushes the thread through the loopers.
Main Features:
Automatic needle threader.
Air threading loopers.
2-3 or 4 threads.
Information on LED screen with edit function.
LED Sewing Light.
Built-in rolled hemmer.
Adjustable presser foot.
Cutting width adjusting dial.
Adjustable differential feed.
Option to deactivate upper knife.
Safety switch.
Thread Trimming blade for easy thread cutting.
Max sewing speed 1500spm.
Some of the items can be stored inside the front drop down cover.
Because its computerised, each stitch has pre-programmed settings and this is displayed on screen. So what happens if for example when selecting stitch number 8, which is a 3-thread rolled hem, you find the top looper thread setting is not 100% to your satisfaction, whilst using xyz thread and super lightweight polycotton with an open weave. Well...this Juki has the option to edit the on screen settings for that top looper, so next time you use this fabric and select stitch number 8 your settings will be saved.
Accessories included:
DVD Included.
Waste Collector.
Spare regular 15x1, 705H needles.
Screwdriver.
Tweezers.
Lint Brush.
Needle installer.
Thread nets.
Spool caps.
Accessory bag.
Dust cover.
Electronic foot speed controller.
Instruction manual as well as the DVD tutorial.
*** PLEASE NOTE -This Juki Machine is not for internet sales as unfortunately it cannot be shipped by courier. The machine must be delivered or collected locally..
Specification

| | |
| --- | --- |
| Manufacturer | Juki |
| Model Number | MO-2000QVP |
| Type | Overlocker |
| Promotion | *MORE STOCK DUE SOON* |
| Warranty | 2 Years Full Manufacturers Warranty |
| Weight Kg | 9.0 |
| Size (Height, Width, Depth) | H33 cm x W33 cm |
| Variable Electronic Speed Control | Yes |
| Tutorial CD / DVD | Yes |
| Jet Air Threading | Yes |
| Lay In Threading | Yes |
| Auto Tension Release | Yes |
| Auto Looper Threader | Yes |
| Colour-Coded Threading | Yes |
| LCD Screen | Yes |
| Sleeve Arm | No |
| Rolled Hem | Yes, by Lever |
| Differential Feed | Yes |
| Stitch Functions | 2 Thread, 3 Thread, 4 Thread |

Customer Reviews
Despite buying in the shadow of the ultimate virus the follow up customer service was excellent. Once I got the juki overlocker, I'm happy to report the threading was a breeze. The instruction booklet and videos (all on you tube juki home sewing channel...so you don't need a DVD player) were easy to follow and I was able to serge a pair of trousers after trial sewing on the same fabric as instructed . Thank you

Absolutely fantastic machine. My previous was a Janine which earned its keep but this one is in another level. Threads like a dream and so easy to use. I loved having the dvd to watch as well as the manual. I would say I am an intermediate level sewer, I think this machine could easily be used by a beginner. Love it

Arrived on time despite the snow. Tried another make but having arthritis in hands found it difficult to thread the lower looper. Gave up trying as knew how to thread it but physically impossible. Now I have my JUKI MO-2000QVP and it is fantastic. I would say I was a complete overlocker beginner so watched the dvd in conjunction with the overlocker as found manual a little hard to understand due to my limited experience. Threaded first time with 4 thread system. Tried 3 thread, no problem. Disengaged knife easily and even cautiously sewed a rolled hem. All without problems. Would recommend this to all levels. Also the needle threader is very easy to use..

Why not share your review with others.