This new MO-214D from Juki offers automatic thread tension release, built-in quick looper threading, lay-in thread paths with finger tip control, together with Juki manufacturing and stitch perfect overlocking
** LATEST MODEL **
FREE delivery by DPD
, order
Delivery: 1 Working Day(s) (Sat, Sun options)
Expected Delivery Date is Tuesday, January 25th

Click to buy or view finance options.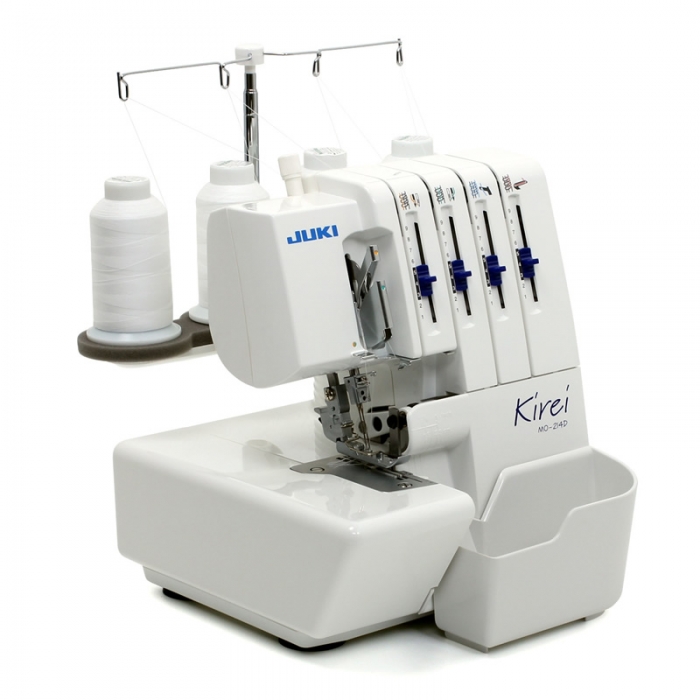 Why choose the Juki Kirei MO-214D from us?




Using the new Juki MO-214D the user can overlock with 2, 3 or 4 threads. The MO-214D includes an upper-looper converter and once in place you can use only 2 threads, this saves thread and also gives a super neet overlocked edge.
Differential feed adjustable (from .05 to 2.25) can be quickly set using the single dial on the right , just above the stitch length control dial with adjustment from 1mm to 4mm, one of our images shows these two adjustments dials. The differential feed gives Increased control for handling most types of fabrics and is essential for most overlocking techniques used on modern synthetic fabrics.
We love the automatic thread tension release, lift the presser foot and the tensions open to allow the thread to slide without hindrance at the end of a seam. Sliding tension controls offer greater fingertip control, each has an icon showing the looper or needle it adjusts.
Threading is simplified by colour-coded thread guides and a quick-threading lower looper. Simply lay the thread into the guide and the through the lower looper. Spare needles are included as well as a fabric off-cuts catcher to save the fabric or thread ends ending up on the floor.
Our Juki MO-214d Kirei overlock comes with an extra foot for blind stitching, this handy foot clips into place and will help guide the material while blind hemming. It's ready to start stitching immediately from its box you'll be overedging with professional results in no time.
Quick conversion for rolled hems, just a quick push on the lever, no having to change the needle plate. Overlock functions cut, seam, and finish all in one step for professional results.
Use three or four thread overlock stitch for finishing edges, rolled and narrow hems, lettuce-edge, flatlock, and other decorative effects.
The Juki MO-214d overlock will sew heavy fabrics like fleece, knits, terry cloth and cut off the raw edge at the same time.
The stitch cutting width is also adjustable, simple, turn the dial. Handy width markings in metric and imperial are embossed on the front cover near the needle which help with accurate edging widths.
Main Features:
Electronic foot controller
Stitch length adjustment: 1.0mm – 4.0mm
Cutting width adjustment: 3.1mm - 7.3mm
Colour coded threading
Built-in rolled hem, at the touch of a button.
Flatlocking and decorative applications.
Movable knife, cut/trim off while stitching or not.
Large, long sewing bed to allow easy feeding of larger Items.
Adjustable differential feed mechanism to allow for the gathering of fabric or sewing with stretch fabric.
The Juki MO214D will give professional overlock results everytime, it boasts:
4-Thread Overlock
3-Thread Overlock (regular)
3-Thread Overlock (wide)
2-Thrad Overlock
Rolled Hem
Narrow Hem
Pin Tuck
Picot Edge
Decorative Overedge
Accessories Include:
Plastic fabric waste collector
Upper looper converter
4 x Spool caps
Tweezers
Cleaning brush / needle inserter
4 x Thread nets
4 x Cone holders
Looper threader(built-in)
Spare needle (15x1 type)
Small screwdriver
Oil
Accessory bag
Dust cover
Electronic foot control
Instruction manual
Specification

| | |
| --- | --- |
| UPC | 4946973008451 |
| Manufacturer | Juki |
| Model Number | Kirei MO-214D |
| Type | Overlocker |
| Promotion | ** LATEST MODEL ** |
| Warranty | 2 Years Full Manufacturers Warranty |
| Weight Kg | 8Kg |
| Size (Height, Width, Depth) | H30 cm x W31 cm |
| Variable Electronic Speed Control | Yes |
| Tutorial CD / DVD | No |
| Jet Air Threading | No |
| Lay In Threading | Yes |
| Auto Tension Release | Yes |
| Auto Looper Threader | Yes |
| Colour-Coded Threading | Yes |
| LCD Screen | No |
| Sleeve Arm | No |
| Rolled Hem | Yes, by Lever |
| Differential Feed | Yes |
| Stitch Functions | 2 Thread, 3 Thread, 4 Thread |

Customer Reviews
This is my first overlocker and I really like the feel of it. It's very sturdy and easy to operate. There are a series of set up instructions etc for this model on YouTube and I was so so thankful for that!

The Juki MO-214 is my first overlocker, it's awesome! I spent a bit of time doing research online as there aren't many good sewing shops around us. I was really worried about spending without seeing or using an overlocker, it felt like a huge gamble, thankfully I'm really happy. I made a dress out of stretch fabric, so pleased with the result.

Very efficient ordering and delivery, everything was absolutely alright. Good experience, will come back :)

I have ordered JUKI MO-214D overlocker at Sewing Machine Sales and everything went very smoothly. Here are some of the reasons for the high rating:
1. Extremely fast delivery,
2. Competitive pricing,
3. Precise description of the ordered JUKI MO-214D,
4. Overlocker was on stok as stated in the description,
5. Easy navigation at the web site,
6. Worldwide delivery,
The parcel arrived within two days across the entire Europe, despite huge distance of 1.230 miles from Whitley Bay at the North East England to my home.
I can highly recomend this shop.

Why not share your review with others.