Singer ELITE SE017 Overlocker
The newest model in the Singer overlocker range, this Singer Elite SE017 is robust with an aluminum chassis and has additional features like differential feed and looper area lighting


Price

£369.00


Today

£295.00
FREE £25 Bundle *buy today and SAVE £70 off RRP*
FREE delivery by DPD
, order
Delivery: 1 Working Day(s) (Sat, Sun options)
Expected Delivery Date is Friday, December 10th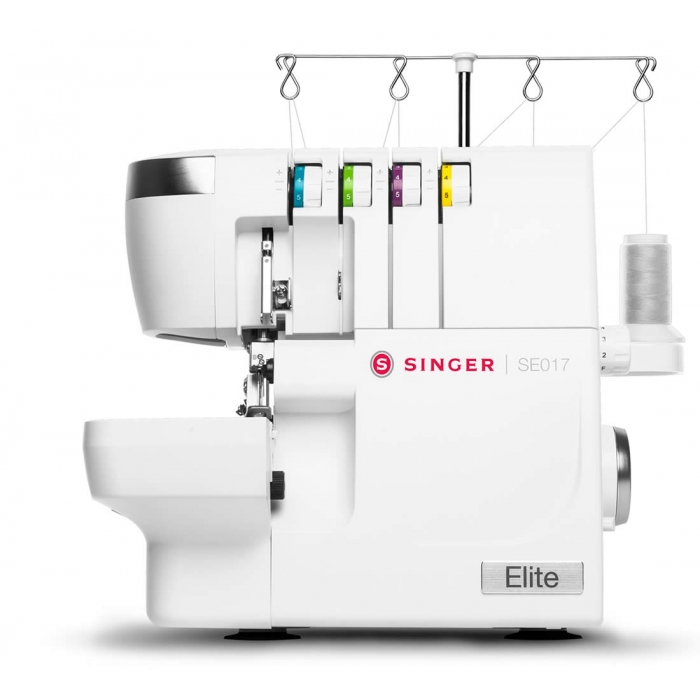 Why choose the Singer Elite SE017 from us?




The SINGER Elite SE017 Overlock Machine lets you sew, finish, and trim seams and raw edges with high-precision and speed each and every time. It's the perfect complement to your sewing machine.
Use it to sew with 2, 3 or 4 threads at speeds of up to 1300 stitches-per-minute on a variaty of fabric types. Pull off the sew bed to use the sleeve arm for tubuiar overlocking, accessories can be stored in a handy storage area in side the sew bed. 
The Elite SE017 has an Industry first; It boasts lower looper LED light which increases visibility for easier threading once the front flap is lowered. One of our images shows the LED looper light, the image was taken when is was just getting dark yet the looper lights up the loopers area.
6 different stitch types ensure the perfect stitch no matter what project, the SE017 provides professional overlocking results.
Four Thread Mock Stretch Stitch
A favorite when sewing a knit fabric because the stitch stretches as the fabric stretches providing a strong and professional finish that will not "pop" when the fabric is stretched.

Three Thread Overlock Stitch
Provides a wonderful professional seam finish, helps prevent loosely woven fabrics from unraveling, and offers unlimited decorative capabilities.

Three Thread Mock Stretch Safety Stitch
Ideal for finishing fine fabrics or highly stretchable fabrics.

Two Thread Overlock Stitch
Use as a lightweight seam finish or a lightweight seam on woven fabrics.

Rolled Hem Stitches
Add an elegant fine finish to table linens, scarves, and much more. Converting to the Rolled Hem mode is effortless. An easy access lever moves the stitch finger in position for rolled hemming.

Flatlock Stitch
Special decorative threads can be used to add texture and a dramatic embellishment effects.
The handy free arm is accessed by removing the accessory compartment, included tweezers have their own storage space in side the looper flap, ready to use when needed to help threading the loopers or needle eyes. All threading paths are colour coded, hence, easy to follow. Other features of the SE017 include:

Differential Feed
Fully adjustable to ensure even feed for perfect seams on every fabric - no breaking or puckering. It is also useful for keeping stretch fabrics and bias cut fabrics from becoming "stretched out"

Twice the Light of other SINGER overlockers.
See your sewing area and loopers more clearly.

High Performance Motor
Better, quality results on heavy fabrics.

Smoother Multi-Speed Sewing
Machine feeds smoothly at all speeds. The high performance motor allows high torque and penetration force even on low speed, providing a steady stable force that can sew through thicker fabrics.

Superior Fabric Feed System
Assures consistent quality stitches on all fabrics.

Moveable Upper Knife
Easily move the cutting knife to prevent trimming of fabric while sewing.

Adjustable Stitch Length
Effortlessly adjust the length of a stitch with just the turn of a knob.

Removable Free Arm
Makes it easy to sew hard-to-reach areas such as armholes, cuffs and smaller projects.

Portable
Carry handle makes it easy to take your serger overlock to class with you.

Extra-High Presser Foot Lifter
Offers extra clearance needed when placing multiple layers of fabric under the presser foot.

Accessories Included
Tweezers, Needle Set, 2-Thread Spreader, Screwdriver, Lint Brush, Needle Inserter.

Contents:
Fabric Catcher Bag
All-Purpose Foot
Needle Set
Tweezers
Spreader
Small Screwdriver
Spare Lower Knife
Lint Brush
Instruction Manual with Stitch Guide and Sewing Techniques
Foot Control/Power Cord


Specification

| | |
| --- | --- |
| UPC | 7393033112929 |
| Manufacturer | Singer |
| Model Number | Elite SE017 |
| Type | Overlocker |
| Promotion | FREE £25 Bundle *buy today and SAVE £70 off RRP* |
| Warranty | Extended Warranty 10 Years Parts and Labour |
| Weight Kg | 8.5Kg |
| Size (Height, Width, Depth) | H28x W26 |
| Variable Electronic Speed Control | Yes |
| Tutorial CD / DVD | No |
| Jet Air Threading | No |
| Lay In Threading | Yes |
| Auto Tension Release | No |
| Auto Looper Threader | No |
| Colour-Coded Threading | Yes |
| LCD Screen | No |
| Sleeve Arm | Yes |
| Rolled Hem | Yes, by Lever |
| Differential Feed | Yes |
| Stitch Functions | 2 Thread, 3 Thread, 4 Thread |

Why not share your review with others.