Elna Experience 560 Sewing Machine
The Elna 560EX is the perfect sewing machine to tackle any project. It is fully computerised and has 100 stitches including alphabet and 7 auto 1-step buttonholes, it even has memory facilities. The LCD screen, with enhanced informational display and touchpad for easy navigation, gives direct selection for the most useful stitches

Click to buy or view finance options.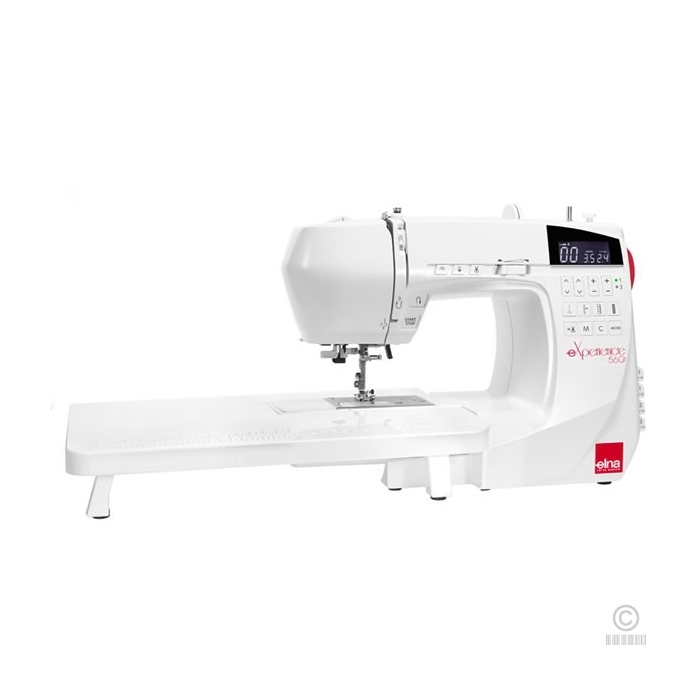 Why choose the Elna 560EX from us?




Expand your creativity by using the Elna Experience 560. Adding a little extra treat to our fabulous mid range of sewing machines, we are delighted to announce that the Model 560EX was launched in October 2018. With refinements which make sewing even more pleasurable, the new Elna 560 experience is the perfect sewing machine to tackle any project.
It is fully computerised and has 100 stitches including 7 auto 1-step buttonholes. The LCD screen with enhanced informational display and touch button pad for easy navigation, gives direct selection for the most useful stitches.
This computer sewing machine has a superior feeding system (SFS+) for fantastic fabric handling and an auto thread cutter to finish off and trim all your ends at the touch of a button. There is an automatic needle threader, maximum speed control slider and for those who find it easier to work without a foot control, this machine can even be operated with the stop/start button. These are just some of the fabulous Elna 560EX features which help produce quality sewing at your own pace. Create your own stitch combinations for fun, make labels and indulge your creative senses with this easy to use luxury machine.

Features:
Computerised 100 Stitch Options
Large LCD Information Screen
Mode selections
Direct stitch selection
Auto Lock Stitch
Quick snap on feet
Start/Stop Button, Enables you to sew with or without Foot Control
Rotary top loading bobbin
Jam Proof Bobbin System
Preset and variable stitch length
Preset and variable stitch width to 7 mm
Electronic foot speed Control
Needle up/down control
1 Step auto sizing buttonhole, 3 Buttonhole styles
7 Piece feed dog
Auto De Clutch Bobbin Winder
700 Stitches per Minute
Automatic Thread Tension
Built in needle threader
Adjustable Foot Pressure
Drop feed facility
Stretch stitches
Satin stitches
LCD Screen Display
Hard cover
Extension Table
Free arm storage compartment
Accessories Included:
1/4 inch seam foot, Standard Foot, Automatic Buttonhole Foot, Satin Stitch Foot, Zipper Foot, Blind Hem Foot, Overedge Foot, Open Toe Foot, Screwdriver Large & Small, Spool Caps, Spool Pin, Lint Brush, Needles, Bobbins, Instruction Book, Foot Speed Controller and Extension Table


Specification

| | |
| --- | --- |
| UPC | 7611850702520 |
| Manufacturer | Elna |
| Model Number | 560EX |
| Type | Sewing Machine |
| Warranty | 2 Years Full Manufacturers Warranty |
| Weight Kg | 8.5Kg |
| Size (Height, Width, Depth) | H30cm x W41cm |
| Variable Electronic Speed Control | Yes |
| Bobbin Access | Top Loading |
| Transparent bobbin cover Bobbin Cover | Yes |
| Hard Carrying or Storage Cover | Yes |
| Automatically Tensions Thread | No |
| Integrated Needle Threader | Yes |
| Thread End Cutting | Automatic |
| Number of Stitch Selections | 100 |
| Popular Stitch Functions | Straight, Zig-Zag, Multi Zigzag, Blind Hem, Stretch Blind Hem, Rolled Hem, Straight Stretch, Overlock Stretch, Scallop, Ric Rac, Honeycomb, Herringbone, Gathering, Applique, Sew-On Buttons, Quilting Stitches |
| Formation of Buttonholes | 1-Step Fully Automatic |
| Variety of Buttonholes | 7 |
| Twin Needle | Optional |
| Maximum Speed Limit Adjustment | Yes |
| Needle Up/Down Function | Yes |
| Integrated Dual Feed System | No |
| Integrated Fabric Feed Lowering | Yes |
| Hook Movement | Smooth Rotary Action |
| Needle Positions | Left / Right / Centre |
| Tutorial CD / DVD | No |
| Voltage | 220-240 Volts |

Why not share your review with others.