Janome Memory Craft 6700 Professional Sewing Machine
1
Review
Average rating 5.0 out of 5 Stars.
The Janome Memory Craft 6700 Professional has the speed and precision, critical to advanced sewing. The MC6700 contains an abundance of features created especially for quilters, including the AcuFeed system. This Fabric Feeding System ensures your sewing and quilting are even, smooth and precise on all types of fabric.

Click to buy or view finance options.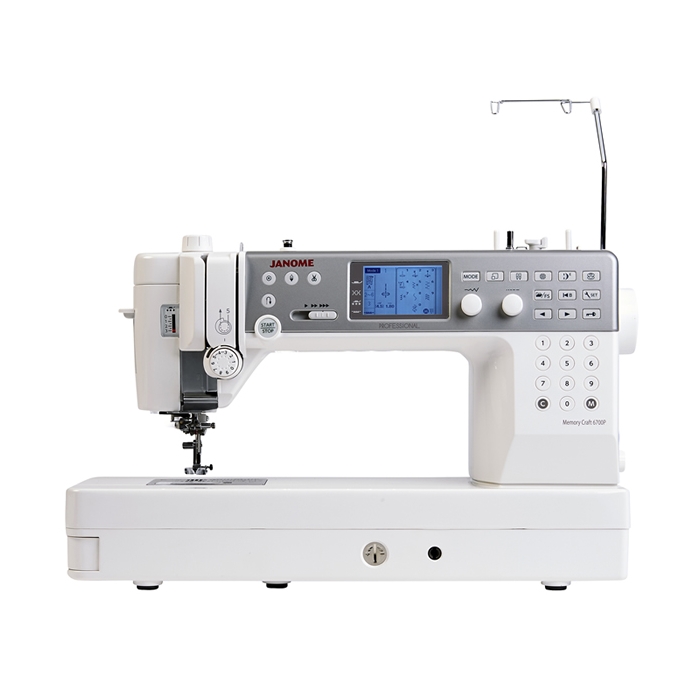 Why choose the Janome MC6700P from us?




The Janome Memory Craft 6700 Professional sewing machine is here!
The MC6700P has a "real" Heavy Duty professional design with a fully powder coated solid aluminum flatbed (not plastic like most). It has over 200 stitches plus Alphabets and Buttonholes up to 9mm wide and can sew at a whopping speed of 1200 Stitches per minute, faster than it's older model and very popular Janome 6600P.
The aluminum body and longer arm, provides 50% more working surface than most other machines with an improved work space of 12 inches from the needle, to the right of the machine arm, which improves it's work-ability when dealing with larger Quilts, Curtains, Home Furnishings, Bridal Wear and alike. Changing from zigzag needle plate to straight stitch needle plate is done with the single push of a button. The needle plate is then released and ready to swap making changing from utility sewing to fine, precision work much faster. The lighting has also been improved, with shadow-less LED lighting set in 3 strategic positions to provide 40% more light. When precision sewing, you can attach the AcuFeed Flex system, to help with those troublesome fabrics and multiple layers. A new Professional Grade Foot comes with this machine providing pinpoint accuracy when creating 1/4 inch seams. Use the Profession Grade Needle Plate (HP) with the Professional Grade Foot and you will be an Improved Professional yourself in no time. Combined, they help achieve the most precise top stitch and sewing curves...absolute luxury with the HP combo.
Believe it or not, Janome have actually found a way to improve the durability of this new MC-6700P compared with the older 6600P. I can honestly say, in the last 10 years we have not seen one come into our workshop for repair. There are two elements that have been improved to increase durability:
1.The lower drive shaft of the machine is now fitted with a ball bearing (like the ones in fidget spinners, only much more robust), providing low torque , resulting in greater stability at high speeds and durability.
2. The Powder coating is the same coating used on industrial machine's. It is a thick flexible coating which is hard to crack and has a long life. It is heat and oil resistant and the thickness of the coating, actually carries strength in itself and protects against scratches.
Threading the needle is made easier with the Superior Needle Threader. Simply lay your thread in the threader, trim the excess thread using the manual thread cutter, push the threader lever down and in the blink of an eye it's done...your needle is threaded and away you sew. Fast and threaded every time.
The MC6700 is fully adjustable too. The tension dial is external from the body so you can see its setting clearly. You can adjust the pressure of the presser foot, giving you greater control over how the stitches appear in the fabric, whether it be fine fabric or heavy fabric, you can adjust to suit. A collapsible upstanding spool stand allows the user to use large industrial cones of thread. You can even program the machine to set your 7 most "often-used" stitches, sort of a speed dial! Adjust the stitch and length using industrial style electronic encoder dials (sounds fancy, I know). The classy dials offer ease and accuracy when you need to adjust the length and width of the stitch with the adjustments being clearly displayed on the LCD 3.6 inch display. It's a whole lot smoother and less pixelated than most industrial standard machines.
A Summary Look At These Exciting Features
AcuFeed Flex dual feed system
Start/Stop button
Favorite stitch settings default
Triple LED sewing lights
Enhanced screen clarity
Huge range of stitch functions

Plus You Get All These Favorites:
The largest arm and bed space of any household machine: 9" x 5"
Stitching speed of up to 1200 spm
Automatic thread cutter
Independent bobbin winder
Knee lifter
Hundreds of beautiful decorative and quilting stitches plus two lettering fonts and seven buttonhole styles.
Large extension table.

Accessories:
| | |
| --- | --- |
| ¼" Seam Foot (O) | Button Shank Plate |
| Needle Plate - Standard | Satin Stitch Foot (F) |
| Accessory Box (Plastic) | Convertible Free Motion Quilting Foot (QB-S) |
| Needle Plate - Straight Stitch | Satin Stitch Foot Open (F2) |
| AcuFeed/Dual Feed Std Foot Twin (AD) | Closed-Toe Foot (for above) |
| Nets x 2 | Screwdriver (Winged) |
| AcuFeed/Dual Feed Foot Holder - Twin | Clear View Foot (for above) |
| Open-Toe Foot | Seam Ripper |
| Automatic Button Hole Foot (R) | Darning/Embroidery Foot (PD-H) |
| Overcast Foot (M) | Spool Caps x 2 (Large) |
| Blind Hem Stitch Foot (G) | Dust Cover |
| Power Lead | Spool Caps x 2 (Small) |
| Button Sewing Foot (T) | Foot Control - Large |
| Professional Grade Foot (HP) | Spool Holder x 2 (Special) |
| Hemmer Foot (D) | Stitch Chart Bracket |
| Spool Rest x 2 | Lint Brush |
| Instructional DVD | Stitch Reference Chart |
| Stabilizing Plate (for Buttonhole Foot R) | Quilting Guide Bar |
| Knee Lifter | Zipper Foot (E) |
| Standard Foot (A) | Needle Plate – Professional Grade (HP) |
| Large Extension Table |   |
Specification

| | |
| --- | --- |
| UPC | 05027843501858 |
| Manufacturer | Janome |
| Model Number | MC6700P |
| Type | Sewing Machine |
| Warranty | Manufacturers 2 Year, Our 10 Year Extended Warranty Applies |
| Weight Kg | 16 |
| Size (Height, Width, Depth) | W51 cm x H30 cm |
| Variable Electronic Speed Control | Yes |
| Bobbin Access | Top Loading |
| Transparent bobbin cover Bobbin Cover | Yes |
| Hard Carrying or Storage Cover | No |
| Automatically Tensions Thread | No |
| Integrated Needle Threader | Yes |
| Thread End Cutting | Automatic |
| Number of Stitch Selections | 200+ |
| Popular Stitch Functions | Straight, Zig-Zag, Multi Zigzag, Blind Hem, Stretch Blind Hem, Rolled Hem, Straight Stretch, Overlock Stretch, Scallop, Ric Rac, Honeycomb, Herringbone, Gathering, Applique, Sew-On Buttons, Quilting Stitches, Basting Stitch, Closed Overedge, Plus decorative patterns |
| Formation of Buttonholes | 1-Step Fully Automatic |
| Variety of Buttonholes | 9 |
| Twin Needle | Optional |
| Maximum Speed Limit Adjustment | Yes |
| Needle Up/Down Function | Yes |
| Integrated Dual Feed System | Yes |
| Integrated Fabric Feed Lowering | Yes |
| Hook Movement | Smooth Rotary Action |
| Needle Positions | Left / Right / Centre |
| Tutorial CD / DVD | No |
| Voltage | 220-240 Volts |

Customer Reviews
First of all, a 'high-five' to James whose assistance was greatly appreciated when I rang for advice. I had been dithering somewhat and needed reassurance and guidance. Once I had spoken to him I felt confident in my choice of retailer and machine.
It is indeed a lovely machine. I have dabbled for two days now and am bonding nicely with it. I'm making my very first collared shirt and enjoying the process. Oh and yesterday, I managed to master the technique of a rolled hem to make some hankies out of some Liberty lawn left overs.
I can't give a full review yet until I have explored it fully. But several reviews by other more experienced sewers pretty much sealed the deal for me.

Why not share your review with others.