Juki HZL-DX7 Sewing Machine
Using the special foot control, this gives you a smooth start to any seam. It also incorporates a heel tilt action which will cut both threads. The Float Function is another off-shot from the Juki industrial experience, together making the DX7 a top end computerised sewing machine
FREE delivery by DPD
, order
Delivery: 1 Working Day(s) (Sat, Sun options)
Expected Delivery Date is Monday, January 24th

Click to buy or view finance options.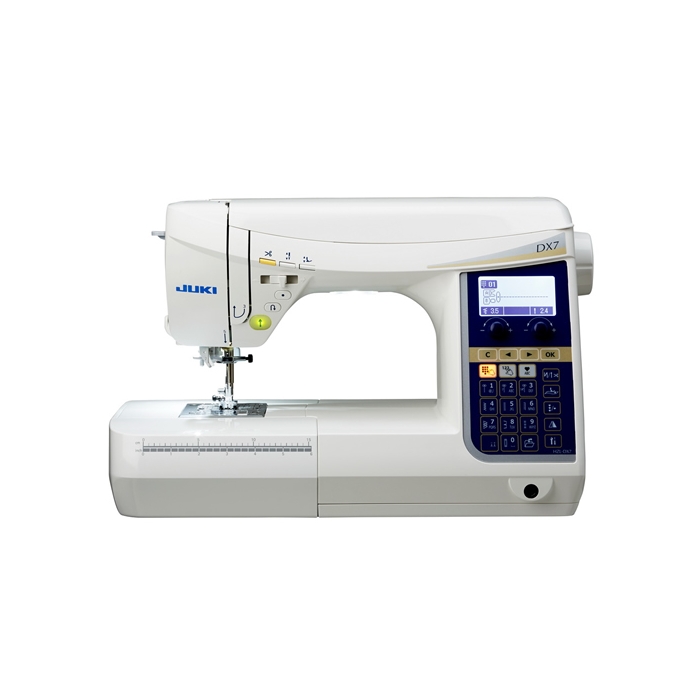 Why choose the Juki HZL-DX7 from us?




Achieving perfection stitch by stitch! There are two models in the Juki HZL-DX series and this is the DX7 High performance sewing machine. It is a sewing machine that is dedicated to quilt makers.

It has extra functions and stitches which are more in line with how a quilt is produced. Often when stippling a double quilt or even something smaller, you need to have both hands to manipulate the material as you stitch. Not only is the gap under the machine head larger than most at 112mm (4-1/2") high, the main advantage is you don't need to remove your hands from the quilt when you have finished stitching one quilt block to the next section or block. The "foot control heel press" will automatically cut both top and bobbin threads neatly and with a small movement to the right on the knee lift, will raise the presser foot...and you still have both hands on the quilt, keeping it stable and ready to move to the next section of free-hand embroidery. These two functions alone can save the time it takes to make a quilt by as much as 30%.

Juki DX7 offers 287 stitches with 4 font styles. By lifting the machine top cover, this gives access to bobbin winding, auto tension setting and the horizontal thread. Clear illustrated icons show the stitch functions which are grouped together for easy reference. For instance, all stitching tasks, including motif patterns, quilting and fonts are grouped together.

10 memory folders, each storing up to 70 patterns. Direct access keys on the front panel give access to the most used stitches. A selection of 16 types of buttonhole which are sewn fully automatically using the special foot and plates, Even the cutting width between buttonhole legs can be adjusted.
With the addition of the walking foot, free-motion embroidery foot, 1/4" seam foot and patchwork bar, the Juki HZL-DX7 is ready to tackle any task thrown under the presser foot. It really is a delight to sew with and as one Juki owner said about the DX7.. "I think if you could get to try a Juki you would notice immediately the difference from other machines as soon as you put your foot on the pedal."

Key Fatures:
Box feed system for super smooth fabric movement, while keeping noise to an absolute minimum. Box feed allows you to feed a larger variety of fabric types with precision.
Float Function, allows you to sew with the presser foot slightly raised. The height can be adjusted by 0.1mm this helps eleviate drag and puckering.
Drop feed lever for freemotion embroidery.
Automatic tensions.
Sewing space 309 mm, 203 mm to the right of the needle and 112 mm high.
16 different types of automatic buttonholes with 2 eyelets.
Buttonhole cutting width adjustment.
4 Alphabets.
Electronic foot speed control with heel thread cutter.
Top loading bobbin with view through cover.
Needle plate with inch and metric markings.
Carry handle.
Foot pressure adjustment.
Hard cover with side pocket.
Advanced automatic needle threader.
Clip-on accessory feet.
Start / stop button.
Needle up / down.
Reverse button.
Max sewing speed button.
Self motorised bobbin winder unit with thread end cutter.
Max width 7mm.
Max length 5mm.
As already mentioned a walking and quilting feet are included but also included are the knee lift arm, clear applique foot, overlocking foot, blind hem foot, zipper foot, second spool pin, bobbins, extension table and a good Instructional book and tutorial DVD.



*** PLEASE NOTE -Juki Machines are not for internet sales, as unfortunately Juki machines can not be shipped by courier and will be delivered or collected locally only.
Specification

| | |
| --- | --- |
| UPC | 04946973007416 |
| Manufacturer | Juki |
| Model Number | HZL-DX7 |
| Type | Sewing Machine |
| Warranty | 2 Years Full Manufacturers Warranty |
| Weight Kg | 10.3 |
| Size (Height, Width, Depth) | W 45cm x H 29.5cm |
| Variable Electronic Speed Control | Yes |
| Bobbin Access | Top Loading |
| Transparent bobbin cover Bobbin Cover | Yes |
| Hard Carrying or Storage Cover | Yes |
| Automatically Tensions Thread | Yes |
| Integrated Needle Threader | Yes |
| Thread End Cutting | Automatic |
| Number of Stitch Selections | 287 |
| Popular Stitch Functions | Straight, Zig-Zag, Multi Zigzag, Blind Hem, Stretch Blind Hem, Rolled Hem, Straight Stretch, Overlock Stretch, Scallop, Ric Rac, Honeycomb, Herringbone, Gathering, Applique, Sew-On Buttons, Quilting Stitches, Plus decorative patterns |
| Formation of Buttonholes | 1-Step Fully Automatic |
| Variety of Buttonholes | 10 |
| Twin Needle | Included |
| Maximum Speed Limit Adjustment | Yes |
| Needle Up/Down Function | Yes |
| Integrated Dual Feed System | No |
| Integrated Fabric Feed Lowering | Yes |
| Hook Movement | Smooth Rotary Action |
| Needle Positions | Left / Right / Centre |
| Tutorial CD / DVD | Yes |
| Voltage | 220-240 Volts |

Customer Reviews
Machine arrived promptly but the box was damaged slightly but the machine is ok, wish I had bought it years ago am totally in love with it and would recommend it totally

Absolutely fabulous machine.

The service was excellent first class my sewing machine could not be sent out for delivery rules of the manufacturer juki and I don't drive so they deliver it for me . What company would do that ? Thank you and I love love my new sewing machine juki dx7 would recommend the company and the machine.

First thank you so much for fantastic service and customer care.

Juki HZL DX7 is a very high quality machine for affordable price.
Juki brought us industrial technology to the home sewing machine and many useful features.

Thank you JUKI.


Why not share your review with others.