Janome Bobbin Holder For Quilting
Janome bobbin holder for Free motion embroidery for Large machines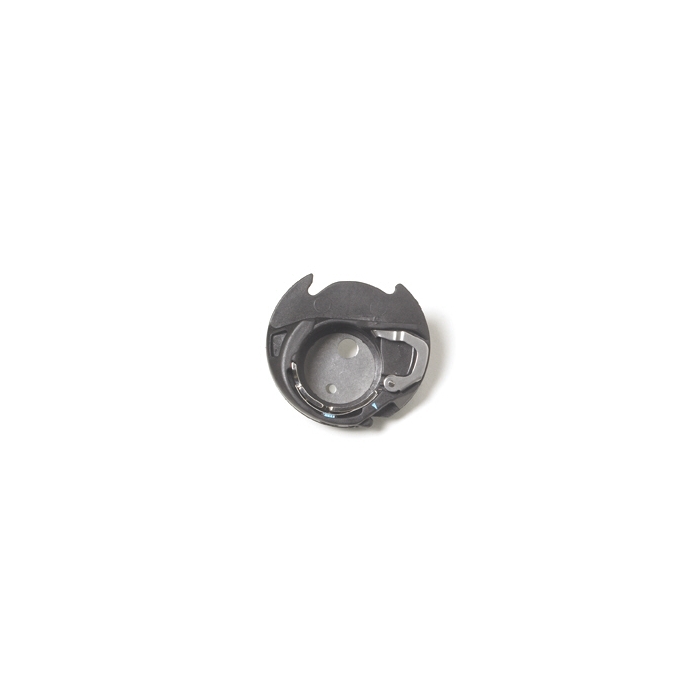 COVID-19 UPDATE:
While courier companies are making every effort to deliver within a standard operating time frame, this is not always possible. Deliveries may be delayed. more info.
This Bobbin Holder/Case is only for the large top loading Janome machines with auto thread cutters. This bobbin case works in conjunction with the spring loaded Free Motion Quilting Foot for even tensions while creatively quilting! For a professional finished it is advised to use both of these products together as the tension on your standard bobbing case it to regulated to compensate for the movement of free motion sewing. This Bobbin case is easy to tell apart from your standard, Standard Bobbin cases have a red dot and specialist free motion bobbin case have a blue dot.

Specification

| | |
| --- | --- |
| UPC | 200445007 |
| Manufacturer | Janome |

Customer Reviews
Great service and delivery. The new bobbin holder works just fine with my Janome 8200QC. I'm very happy with it.

Very happy. Item was what I wanted & it arrived in good time.

I find this bobbin case excellent for free motion quilting. The tension is not as tight as the normal bobbin case which makes free motion stitching easier. It saves having to adjust your normal bobbin case tension which is a bit of a nuisance. I don't know how I managed without one!

I'm very happy with my purchase from sewing machine sales UK. I couldn't find it anywhere in Australia. FMQ on my Janome 7700qcp is a breeze with this blue tip bobbin holder. :)

i always try to buy my sewing machine spares from sewing machine sales as their service is fast efficient and reliable I'Il buy via the internet as living in France with no nearby Janome shop makes this my only way for purchasing. My Janome 6500 and 7700 are wonderful machines and get used heavily so every so often my bobbin cases wear out and need to be replaced. I also purchase other spares from this firm and one day, (when I have a fortune to spend) I would trust this firm to send me a new top of the range sewing/embroidery machine as I trust their service and advice.

Item as described speedy delivery first class customer service.

What extraordinary service. My fault, I ordered the wrong item, out of mobile signal area so sent message online then rang when home. They were so helpful and understanding. Original order immediately cancelled and correct order placed. Arrived next day. Wow what service.

Excellent service. Easy to use & improves stitch quality when free-motion quilting.

Why not share your review with others.