Universal Patchwork And Quilting Kit
Universal Singer, Brother, Toyota, Janome sewng machine walking or even feed foot


Price

£70.99


Today

£59.99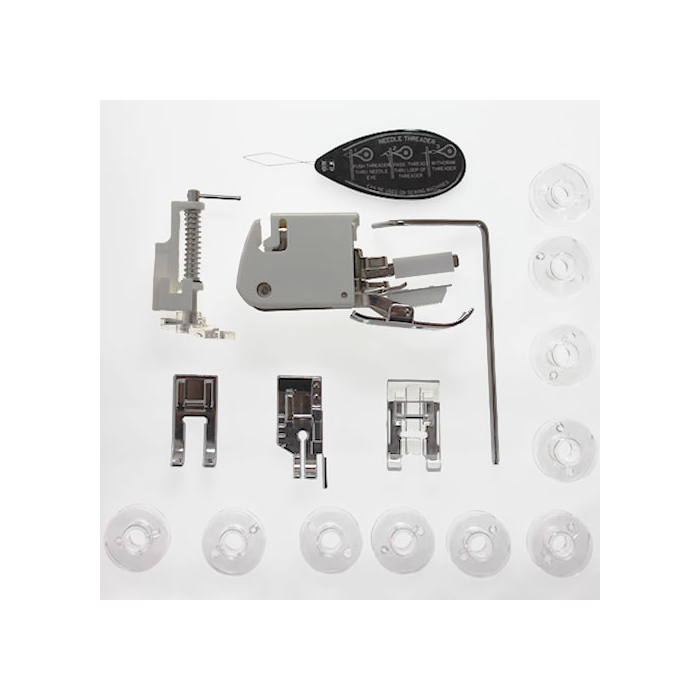 COVID-19 UPDATE:
While courier companies are making every effort to deliver within a standard operating time frame, this is not always possible. Deliveries may be delayed. more info.
This fantastic kit has all you will need to start patchwork and Quilting, the kit comprises of:
1. Open Toe Applique Foot (RRP £9-£15)
2. Satin Stitch Decorative Foot (RRP £9-£15)
3. Quilting Guide (RRP £3-£13)
4. 1/4" Quilting Foot right guide (RRP £9-£15)
5. Darning Foot (RRP £12-£20)
6. Needle Threader (RRP 99p)
7. Bobbin 10PCS (RRP £5-£7.50)
8. Walking Foot (RRP £23-£57)
TOTAL = £70.99 - £143.49
Open Toe Applique foot is used to enhance visibility whislt doing applique to ensure an accurate decorative stitch.
Satin Stitch Foot has a small recess on the underside of the foor to ensure decorative stitches that have volume stay plum and pround instead of flat and boring.
Quilting Guide's are used to ensure stitch linespacing, so when you're quilting your runs will be perfectly parallel.
1/4 " patchwork foot is a must have. This little foot is invaluable simply but your two pieces of patchwork up to the guide and the foot will ensure a perfect 1/4" seam every time.
The Darning foot is used for free motion quilting, wether it be docorative or functional thi foot is capable of doing it all even just doodeling.
The Walking Foot or even feed foot is used for when your sewing a sandwhich of fabrics, it is designed to feed the top fabric at the same speed as the middle and bottom and reduce movment and friction between layers.
All of this comes very well presented in it's own sealable plastic container with foam insert, perfect for a gift idea. Also fits some Pfaff and Husqvarna machines.
Specification

| | |
| --- | --- |
| Manufacturer | AEG, Brother, Elna, Frister Rossman, Husqvarna, Janome, Silver, Singer, Toyota |

Customer Reviews
Excellent value and great to have all the items in a case.

I ordered my fabulous husqvarna H 110Q & as I was starting to quilt it would be good to have the extras as I know am going to really get hooked on this sewing thing

So pleased we paid a little bit extra for something that will be used and used. Really easy to use and will give us so many extra features to the machine. We can't wait to get started. Very good value for money! Highly recommended.

Excellent product

Why not share your review with others.