Brother Innovis NV880e Embroidery Machine
Destined to be a best seller, the Brother 880E has many great features, including colour touch screen, large embroidery area and fantastic on screen design customisation and editing functions
*AVAILABLE TO PRE ORDER NOW* LATEST 2021/2022 Model
Pre Order Now. Delivery date to be confirmed, order

Click to buy or view finance options.
IMPORTANT NOTICE: OUT OF STOCK - BACK IN STOCK SHORTLY
Due to high demand this model is only available to pre-order.
Pre-ordering is essential to book the earliest delivery timeslot.
The stock due timescale may be subject to change more info.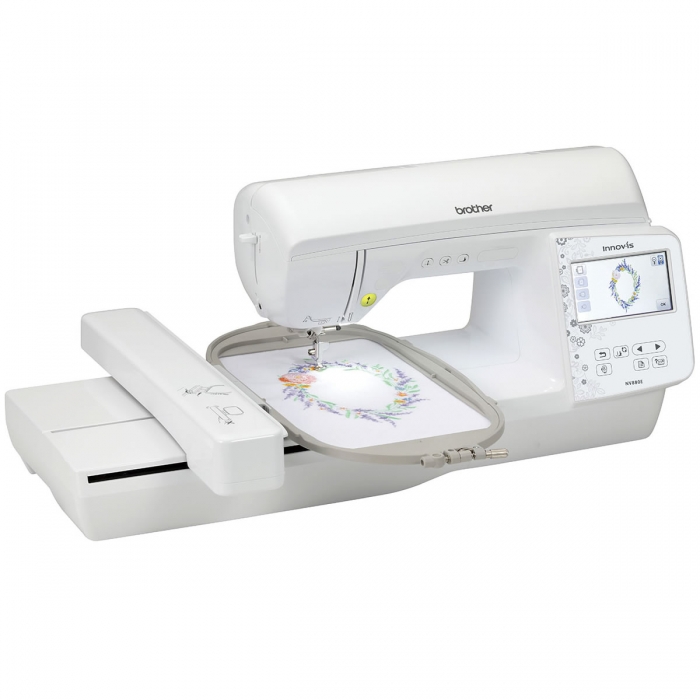 Why choose the Brother Innov-Is 880e from us?




The first thing you will notice, as soon as you power up the new Brother NV880E, is the bright full colour screen, a fantastic feature for you to view each embroidery design.
Also new with this model is WIFI connection, 258 embroidery patterns, colour sorting, and an the fantastic LED pointer, as well as automatic jump-stitch trimming. What does this mean! For example your stitching lettering, the 880E will automatically cut the threads in between letters, or trim between colour changes. This gives a neat and professional look to both the top and bottom of your embroidery. The LED pointer will pinpoint the exact position of the next stitch and show precisely where the design will be sewn out.
Because it's WIFI you don't even have to move away from your seated position to import and sew your next design!
It uses the advanced needle threader to get that needle eye threaded in the most simplest way.
The on-screen navigation is somehow made easier thanks to the introduction of colour; I think it's because the coloured icons are far better to see. Each step, stitch selection or edit is achieved via an on screen touch. You can even build your very own custom embroidery, selecting various designs and adding lettering to make logos. At any stage one can touch the visualise icon and zoom in/out, view a close up, move design elements together and when you're ready. view the full design in the hoop. Again all in full colour on the 4.9" screen. I think you can tell we like this machine.
Use the Brother Innovis 880E and create a custom design or logo. You decide whether the lettering is in the right position or if the thread colour is not going to match the fabric the design will be sew on to.
Real quickly you can…
Change the lettering colour. 
Arc the lettering.
Move and resize the lettering around the logo.
Expand the gap between the characters or numbers.
Change the font.
Then one can even edit individual letters within a word, resize and change font or colour. It's very impressive.
One of the images shows screen shots of the above embroidery design editing functions. It also shows that even the design stitch density can be adjusted, which is truly impressive on a machine at this price level.
The NV880E stores 11 built-in fonts, 10 frame shapes and 14 border styles. Plus 138 embroidery designs including floral, seasonal, animal and much more. It also has a USB port, which allows you to import your very own designs, or maybe downloaded designs from the internet, or maybe designs that you have created using Brother optional embroidery software. You should never run out of designs for gifts, home decor or even to embroider names and logos on to sweatshirts.
The Brother NV880E has the advanced needle threader and touch on trim button which will cut both the top and bottom threads. It has a full automatic tension system which means no more thread tension problems.
As far as stitching, as one would expect, Brother have a reputation for manufacturing some of the very best embroidery machines, and the NV880E is no exception. It stitches quickly (850 stitches per minute) and sews smoothly. The Brother 880E will cut threads in-between colour changes.
3 Different sized hoops are included with our 880E and each design can be sewn in the large (10" x 6") 20 cm x 16 cm hoop that is included. 
Accessories included:
Seam ripper.
Bobbins.
Needle set.
Cleaning brush.
Spool cap (x 3).
Spool net.
Scissors.
Set of screwdrivers.
Embroidery unit.
Embroidery hoop set 160mm x 260mm.
Embroidery hoop set 150mm x 150mm.
Embroidery hoop set 100mm x 100mm.
Embroidery bobbin thread.
Dust cover.
Power supply cord.
Accessory bag.
Operation manual.
Quick reference guide.
Power lead.
Specification

| | |
| --- | --- |
| UPC | 04977766815345 |
| Manufacturer | Brother |
| Model Number | Innov-Is 880e |
| Type | Embroidery Only |
| Promotion | *AVAILABLE TO PRE ORDER NOW* LATEST 2021/2022 Model |
| Warranty | 3 Years Full Manufacturers Warranty |
| Weight Kg | 8.5 |
| Size (Height, Width, Depth) | W47 cm x H30 cm |
| Variable Electronic Speed Control | No |
| Bobbin Access | Top Loading |
| Transparent bobbin cover Bobbin Cover | Yes |
| Hard Carrying or Storage Cover | No |
| Automatically Tensions Thread | Yes |
| Integrated Needle Threader | Yes |
| Thread End Cutting | Automatic |
| Number of Stitch Selections | Hoop Embroidery |
| Formation of Buttonholes | None |
| Variety of Buttonholes | 0 |
| Twin Needle | No |
| Maximum Speed Limit Adjustment | Yes |
| Needle Up/Down Function | Yes |
| Integrated Dual Feed System | No |
| Integrated Fabric Feed Lowering | Yes |
| Hook Movement | Smooth Rotary Action |
| Needle Positions | Centre Only |
| Tutorial CD / DVD | No |
| Voltage | 220-240 Volts |

Customer Reviews
1st full embroidery machine, easy to set up, quite straightforward to use, would definitely recommend.

This is my first embroidery machine and stayed with Brother as my other machines are easy to use and reliable. The embroidery machine was easy to set up and I had done my first test piece in no time. Excellent service as always from Sewing Machine Sales.

Quick delivery and the machine works perfectly!

Great machine at a great price and so easy to use.

Bought this via the website with no problems, 1st ever embroidery machine, easy to set up and use, lots of built in designs to use, downloading online designs looked a bit beyond my capabilities but did 2 I'm my first weekend which look fab, looking forward to trying many more.
Customer service was fab.
Would recommend sewing machine sales.


Bought this embroidery machine as an early Christmas present for my wife. She soon had it set up and has mastered it in no time. Delivery was prompt.

quick and quiet and easy to use!

I ordered my machine from Sewing Machine Sales since they had the best price. Delivery was quick and the machine has been great!

Bought this Embroidery Machine for my wife and she loves it. She had it set up and used it within 30 minutes. Great customer service with Duke. Visit the shop often despite the 80 mile round trip!

Love this embroidery machine. So easy to use consider this my first one ever. Would definitely recommend it to someone like me who just getting into embroidery world xxx

Why not share your review with others.