Bernette B79 Sewing & Embroidery Machine
For both sewing and embroidery, this Bernette B79 is a combo machine that is engineered to a very high standard with dual feed, touchscreen, programmable foot control, knee lifter, 500 stitches, 260 mm embroidery area, embroidery software, what's not to like
FREE £120 Embroidery Pack + Embroidery software included worth £440
Sorry, temporarily Out-Of-Stock
Please use the link above to sign up for new stock update. We will email you the moment it comes back in to stock.
*** INCLUDES: Bernina Toolbox Editing and Lettering embroidery software *** This package includes an extra, 300 designs, 100 fonts. It is the easy-to-use cloud based software to allow many options and the ability to customise designs even further.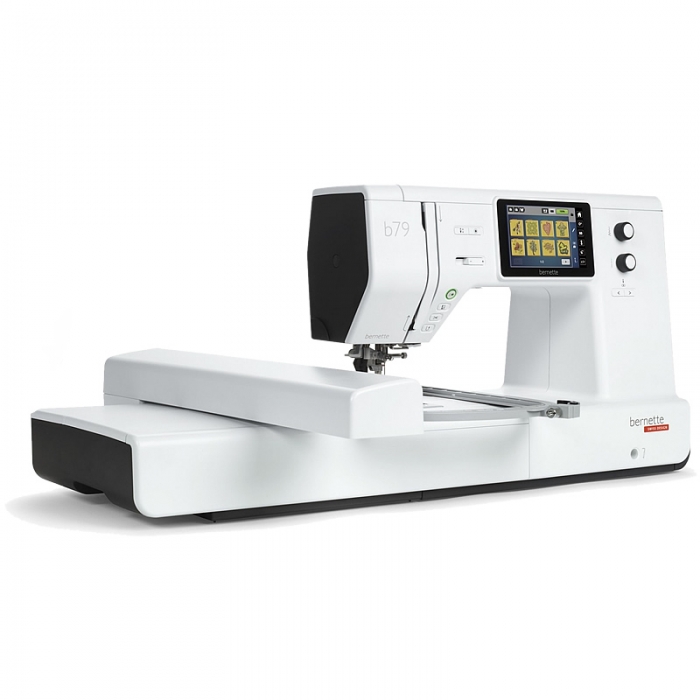 Why choose the Bernette B79 from us?




An incredible new combined sewing and embroidery machine from Bernina Bernette.
The B79 is packed full of great features…never has a Bernette been so much like a Bernina!
500 stitch selections, including 3 sewing alphabets; plus on-screen stitch designer, 200+ embroidery designs and 7 embroidery fonts.
And that's not all…sew at a silky smooth 1000 spm, thanks to the top-loading bobbin with rotary hook action and well balanced components.
The Bernette B79 sewing and embroidery machine uses the same interface as high-end Bernina models. It has a host of like for like features, for example…Electronic foot control with programmable back-kick function; Knee lifter; 15 Needle positions; Multifunction control knobs and easy to navigate touch screen.
The Dual Feed is invaluable when sewing on any type of fabric, but its best used with leather, denim, vinyl, velvet, terry toweling, fake fur, fleece and perfect for quilting multiple layers, sewing checked patterns or any slippery hard to sew materials. Push it out of position when not in use, or just leave it down or just use it all the time…that's what I do!
What is Dual Feed..? Dual Feed is a separate upper fabric feed, which operates from above in conjunction with the lower feed, they grab the fabric and move it forward or rearward depending on the stitch length. It can be used for straight stitch as well as any other 7mm wide stitches. This feature alone is worth the outlay.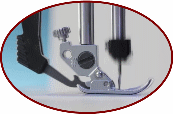 Read more about this unique feature here.
However, other superb features include 5" colour touchscreen, with Creative Consultant help guide recommends best stitch, needle, foot for the selected fabric. Sewing tutorial contains important information to help you get the most from your B79 Bernette. The screen also shows presser foot recommendations and for each foot additional information is available.
Also included in the array of high-end Bernina features, this Bernette B79 uses the reprogrammable Back-kick foot control. It comes preset to operate just like a regular foot speed control when pressed forward with your toe, but if you tap it with your heal, the needle will rise to its highest point, ready to remove the fabric. This heal tap function can be changed as required, may be set it to secure tie-in, or cut both the top and bottom threads. Imagine not needing to snip the thread ends at the end of a seam. That alone could save an hour over a period instead of looking and reaching for the scissors at the end of every seam.
In Sewing Mode:
A total of 500 stitches including main categories
22 Utility stitches
2 Darning programs
133 Decorative stitches
17 Buttonholes
35 Quilt stitches
3 Sewing alphabets
230 mm of space on the sewing bed to the right of the needle.
Built-in memory to combine individual combinations with patterns and letters, both upper and lowercase.
Stitch editing for width and length, 15 needle positions, pattern repeat, mirror up/down or left/right, pattern length/width density for satin stitches.
Stitch Designer, build your very own stitches, customise and place each stitch individually, often it only needs 4 or 5 stitches placed on the stitch designer grid, then combine and create your very own stitches. Save it to the machine's memory for future use.
Embroidery Mode:
Just like the B70 model, this B79 sews incredible stitch perfect embroidery up to 180 x 260 mm in size. 3 hoop sizes are included.
Sew Cutwork designs and any one of the 208 built-in designs. Or use the editing functions to create a custom design of your own.
On screen modifications include adding and removing items or fonts, drag & drop, mirror, rotate, scale and adjust stitch density. Any one of the 7 fonts can be set to arc or letters can be re-spaced. Any design can be enlarged or reduced in size by 20%.
View the design in full colour on screen, see each layer with zoom in/out options and when your happy with your custom design, save it the B79 memory or a USB memory stick.
Just like other Bernina models, you can select between thread brands and change individual colours with ease to preview before stitchout.
In the past you had to look for an embroidery design that suited your model, that is a thing of the past if you choose this Bernette b79 sewing and embroidery machine. It will sew out all the main embroidery file formats, it's a real winner when you looking for a design that was only available in the past for lets say a Husqvarna, now simply load that hus embroidery design into the Bernette via the USB port and let the B79 sewing it out. This is a unique feature for Bernette. The B79 will also read/sew other embroidery file formats. eg (Pfaff vip and vp3), (Husqvarna hus), (Janome jef), (Brother pes) as well as exp, pec, dst file formats.
A neat function is the basting stitch, which helps fix the fabric in place on the stabiliser before stitching out, that way you may not need to hoop your material, just use the basting stitch to secure the material to the stabiliser which is already in the hoop.
One of our images shows the embroidery stitching sample we stitched using a variety of threads including the difficult to stitch metallic thread. The B79 managed no problem and as you can see the sample looks great.
Includes a 30 cm x 45 cm extension table to help steady larger items while stitching.
Embroidery software is also included in the box. Well, you have to download it, but the access codes are in the box with instructions. Once downloaded, the tutorial screen is a step by step setup and you will be started within 2-3 minutes. It's the basic Bernina Toolbox cloud-based system that is very popular as it is so easy to use.
Presser feet included:
Zigzag foot
Applique embroidery foot
Zipper foot
Automatic buttonhole foot
Blindstitch foot
Button sewing-on foot
Overlocking foot
Free-motion Embroidery foot
Hopper Embroidery foot
Metal Hoop Embroidery foot
Main Features:
Dual Feed
4 x LED lights
Knee Lifter
Programmable Back-Tack Electronic Foot Control
Sliding Max Speed Setting
Securing Tie-In
Thread Cutter
Presser Foot Up/Down
Needle Up/Down
Start/Stop
15 Needle Positions Key
Stitch Creator
Stitch width/length adjustment
Drop Feed Lever
Upper Multifunction Control Knob
Lower Multifunction Control Knob
Design Position Check Function
Centre Design Function
Top loading bobbin
Needle Threader
Accessories Storage Area With Presser Foots Spaces
Accessories included:
Bernina Toolbox Edit Cloud Embroidery Software
Bernina Toolbox Lettering Cloud Software
160 x 260 mm Quick Release Hoop
120 x 180 mm Quick Release Hoop
50 x 70 mm Quick Release Hoop
Embroidery Unit
Templates
Knee Lift
Extension Table 30 cm x 45 cm
Cutwork, Straight stitch needle plate
USB port
Spare Bobbins
Spool net
Brush/ Seam ripper
Patchwork seam guide
Spool disc x 4
Screwdriver
Dust cover
Lubricator
Touchscreen styles
Second spool pin
Bernina needles
Power cable
Foot control
Quick start guide
Felt disc
Soft cover
Specification

| | |
| --- | --- |
| UPC | 7630043519875 |
| Manufacturer | Bernette |
| Model Number | B79 |
| Type | Sewing & Embroidery |
| Promotion | FREE £120 Embroidery Pack + Embroidery software included worth £440 |
| Warranty | Manufacturers 2 Year, Our 10 Year Extended Warranty Applies |
| Weight Kg | 10Kg |
| Size (Height, Width, Depth) | H42 x W51 x D21 cm |
| Variable Electronic Speed Control | Yes |
| Bobbin Access | Top Loading |
| Transparent bobbin cover Bobbin Cover | Yes |
| Hard Carrying or Storage Cover | No |
| Automatically Tensions Thread | No |
| Integrated Needle Threader | Yes |
| Thread End Cutting | Automatic |
| Number of Stitch Selections | 500 |
| Popular Stitch Functions | Straight, Zig-Zag, Multi Zigzag, Blind Hem, Stretch Blind Hem, Rolled Hem, Straight Stretch, Overlock Stretch, Scallop, Ric Rac, Honeycomb, Herringbone, Gathering, Applique, Sew-On Buttons, Quilting Stitches, Basting Stitch, Closed Overedge, Plus decorative patterns |
| Formation of Buttonholes | 1-Step Fully Automatic |
| Variety of Buttonholes | 17 including eyelet |
| Twin Needle | Included |
| Maximum Speed Limit Adjustment | Yes |
| Needle Up/Down Function | Yes |
| Integrated Dual Feed System | Yes |
| Integrated Fabric Feed Lowering | Yes |
| Hook Movement | Smooth Rotary Action |
| Needle Positions | Left / Right / Centre |
| Tutorial CD / DVD | No |
| Voltage | 220-240 Volts |

Customer Reviews
I am new to embroidery but not to sewing, it has taken a little while to get used to the B79, I would strongly recommend downloading the manual. One thing I must mention, which held me up for an hour or so is in embroidery mode … HOLD DOWN the green button until the machine actually starts. I think I'm going to enjoy experimenting with this amazing machine. Switching from sewing mode to embroidery mode can be time consuming but I'm sure will get easier with practice. I can highly recommend Sewing Machine Sales, I ordered my new Bernette B79 sewing / embroidery machine at 14.45 and at 15.00 the next day I received delivery.
Package was packaged well and received in good condition.


Love this machine was a very quick delivery good communication. Still at the playing stage but love the ease of embroidery once I got going can't wait to try all the other things it does. The down side is it is heavy with embroidery extension and no manual but I downloaded and printed the bits I needed. The software was a bit tricky to load as I'm not very technical all in all I'm so pleased I brought this machine it was an upgrade from a basic embroidery machine and I know and trust the brand.

what a machine. just got mine, so still at playing stage. im very surprised how everything comes up on screen so you cant really go wrong. the company sent this to me by next day delivery which was great. ive no patience to wait lol, you wont go far wrong with this machine not only is it two in one but youre backed up by a two year guarentee and then on top of that this company gives you another ten years. you cant go wrong its a no brainer. fab fab fab!

I love this machine! It stitches so well and has so many different stitches, you are spoilt for choice. I have tried a few embroidery designs too. It's all very user friendly. I have never used a computerised machine before but am getting used to it quickly.
It is great for quilting too, with it's bigger throat size. My latest project was a cot quilt with a couple of embroidered panels. A huge success thanks to this machine!
Also, if you get it with a free bundle as I did, it's a bargain!

I am over the moon with my new purchase, I have already sewn two projects and am starting a small quilt cushion next.

Why not share your review with others.