Brother Innov-is V3 Embroidery Machine
An Embroidery machine packed with fantastic features. In stock now for demonstrations, this Brother Innovis V3 is an Embroidery only machine in the new Brother V series embroidery machine range. A brilliantly simple user interface and touch screen, for on the spot editing. It has a huge long-bed area for large beautiful embroidery designs
LATEST 2021 MODEL
FREE delivery by DPD
, order
Delivery: 2-3 Working Day(s)
Expected Delivery Date is Wednesday, October 27th

Click to buy or view finance options.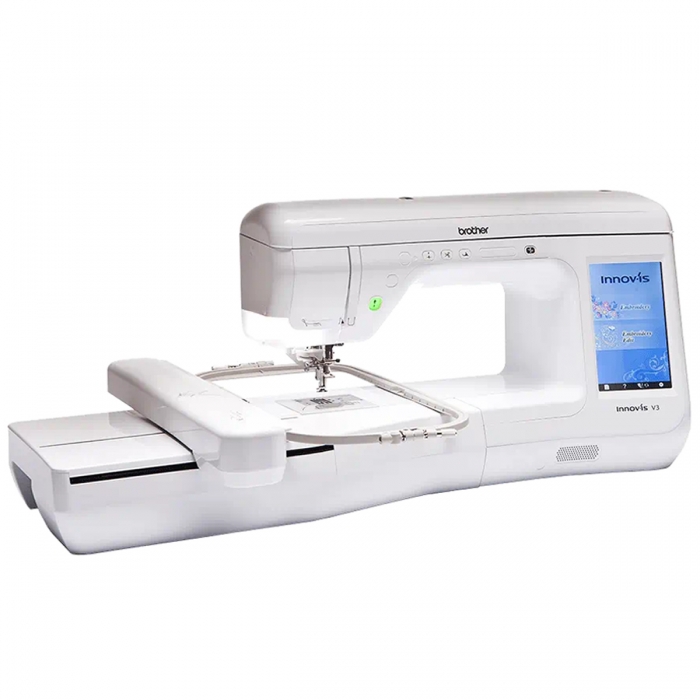 Why choose the Brother Innov-is v3 from us?




This is a huge flat bed embroidery machine and so fast. Maintaining the same size chassis as larger V5 and V7, the Brother V3 is an embroidery only machine as opposed to the other two which are sewing and embroidery. This Brother V3 machine is smooth running and speedy, it stitches at 1050 stitches per minute which is unbelievable when you think a standard domestic machine stitches at around 800 spm. The V3 is closer to and industrial speed machine, but without the industrial sound.
It is very quiet and very smooth; I don't know how brother have engineered this machine so well. The stitch quality has not been compromised either, which might normally happen when you reach these speeds. Brother really is pushing the technical boundaries of home embroidery with this masterpiece.
But what is it like to use?
Easy, The brightly illuminated 11 and a half inch work area allows you to see your design come to life very clearly, The reactions of the machine are as sharp as a razor. As soon as the bobbin thread runs out the machine stops and tells you. You could even have a pre-wound bobbin ready with the independent bobbin winder... now that's a great time saver. The easy threading advanced automatic needle threader is perfect every time, along with the auto tension unit, there is very little set up needed at all.
The backlit LED touch screen is also very responsive, where you can drag and drop your designs to position them quickly and accurately. You can also rotate, mirror enlarge or reduce any of the 200 plus, built in designs instantly with the on-screen editor. Even preview the design before embroidering on the full colour LED screen. Embroider up to 300mm x 180mm and a choice of a whopping 17 different style fonts to choose from, you'll be personalising items for everyone with this machine. Some of the built in designs are just amazing, including Classic Japanese, Vintage, Trendy, Zundt and special technique designs. Even download designs on to your computer and import them instantly using the built in USB port or connect your V3 direct to your computer instead.


Specification

| | |
| --- | --- |
| UPC | 4977766716345 |
| Manufacturer | Brother |
| Model Number | Innov-is v3 |
| Type | Embroidery Only |
| Promotion | LATEST 2021 MODEL |
| Warranty | 3 Years Full Manufacturers Warranty |
| Weight Kg | 15 |
| Size (Height, Width, Depth) | W55 cm x H35 cm |
| Variable Electronic Speed Control | No |
| Bobbin Access | Top Loading |
| Transparent bobbin cover Bobbin Cover | Yes |
| Hard Carrying or Storage Cover | Yes |
| Automatically Tensions Thread | Yes |
| Integrated Needle Threader | Yes |
| Thread End Cutting | Automatic |
| Maximum Speed Limit Adjustment | No |
| Needle Up/Down Function | Yes |
| Integrated Dual Feed System | No |
| Integrated Fabric Feed Lowering | Yes |
| Hook Movement | Smooth Rotary Action |
| Tutorial CD / DVD | No |
| Voltage | 220-240 Volts |

Customer Reviews
Absolutely brilliant machine. Thank you for making the purchase so easy and prompt. Came in 2 days of ordering.

Amazing embroidery machine . Very easy to use. Produces beautiful results. Love the large hoop size Delivered really quickly .Fab customer service from all staff .


Upgraded from a innovis 750e which I only had 6 weeks and considering keeping for smaller things. But if I'd of know what I know now I would of gone for V3 straight away. What a big difference, bigger workspace for larger embroidery, faster speed, quieter and the larger full colour lcd screen, which is so much better, you can actually see what your embroidering instead of a black squiggle on a screen, that you have to try work out what pattern it is and which way up it is. Overall an exceptional machine and the great thing is I got a bonus for writing reviews on hoops I bought for my 750e. Thank you sewing machine sales.

Thank you guys for helping me choosing I'm very happy with my V3 very easy to use, and well designed, massive screen, and embroidery area. I am absolutely loving it, money well spent would definitely recommend.

This machine is amazing! Just upgraded from Innovis 750e. The colour touchscreen is such an improvement and easy to master. Would recommend to anyone with a bit of embroidery knowledge, but would also suit an enthusiastic beginner. Only drawback it doesn't come with a medium size hoop. Super Speedy delivery from Sewing Machine Sales. A very satisfactory purchase.

Well built machine, still early days but no problems with its operation, in fact, the software provided takes far more time to learn than the machine. Plenty of online help available just google or YouTube your questions.

Love my new machine I only ever buy Brother Machines and this one is great does for all my needs and would highly recommend .

Excellent machine, it is obvious this can do so much more than what I had hoped for. I will have lots of hours fun with this. Staff were extremely helpful. Delivery super fast. Would definitely recommend.

I love the v3. It's quiet and very smooth. Very easy to use. I really love it. Best machine ever...10/10

Excellent machine, super fast and easy to use. Highly recommended as most of Brother machines!

Why not share your review with others.